The set-up: Last week, I mentioned in my weekly swing trade video for members that I was watching the solar sector. The entire sector is trendy at the moment, and I want to trade with the tide and not against it, particularly in the dog days of summer when the market tends to be dull and lacking in direction.
Specifically, I was interested in First Solar Corp. (FSLR) because it recently beat earnings. I was looking for the chart to become less extended, form a wedge, and trade a break out of consolidation.
The chart: The stock put up the result I was expecting; this chart; look here and you'll see that it has broken out of a wedge of consolidation on a green note.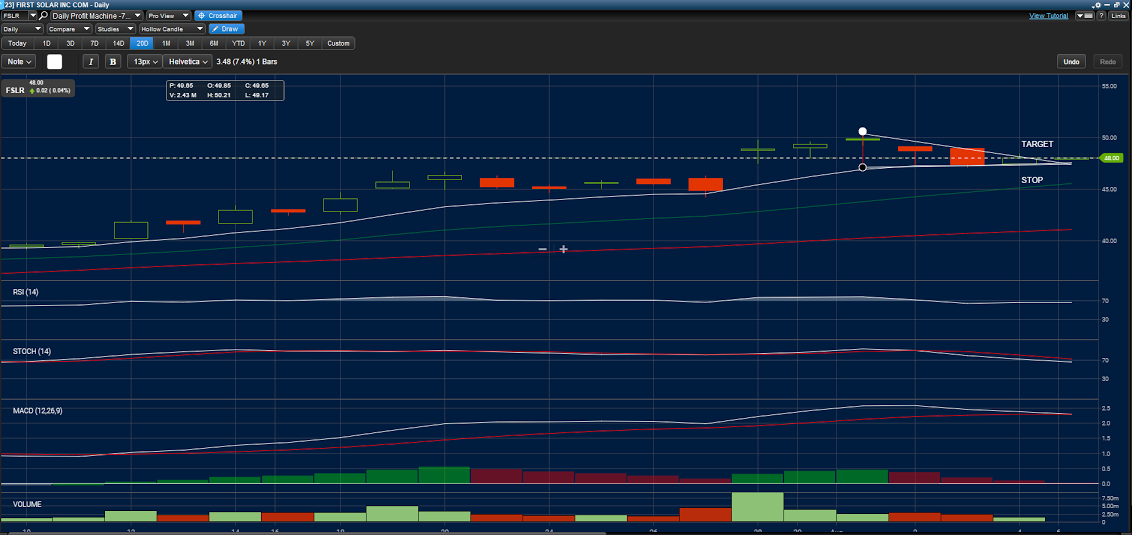 The play: On Friday, I liked this set up so much that I was willing to buy into the September 15, $50 call options for a weekend hold.
My trade plan is simple: I'm looking for FSLR to retest its previous high of $50.21. From my entry of $1.80 per contract – I bought six contracts — my options would return well over 10 percent if First Solar does re-test the high.
If FSLR trades below its recent base of $47, I'm out.
While I have established my position, I think the FSLR Sept. 15 options are still worth buying in here, up to $2.00/contract.
#-#-#
Davis Martin is the head trader at Dailyprofitmachine.com. He trades SPY calls and puts and swing trades individual stocks and stock options. At the time this article was published on RagingBull.com, he had six Sept. 15, $50 call options in FSLR – which he purchased on Friday and was planning to trade as described in this commentary – but had no shares or open orders in the stock. Davis last bought FSLR calls on July 3, selling two days later for a 6 percent profit.
Related Articles: