Let's face it, you've probably heard people talk about options before. People usually have a negative connotation associated with options. For example, Warren Buffett noted derivatives are "weapons of mass destruction." However, he wasn't talking about options here. He was talking about more complex derivatives, like collateralized debt obligations (CDO). In fact, when used properly, options could actually help to control your risk, while maintaining your upside. Moreover, it allows you to be creative with your trading. That said, let's take a lookhttps://ragingbull.com/kb/how-to-make-money-trading-options/ how to trade options like a pro and potentially generate some outsized gains.
Trade Options Like A Pro
You may have traded options before, and you may have made a bit of money with them too. However, was it anything like this?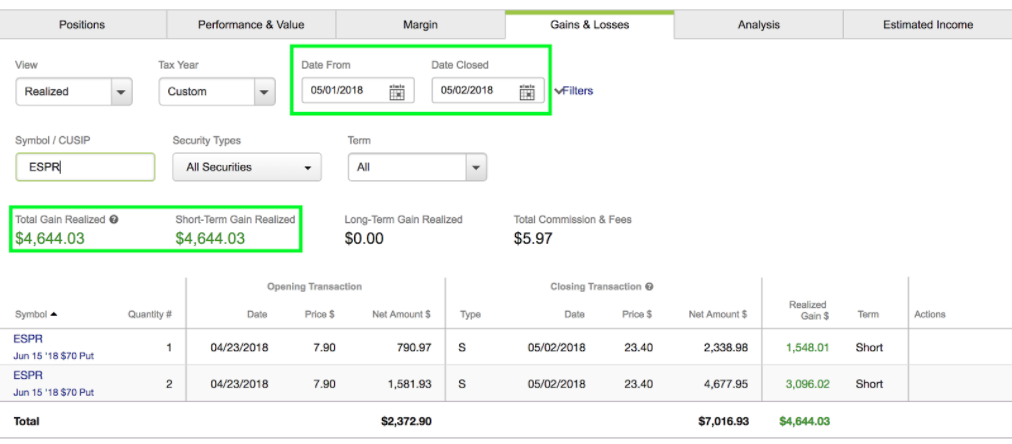 Here's a look at Kyle Dennis' trading account. He's had verified option trades generating over 50% in returns. However, he's looking to make more, and you could learn how to trade options like a pro. Kyle turned $15K to over $4M in just 5 years and his leveraging his knowledge and experience and implement an options strategy with untapped potential.
Battle-tested process to trade options like a pro
Like any trading strategy, there needs to be a process. Kyle has spent nearly every second of the trading day researching, analyzing and scanning possible trading opportunities with his I.G.N.I.T.E. process. Now, he's going to leverage what he's learned and put his money where his mouth is.
His process involves these six crucial elements that could indicate a stock could rise or fall if all the stars align:
I

nsiders

Kyle will be scanning for his favorite insiders and their track record of buying and selling. This would give Kyle the initial reaction to delve deeper into his research. If insiders or large funds are buying a stock, he's going to try to figure out why before everyone else does. This is readily available information

, but you need to know how to look at the forms, and Kyle knows how to do just that.
G

rowth

Once the "Insider" Indicator has let Kyle know to research the company deeper, the second step of the process is to analyze the company's potential growth. For example, if the company is fairly new and speculative without any earnings, Kyle will analyze whether its technology, product and services could disrupt the market. These factors should be an indication the stock could rise. Similarly, if the company has been growing earnings, Kyle will analyze whether the company could sustain its earnings growth rates.

N

ews

Next, Kyle will get into his bread-and-butter, analyzing historical and future news that could signal a stock could rise. Kyle knows a stock generally needs a catalyst to rise or fall. He's been developing this proprietary method for five years. Moreover, he's averaged $1M per year over the last 3 years using this skill!

I

nstitutions

Just as you could follow traders willing to share their trades and ideas, you could follow institutions and follow the trading activity of the "smart money". The funds and "smart money" have more access to information than us. By meticulously tracking their moves, Kyle is able to build the foundation for potential trades with high upside potential.

T

echnicals

Kyle will be looking for the perfect entry point based on chart patterns

, and no one uses chart patterns like Kyle.

E

arnings

Companies report earnings every quarter and conduct a conference call. Kyle is dedicated to listening to these earnings calls and look for potential opportunities that others may be missing.
This brings about the I.G.N.I.T.E. process.
The three-step plan of attack
Here's how Kyle is going to do it. Once he's filtered for the right stock, he'll put on the options trade with a 50% stop loss. Thereafter, he would take off half his position if the position doubles. Finally, like any successful trader knows, you need to let your winners run. So if it reaches 100%, Kyle would hold onto the last bit and look to make over 5 times his money. It's hard to do that with stocks. Every time a stock moves up $1, you would only make $1 per share, if you're long the stock.
However, if you're long a call option and the stock moves $1, your option could increase significantly. This is due to the non-linearity of options. If you own a call option on a stock and the stock moves $2, your option could potentially go up by more than $2. We won't bore you with the details behind the math of all this.
Now, you could take the guesswork and try to figure out what Kyle is looking at. Kyle would send ideas with a detailed thesis and plan of action and the signals would be delivered in real-time via text message or e-mail. This could save you a lot of money and time. Additionally, you're able to learn how to trade options like a pro by following these trades. 
#-#-#
Kyle Dennis runs Kyle Dennis' Biotech Breakouts (biotechbreakouts.com). He is an event-based trader, who prefers low-priced and small-cap biotech stocks. Now, he's using his knowledge and looking to multiply his capital through options trades.
Related Articles: