SkyPeople Fruit Juice Inc (NASDAQ: SPU) shares were down over 40% today, after the company filed an SEC Form 8K. Now, the company announced that it entered into a definitive agreement with institutional investors to purchase shares of common stock, which would have aggregate gross proceeds of approximately $2.67M, in a registered direct offering. Now, on April 12, 2017, the company had a market cap of $21.65M, but after today's close, it had a market cap of just under $12M. Let's move into the details of the company's Form 8K filing.
SkyPeople Fruit Juice Form 8K Filing
SkyPeople expects the closing of this offering to take place on, or before, April 17, 2017. In connection to the registered direct offering, SPU will issue over 860K registered shares of common stock at a purchase price of $3.10 per share. Now, in a private placement, each investor will receive an unregistered warrant to purchase one share of common stock, for each share of common stock purchased. These warrants have an exercise price of $5.20, and would be initially exercisable six months after the issuance, and expire five years after the initial exercise date.
That in mind, this would dilute the company's common stock, as the company only has approximately 1.72M shares floating and 4.3M shares outstanding.
Skypeople Fruit Juice Statistics and Valuation
SPU traded in a range between $2.77 and $3.09 today. SPU has a 52-week range between $1.62  and  $20.95 . Therefore, SPU is currently over 80% above its 52-week low and nearly 86% off its 52-week high. After today's news, the company's stock price gapped below its 20- and 50-day simple moving averages.
Here's a look at the stock's performance on the daily chart: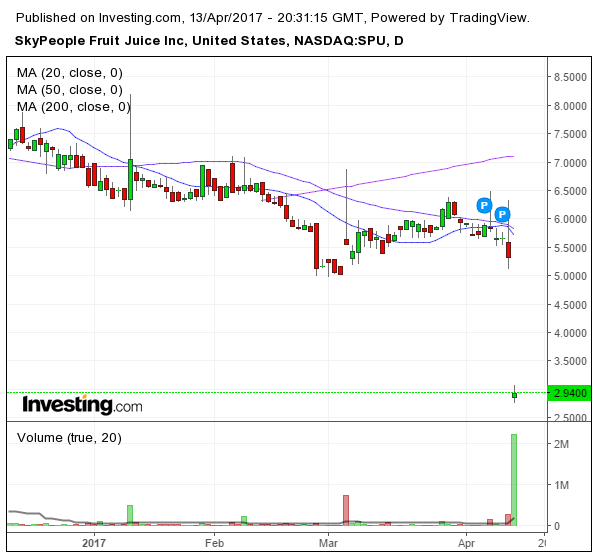 Source: Investing.com
SkyPeople Fruit Juice, Inc. currently has a book value per share of 47.26, and therefore, it closed with a price-to-book ratio of 0.06, which is well below the industry average of 8.0. Additionally, the stock has a trailing 12-month price-to-sales ratio (P/S) of 0.30, which is also below the industry average of 3.3.
Final Thoughts
SkyPeople Fruit Juice announced a registered direct offering with aggregate gross proceeds of approximately $2.67M. Consequently, this could potentially dilute the stock, which caused the stock the drop. Now, keep in mind that SPU is a low float stock. With low float stocks, the supply and demand for shares could cause the stock to have extreme moves, as we've seen in SkyPeople Fruit Juice today. Consequently, the stock carries a high degree of risk due to its low float, and we could continue to see the stock experience extreme moves.
Related Articles: