The set-up: When it comes to potential trades, I love finding stocks with strong technicals or solid fundamentals. Endonovo Therapeutics Inc. (ENDV) has both.
Endonovo has been building a ton of momentum since early August, recently surpassing its 20-, 50- and 200-day moving average lines on strong volume, and nearing a 52-week high in the process.  Add some insider buying – which was seen here – to those strong technicals and you've got a perfect storm for a potential push higher.
The chart: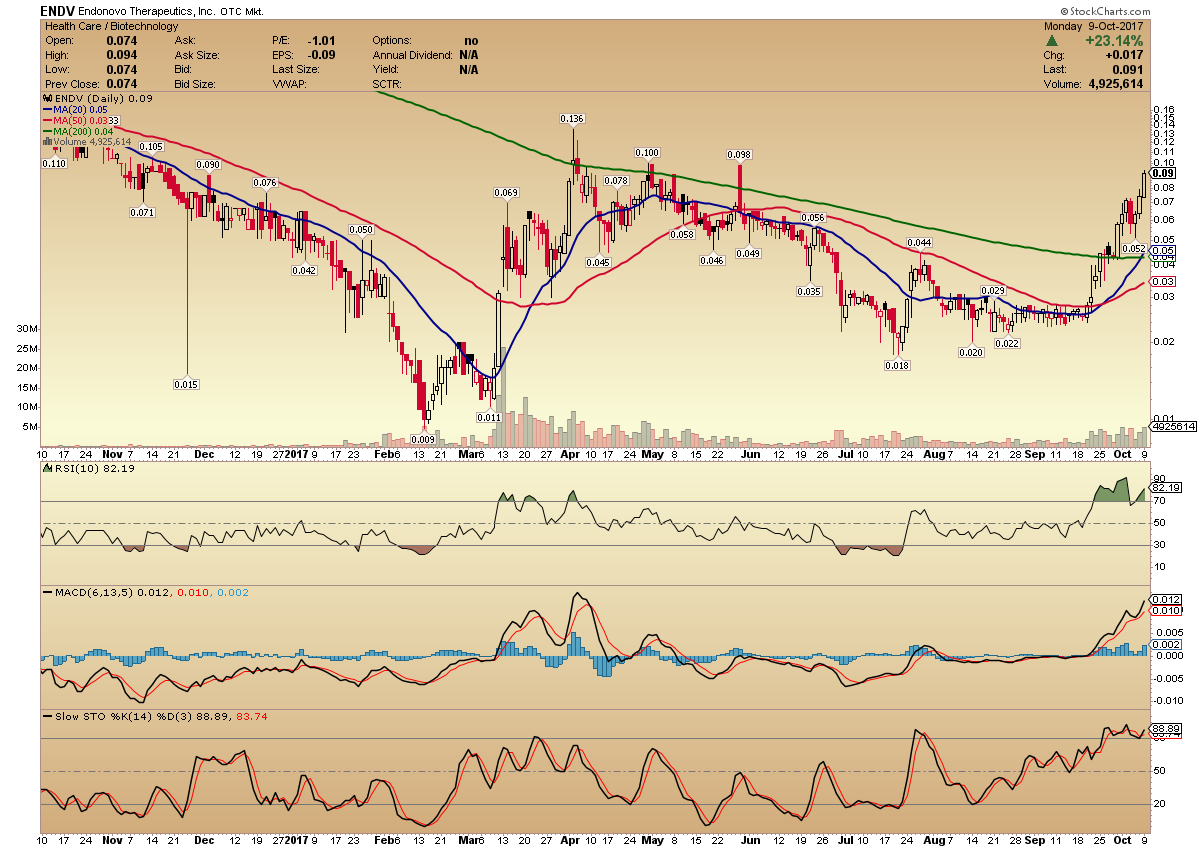 Looking at this yearly chart on ENDV, the stock traded at a high of 10 cents back in May of this year, and was at 13.6 cents per share a month earlier. With ENDV closing Monday at $.091, there is another 49% potential if we reach those levels again.
With the Relative Strength Index (RSI) currently sitting at 82 with room for more and the MACD showing its black line clearly above the red signal line, many technical traders would consider this current set-up a "buy signal."
How I'm playing it: I liked this potential so much that I bought 40,000 shares on Monday at 8.35 cents each with my eyes set on the 10-cents high from May. If that level is achieved,  I'll look to sell half of my position while continuing to monitor the rest with a sell target between 12 cents and 13.5 cents per share, putting my beginning-to-end move in the range of 20 to 50 percent total. That's the range I love to be in, since it can really help a small trade account grow quickly.
My stops will be set now at $.075 area, allowing for some natural movement in the stock without letting me get buried if it truly works against all indications here.
#-#-#
Jeff Williams is the lead trader of PennyPro.com. He is a short-term trader of stocks under $10 a share. At the time this article was published on RagingBull.com, he held 40,000 shares of ENDV and was planning to trade them as described in this commentary. He last traded the stock on Oct. 3 and 4, buying 50,000 shares at 6.5 cents each on 10/3 and selling them a day later at 7.2 cents per share.
Related Articles: