The set-up: Rexahn Pharmaceuticals (RNN) is coming off a double-bottom from August, and it had a volume surge yesterday that resulted in a bullish engulfing candle.
The chart: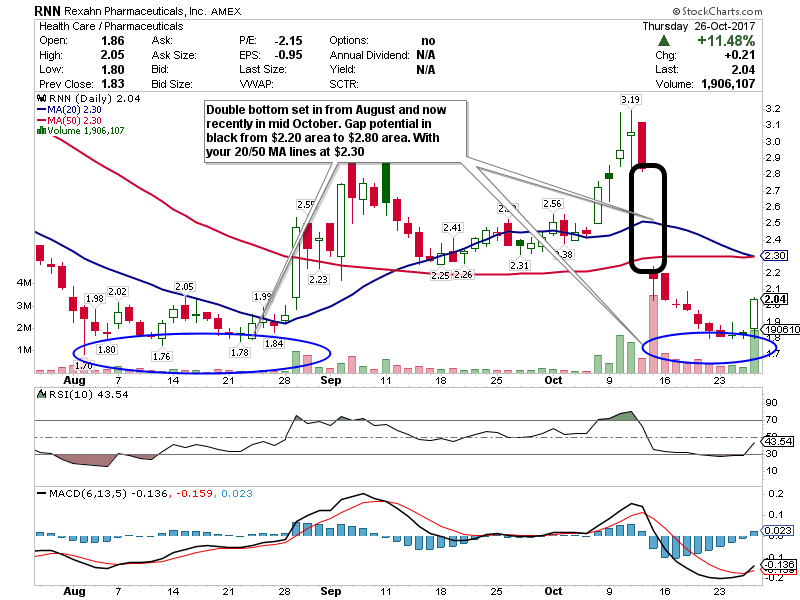 Rexahn recently had a big gap down from the $2.80 range down to about $2.20. There was another gap that took it down to about $1.80, where it set up a nice base.
The technicals here suggest that the stock could rise up minimally to the 20-day and 50-day moving averages, which are sitting at $2.30; if we break that, we're looking at the big gap up to $2.80
The downside risk on the trade is back to the support level of $1.80, meaning there's a good balance between reward and risk here.
How I'm playing it: I bought 5,000 shares of RNN at $2.02 on Thursday as a swing trade – and I believe it still is buyable if the price is close to that level – looking for an upside of 15 to 20 percent on this, and setting my stops above the support line (around $1.85) to minimize the risk.
Side note: My RagingBull.com colleague Kyle Dennis of BiotechBreakouts.com likes Rexahn right now and sees the same kinds of profit potential, but he's interested based on three upcoming catalyst events. I didn't even know of those events or Kyle's interest in the stock until another colleague mentioned them to me; the bullish engulfing candle is what put the stock on my radar.
Hear Kyle Dennis talk about how and why he is looking at Rexahn
#-#-#
Jeff Williams is the lead trader of PennyPro.com. He is a short-term trader of stocks under $10 a share. At the time this article was published on RagingBull.com, he held 5,000 shares of RNN and was planning to trade them as described in this commentary. He had no options or open orders in the stock.
Related Articles: