Ocwen Financial Corp (NYSE: OCN) shares were down over 50% today, after the U.S. Consumer Financial Protection Bureau sued OCN and its subsidiaries, alleging the mortgage servicing company had "years of widespread errors, shortcuts, and runarounds cost some borrowers money and others their homes." After the news was released, Altisource Portfolio Solutions S.A. (NASDAQ: ASPS), a spin-off of Ocwen, fell over 40%.
Over 20 State Regulators Issue Cease-and-Desist Orders
More than 20 states issued cease-and-desist orders to Ocwen Financial and its subsidiaries, which prompted shares to fall just over 60% at one point. Now, the N.C. Commissioner's order prohibits the acquisition of new mortgage servicing rights, as well as the origination of loans by Ocwen Loan Servicing, which is a subsidiary of Ocwen Financial Corp, until it's able to prove it's able to appropriately manage its consumer mortgage escrow accounts.
Consumer Financial Protection Bureau Allegations
According to the U.S. Consumer Financial Protection Bureau found evidence that Ocwen engaged in widespread and significant misconduct in its mortgage servicing process stages.
The U.S. consumer agency's alleged violations include, failing to credit borrowers' payments, illegally foreclosing on homeowners, signing up and charging borrows for add-on products in a misleading manner, and servicing loans using information filled with errors.
According to U.S. Consumer Financial Protection Bureau Director Richard Cordray, "Ocwen has repeatedly made mistakes and taken shortcuts at every stage of the mortgage servicing process, costing some consumers money and others their homes."
Ocwen Financial Corp Statistics and Valuation
Ocwen Financial is one of the largest nonbank mortgage servicers in the U.S. The company focuses primarily on delinquent and subprime mortgages, and handles over 1M mortgages, worth around $209B.
The stock traded hit a low of $2.12 today, and its day high was $5.51. OCN traded between  $1.29 and $6.15, over the past 52 weeks. Consequently, the stock is currently over 50% below its 52-week high and over 85% above its 52-week low. Prior to today, OCN was up over 10%, over the past month, and outperformed the specialty finance industry.
Here's a look at OCN's recent performance on the daily chart: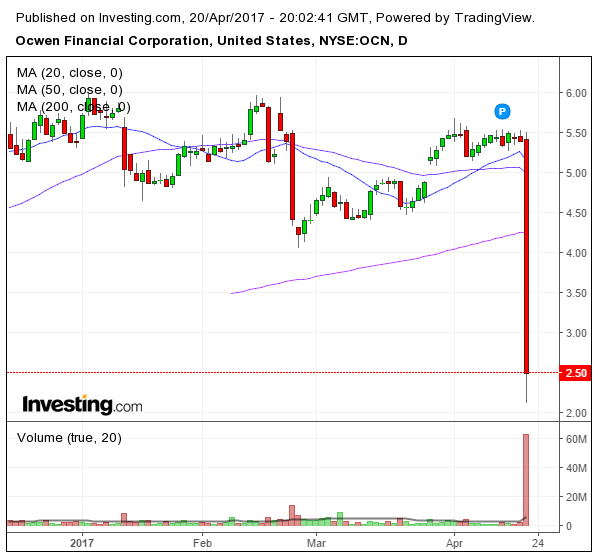 Source: Investing.com
Ocwen Financial Corp. currently has a book value per share of 5.26, and currently has a price-to-book ratio of 0.46. The company has been operating at a loss over the past three fiscal years, and consequently, it does not have a P/E ratio. Now, the company has a trailing 12-month return on assets (ROA) of -2.7% and a trailing 12-month return on equity (ROE) of -26.6%. Now, with a catalyst of this size, you could still look at valuation ratios, but it's not good practice to trade or invest solely off these ratios.
Final Thoughts
After the U.S. Consumer Financial Protection Bureau announced it's suing Ocwen Financial, shares fell over 50%, and ASPS fell in sympathy. OCN is expected to report its earnings on April 26, 2017, but the date is subject to change. Now, it'll be interesting to see how OCN responds to this, as well as whether it would change its earnings date after this news.
Related Articles: