Most people are taking a beating in their portfolios right now. I sure hope you are weathering this storm the best you can.
The market is in correction territory down more than 10%. Not only that, this is the fastest 10% drop in stock market history… AND it's on track for its worst week since the financial crisis.
Needless to say, the coronavirus fears have taken hold and it's not pretty.
However, I've been absolutely crushing it—trading penny stocks. 
Now, I don't know what's next for the market. 
I just know what's next for me… and that's massive profits.
Not only have I grown my account massively over the years… getting out of debt, paying off a house, buying a new one, paying that off, vacations, dream car, retirement savings, etc…
But I am also up massively during the selloff this week.
And I am going to show you why… and how you can follow along too.
The market is down because of coronavirus fears. So how can you combat that?
Well using basic logic, buy stocks that fill a need related to the coronavirus or short stocks that will take a hit because of it.
Seems simple enough, but how do you know which stocks will make an impact and which won't?
That's the beauty of my system. You don't have to know.
My system finds them for me and plays on the momentum of the stock.
Am I searching the news for the best coronavirus plays, or analyzing the drugs each biotech firm is working on trying to assess which will come through?
Absolutely not!
I am running the same basic scan I do every day no matter what is going on and this does all the hard work for me.
The scan is set to pick up on momentum.
Therefore if a stock is moving because it is related to the coronavirus market needs, I will have it right in front of me in the few seconds it takes to run. That goes for any market hysteria.
Take a look at a couple coronavirus trades from just this week that pumped my account while the market was falling off a cliff.
Cleveland BioLabs, Inc. (CBLI)
This beauty popped up on my scan at the end of the day Wednesday.
And when I pulled the chart up I liked the setup.
In fact, I knew I liked the set up before I knew this was a coronavirus play.
When I get the results from my scan, I scroll through the charts to look for the setups I like. I don't care what the stock is at the time, I just want the best setups for my system.
Once I found CBLI and picked it out. Then I pull it up and look more closely at the current price action and volume.
At this point I know it's coronavirus related which just adds weight to the whole thing.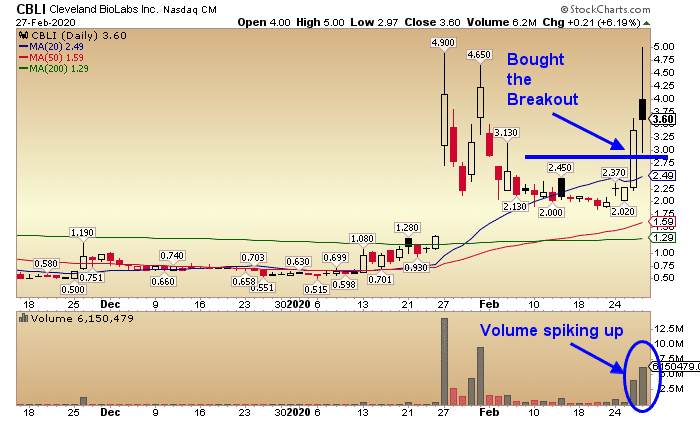 What I liked on the chart is the big move it was making on Wednesday and the big volume coming in on this move.
CBLI had broken above the pullback range… and coming into the close it was trading strong and volume was high…
So I called this trade out in chat, entered and sent my alert to members.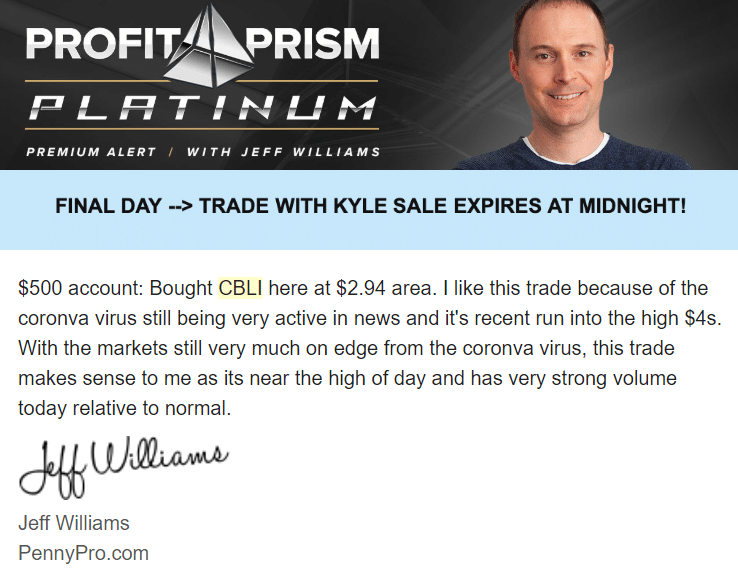 And the very next morning I grabbed $1543 in profits…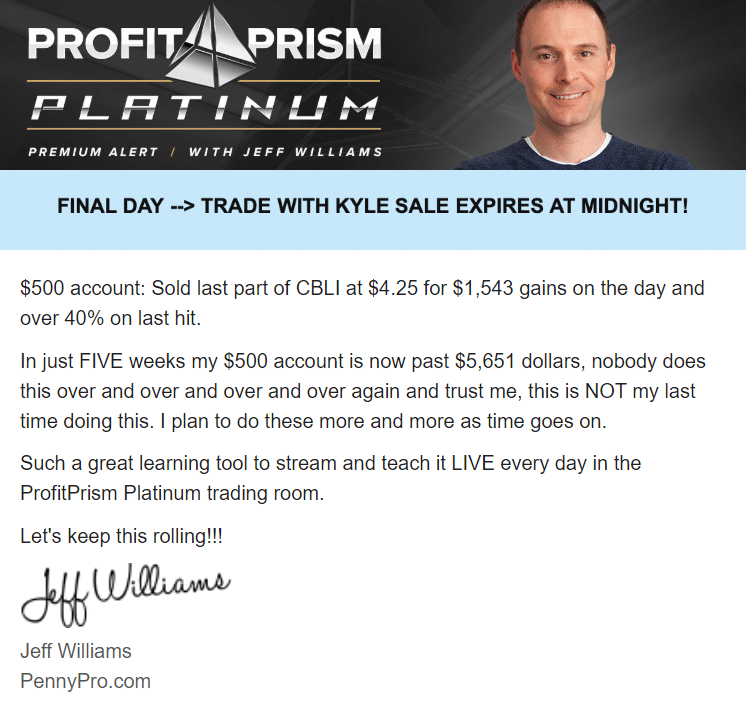 But I'm not the only one who profited on CBLI…
Feb 27, 9:19 AM
Douglas B. — CBLI: + 409 profit. Wow!!! 27%
Feb 27, 9:18 AM
Russ A. — Out CBLI up $3500 thanks Jeff
Feb 27, 9:18 AM
Brian I. — out CBLI 28% win!
And I didn't need to research coronavirus plays.
I simply followed my system and my system finds the stocks that have something behind them… whatever that may be.
And this is why I am making so much money while the stock market is getting crushed.
In fact, CBLI is the trade that put me past my goal of a 1000% return on $500.
When I cashed out, my $500 account was at $5,651 putting me past my goal of making a 1000% return on $500 in 3 months…
But not only that, I did this in just 5 weeks, so I still have about 2 months to keep crushing it.
That was Thursday morning though.
By the end of the day Thursday, I had gained even more and really SMASHED my goal… to the tune of 1180% return in just 5 weeks.
That's right my tiny little $500 account is now worth over $6400.
How did I go from $5600 in the morning to $6400 by the end of the day?
By using my scans and trusting my system.
Guardion Health Sciences, Inc. (GHSI)
My end of day scan on Thursday pulled up GHSI and this was another setup I liked.
The stock is blasting out of a consolidation pullback on a major volume surge.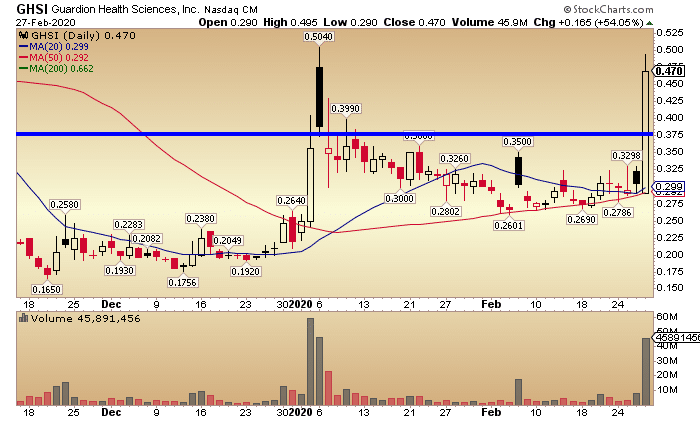 It was strong into the close and I jumped in…
GHSI ends up moving so fast it just keeps going and hits my target in minutes.
Tomi Environmental Solutions Inc. (TOMZ)
And the other stock helping my account pop above $6400 yesterday was TOMZ.
TOMZ broke out on Tuesday. The next day sellers stepped in trying to push it down, but it held forming a hammer candle which is a bullish candle.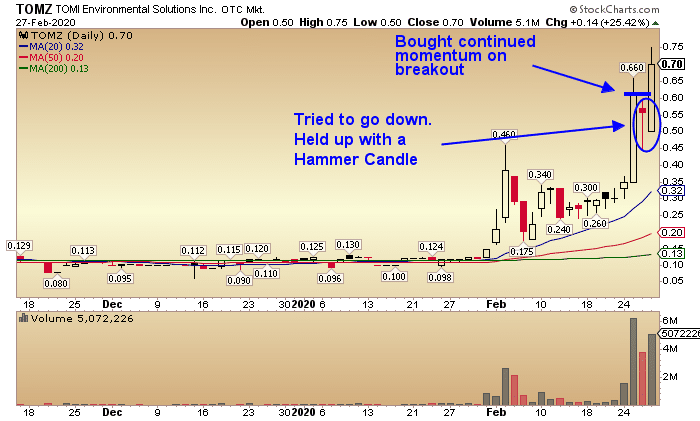 And then yesterday I jumped in once it broke above the hammer as the buying resumed along with volume.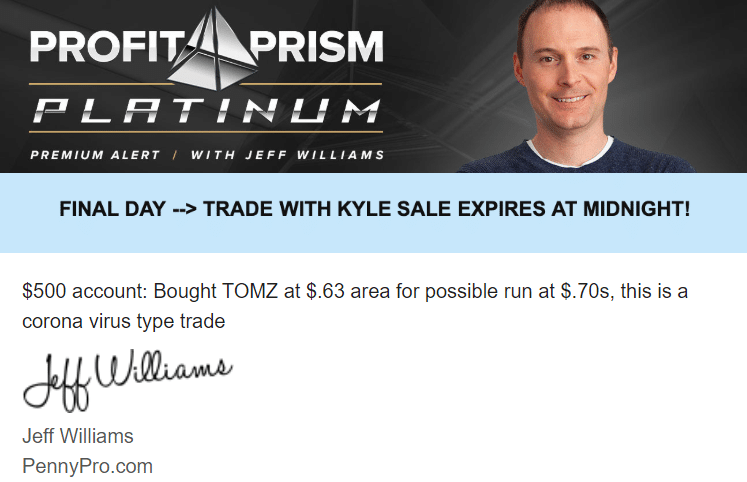 Final Thoughts
Listen… the markets are a mess. Until the coronavirus is solved, expect a lot more of the same.
Making trades in stocks that benefit from it is the way to make a lot of money while the market gets crushed.
I just showed you 3 trades that all happened yesterday to bump my account over 1180% return in just 3 weeks.
All 3 had some benefit to the coronavirus… but I didn't know that going in… I just ran my scan and traded my system.
My system allows me to make money in any market because it was made to find stocks that are ready to pop and take advantage of that.
If you want to survive the mayhem,
Related Articles: