If you don't know what a short squeeze is, you can get all the info right here.
But why should you care about short squeezes?
When a short squeeze gets going, there is no end to the number of people running for the exits. 
In fact, if you get caught on the wrong side of a short squeeze… you could literally blow your account out.
However, you know how to play the long side… It could be payday!
There are specific market forces that create the fuel for an epic squeeze.
When I stalk explosive opportunities in the market, I focus on the short interest (days to cover and short percent of float), and the recent price action.
In the right setting, those two simple indicators allow me to spot parabolic moves in stocks.
Once the shorts panic and start to cover, it creates a demand that can not be matched… and in turn, creates the most powerful move you will ever see in the market…
The good news for you, I am always watching stocks that have the potential of getting caught up in a squeeze, and today I am going to share those stocks with you…
Here are the top 2 short squeeze candidates that I am watching right now…
Now this may sound familiar but doesn't quite ring the bell.
Just think about the last time you were on an airplane browsing the web when the free airport wifi shut off.
This is where GOGO comes in. You probably saw an option to connect to wifi for your flight.
GOGO is the company that provides this inflight internet connectivity on thousands of planes across the globe.
Maybe you've even used it before.
Concentration of Short Interest:
Short Ratio (days to cover)   — 21.5
Short Percent of Float  — 63.73%
63.73% short percent of float… That's massive! No one seems to believe in this company right now.
A look at the price action: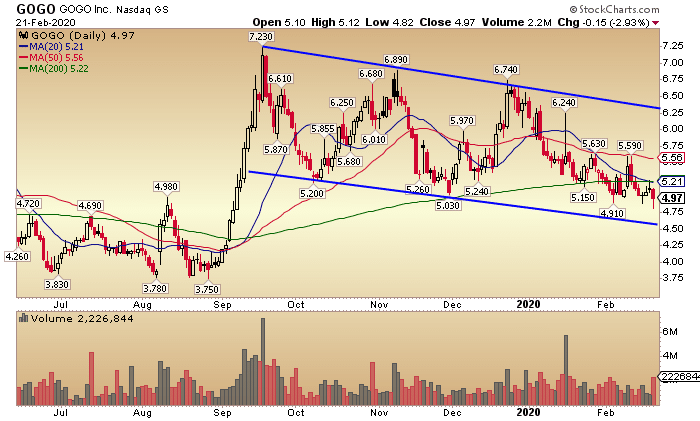 Pretty clean downward channel.
You want to buy a stock that looks like this?  Probably not.
But let's look at when you might want to because as you know, there is a high concentration of short interest in this stock.
So IF something does change to get the shorts on the defensive, the stock is ripe to take off like it did in September.
Looking at the big spike in September, GOGO inked a couple of interesting deals. One partnership to bring inflight internet to Chinese airlines. And the other a partnership to bring augmented reality to all of Japan Transocean Air's flights.
As a result of the new developments, the shorts got squeezed out.
I like to look back on charts to see how the stock reacted to news events and earnings reports etc. This lets me get an idea of what we could see when events like these happen in the future.
Looking at the downward channel, you will notice that every time it hits the lower end, it pops back up to continue to form the channel… currently, it has kind of slowed down its bounce though.
And that brings us to the next point.
Looking back to previous resistance that is now acting as a support level…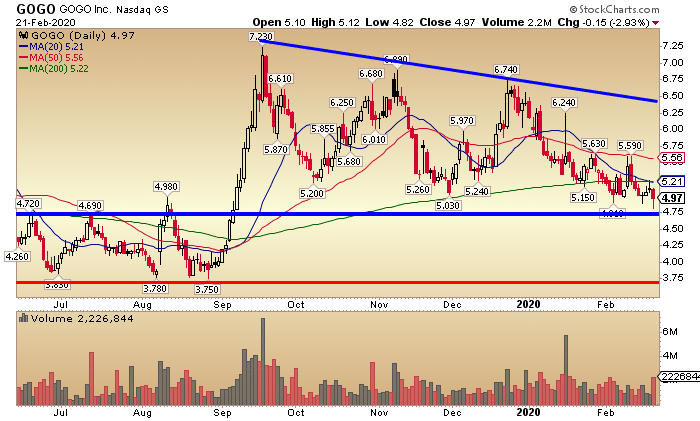 The straight blue line shows an area of support between 4.7 – 5 from the first breakout back in September. GOGO is currently trading just above that support level.
If it breaks below support there, the next level is a point lower just under 4. With the level of short interest, most people are clearly betting on a breakdown.
Another thing to note is the 200 day SMA. GOGO crossed below which is a bearish signal.
All this taken into account, do I want to up and buy it right here?  Of course not.
I am watching it because of the potential of a massive squeeze, but I am also patient in my trading. I wouldn't be where I am today if I wasn't.
What I'm Watching For:
What I want to see in GOGO is for it to hold above this support level. Potentially putting in a consolidation trading sideways for a little bit.
If it consolidates and holds above here, it needs to close above the 200 day, and get some volume coming in on the move up. This could get me in.
If the stock can get to the upper level of the channel, this would put the pressure on the shorts.
And with 63% short interest and 21 days to cover, if it can break above that level, it could really put a massive squeeze on.
Ocular Therapeutix Inc. (OCUL)
Ocular Therapeutix (OCUL) is a biopharma company that focuses on the formulation, development, and commercialization of therapies for diseases and conditions of the eye using its bioresorbable hydrogel platform technology.
Concentration of Short Interest:
Short Ratio (days to cover)   — 9.6
Short Percent of Float  — 14.74%
As you can see the concentration of short interest is no comparison to GOGO, but it is high. And for OCUL there is a difference in the chart as well, and I will show you how this puts the stock in squeeze territory.
Recent Price Action:
Looking at the chart, OCUL is clearly in an uptrend. Quite the opposite situation from GOGO.
Here's how this is important.
As you know, when people are short a stock and it's going against them, they are losing money. 
So just take a second to consider how you would feel if you were short this stock right now. It's trending up, each pullback is at a higher moving average showing the growing strength of the move. And… It's trading just under its 52 week high.
This is big. If the stock catches a bid to push it through the 52 week high, that could be the catalyst to pressure the shorts to run for the door.
Catalyst Potential:
Being a biopharma company. OCUL has no shortage of drugs in development.
On February 7, the company released data from the Phase 1 clinical trial for its OTX-TIC candidate and the results were a big positive for the treatment and the company.
OCUL earnings are coming up on March 5 and this is always something to pay attention to. So many things in an earnings report and even more so in the earnings conference call can set a stock off.
Final Thoughts
Both of these stocks offer interesting looks at what can lead to a short squeeze. GOGO with its massive concentration of short interest, but needs time to develop a support level.. It could easily break down, so it's one to be watching for a future setup.
And then we have OCUL with a chart setup that is just waiting for the next move. Will we get that from the upcoming earnings? 
I will be keeping a close eye on each of these for their respective moves… whether that's a breakout now in OCUL or a future setup from support on GOGO.
But while I am watching these stocks… I am also trading every day with my core Profit Prism system… and I am absolutely crushing the market.
If you want to keep on eye on potential short squeeze stocks and see how I make money on a daily basis, Join Profit Prism Today!
Related Articles: