Well the market doesn't seem to know what to do with all the conflicting headlines.
Sell the stay-at-home stocks on vaccine news and buy the recovery stocks…
Then flip on news of the record outbreak expected over the next months.
And today…sell it all?
It's hard to keep up with honestly.
That's why I search for stocks with their own reasons to move.
And today, I've uncovered 2 stocks that don't care what the market is doing right now.
…one is in the EV industry and the other out with vaccine news… both hot topics, so check them out before it's too late.
Electrameccanica Vehicles Corp. (SOLO)
There's no arguing the love for EV stocks right now.
SOLO got a nice boost to $6 back in July…if you remember this was right around the big TSLA earnings.
Since then the stock has trended down and more recently been trekking back up, creating a sort of rounded bottom formation. (learn my personal strategy here)
I like that it has stayed above the 200-day and is now trading above the 20 and 50-days.
SOLO is also trading above previous resistance levels, giving this breakout a chance at some follow-through momentum with room to run above $4.
Over the next week, we will be seeing earnings from the Chinese EV manufacturers.
Including today's report from XPEV, which has that stock flying, up nearly 30%.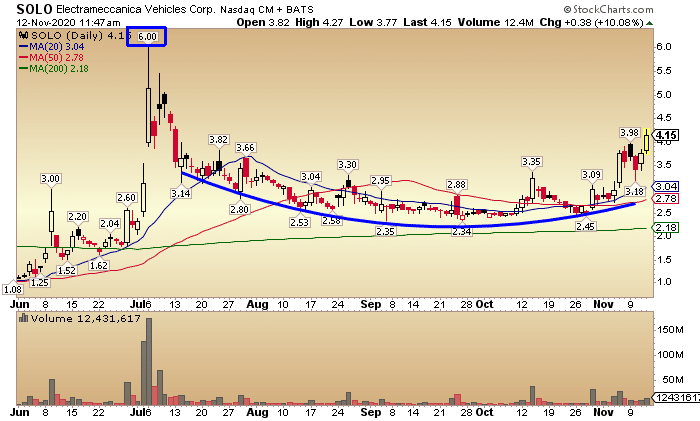 Vaxart, Inc. (VXRT)
This is a stock that originally took off with the "race for a vaccine" trades, hitting a high of nearly $17.50 back in July.
Since then, nothing has really been able to keep VXRT stock going.
Until now maybe?
Vaxart (VXRT) released a statement saying that additional results from a study of its coronavirus vaccine using hamsters showed promising signs of the vaccine's effectiveness.
And unlike other potential vaccines showing promise, this vaccine can be kept at room temperature and would not require a cold chain to transport it.
Promising? Maybe…and is it enough?!
The stock is currently up 15% trading over $5 today after hitting a low of $3.50 just days ago.
The timing couldn't have been better. It seems as if traders had all but given up on the stock.
Only time will tell if there is anything real behind the claims and if the stock will catch a bid.
I'll be watching it today as the stock is back over the 200-day moving average on the news.
But I'll need to see it stay above the 200-day for any meaningful trade setup here. Resistance is above at the 50-day moving average… around $6.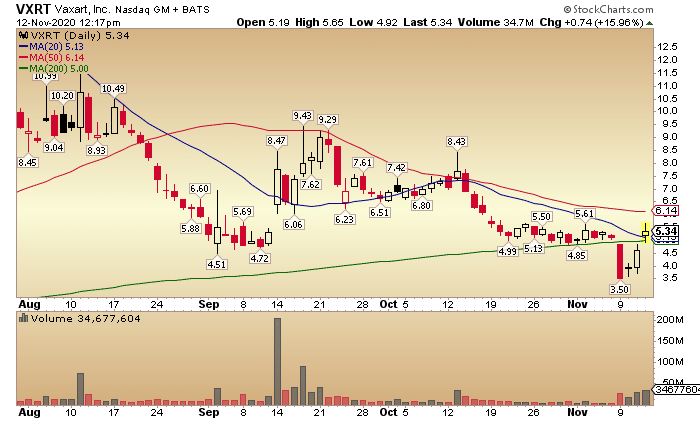 ---
Today's Stocks to Watch
IMAC         +91%
INOD         +26%
CDTX        +24%
FOSL        +23%
---
As always, patience is key… don't jump into a trade without a clear setup and never trade without a plan.
Tune in every day as I share my thoughts on the market…and what I'm watching.
And if you really want to understand how I look at charts to find my trades… Learn more about my personal strategy for finding stocks on the move… Each and Every day…