I said it before and I'll say it again…
There's nothing easy about trading the markets going into an election.
We all know how the market feels about uncertainty… and until the election is over, there's way too much of it.
Mix in all the extra craziness in the world right now… and it's almost overwhelming.
Coronavirus, China relations, major social issues, shifting environmental concerns, and the differences in how each candidate will end up handling them…
I fully expect the markets to stay volatile through the election.
But don't worry… I have a plan on how to trade through it.
Just because the market is a mess, doesn't mean your trading has to be…
And I'm going to share my plan with you today… with 3 simple steps.
Pre-Election Volatility

We are still over a month away from the election, so there's really no reason to think the volatility is going to change anytime soon.
You can strap in for a wild ride, gear up for some losses, stop trading…
Or simply adjust your strategy to account for the volatility.
Here's how I am doing it… in 3 simple steps:
Step one: Find stocks with a reason to go up.

Step two: Look for increased volume with a pattern or setup that tells you demand is taking over… and jump in.

Step three: Take your gains quickly
For a great example of this in action, I'll walk you through my trade from Monday in ENZC.
Enzolytics Inc. (ENZC)
I entered a trade in Enzolytics Inc. (ENZC) last Friday… and took a quick 28% gain on Monday…
…while the market was getting crushed…
You see, the stock didn't care about the market (step one)…
They recently announced the execution of a non-binding letter of intent to merge with BioClonetics Immunotherapeutics, Inc.
So it was moving for its own reasons.
Taking it a step further…
I then used the technicals to find an entry in ENZC.
Day 1 the stock popped up, Day 2 it pulled back.
And Day 3 I made my move as ENZC broke above the previous high… using the volume to get in and ride the increased demand pushing the stock higher (step two).
And last but certainly not least… I took my profits off the very next day (step three).
This step is extra important in this environment. With the markets so unstable, nothing is safe for too long.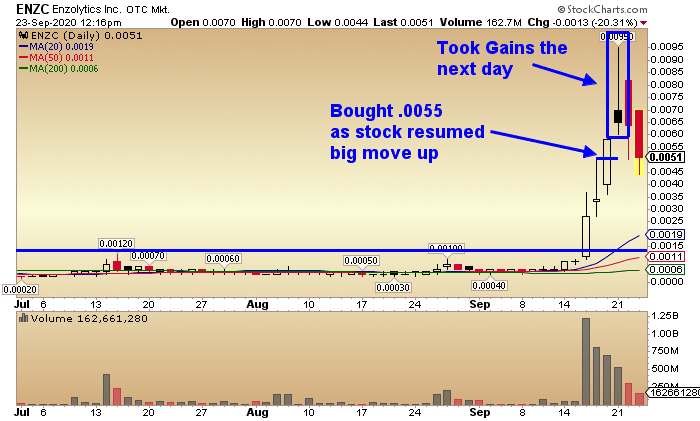 Just look at the stock the next two days… that's exactly why part of the strategy is to grab profits quickly.
While I am getting in on increased volume and demand…I make it a point to get out on it too.
Don't get caught holding the bag.
Sure it may seem tough out there…
But there are still stocks that will be moving up at any given time.
Looking for stocks with increasing demand and a catalyst behind them is the way to find them.
The key is getting your profits… while you have them.
And that's just what I did with ENZC.
I grabbed a decent 28% return overnight on a day the market tanked over 500 points… and right before the stock itself sold off as well.