It's a shortened trading week, and there's continued focus on positive vaccine news.
And while the holiday season is generally a great time for retail stocks…
My focus this week is still on sustainable energy.
EV and related energy stocks have been on fire lately and there's no letting up today.
With TSLA set to join the S&P 500 at the end of December, there's been a big flow into this sector.
Not to mention if we see a vaccine and return to normalcy next year, energy prices could rise on renewed economic production…lending to increased value in sustainable energy.
I'll get right to it…
Here is a look at some of my movers today along with my watchlist for this afternoon's trading session.
Fuel Tech, Inc. (FTEK)
Fuel Tech (FTEK) provides boiler optimization, efficiency improvement, and air pollution reduction and control solutions to utility and industrial customers worldwide…aka they provide solutions for pollution control and reduction.
FTEK broke out of a consolidation shooting up to an intraday high of $2.05 on Nov. 11 after their earnings report…only to trail off hitting a low of .92 on the 17th.
However, with the .92 low, the stock held above the consolidation range and bounced up (blue circle on chart).
Today, hitting a high above the earnings day breakout…
I'll be watching for support at 1.80 and resistance in the mid 2's this afternoon.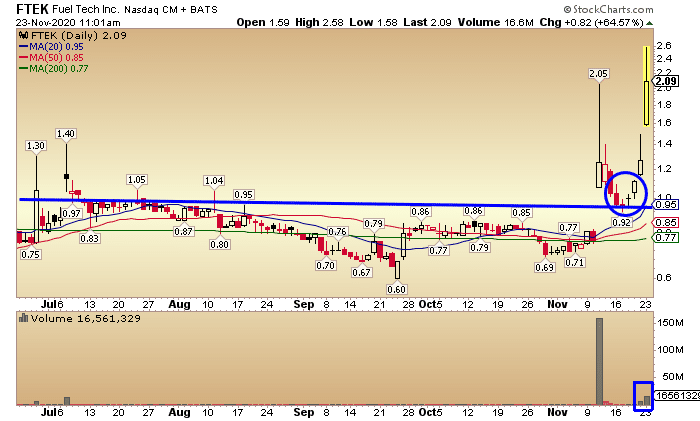 Join me in my Stock Profit Pro – Live Trading Room, as I walk my members through my trades and what I am watching every day.
(IDEX)
Ideanomics, Inc. focuses on monetizing the adoption of commercial electric vehicles, associated energy consumption, and developing financial services and Fintech products.
Previously announced they are doubling the size of its investment in California-based Solectrac Inc., which makes battery-powered electric tractors.
And the stock is off to the races, currently up 67% today.
I just talked about the breakout in IDEX last Friday… and today we are getting a big gap up and follow through on the new announcement.
Next chart high from here is at $3.98. I'm watching the intraday high at $2.88 and for support to hold above $2.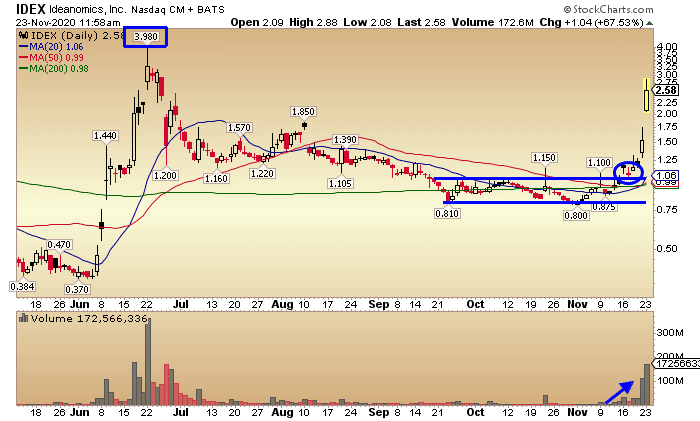 DPW Holdings, Inc. (DPW)
Today, DPW Holdings (DPW) announced its Coolisys Technologies Corp. subsidiary established a program to get its electric vehicle (EV) chargers into national fast-food restaurants.
DPW said it expects the program to allow owners of fast-food franchises to install the ACECool EV chargers and share in the revenue from advertising and network usage.
Coolisys expects to launch the program in California, Nevada and Canada, with the unveiling of "a national fast-food network" partner, that forms a part of the network with over 1,000 locations, along with other partners expected to be announced in the first quarter of 2021.
DPW first announced the development of its EV charges back in July with the stock ripping up to $5.24 on that announcement.
Since then it retraced the whole gain, that is…until today.
Breaking out of a wedge on Friday, DPW announced the partnership today and the stock gapped up from there, currently doubling in price to over $4.
The next chart high is the $5.24 price from when they first announced the EV charger plans.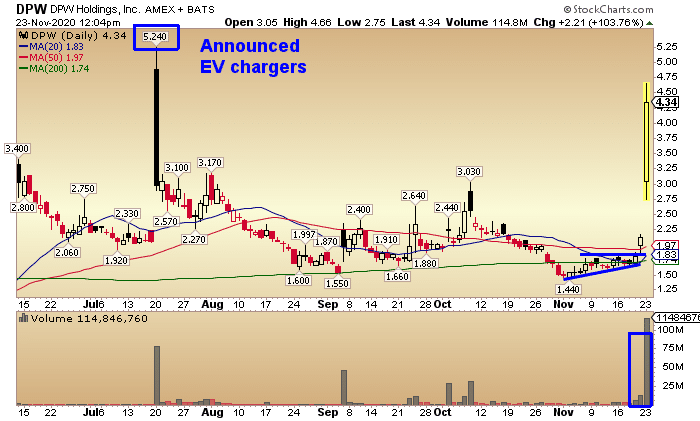 MICT, Inc. (MICT)
MICT, Inc. (MICT) designs, develops, manufactures, and sells rugged mobile computing and video telematics devices for working in the field.
Today they announced the signing of a number of significant new insurance agency contracts which the Company anticipates to generate significant recurring monthly revenues, potentially up to several millions of dollars per month, beginning early in the first quarter of 2021.
The stock took a big hit when they announced a secondary direct stock offering at $2.50, with the stock getting as low as $1.45.
Today MICT jumped out of the channel it formed after the offering closed on November 4.
However, the stock has pulled back quite a bit today, even testing the top of the channel for support.
I'll be watching to see if MICT can hold above the channel at $1.80, and move back to highs today. Without some renewed strength, this stock will fall off my radar quickly.
Intraday high is at $1.98 and the 200-day moving average is just above at $2.17, making this a little bit tricky.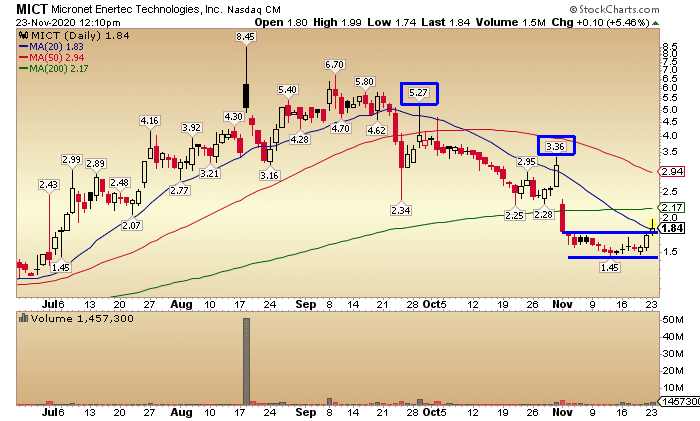 Nevertheless, it all comes down to the end of day momentum, will we see it or not…
It's time for you to get off the sidelines and in the game…
Don't waste anymore time wondering how to spot good momentum trades.
When it comes to the specifics of what gets me into a trade…
I teach it live Every Day in my trading room…but not only am I teaching it, I actually take my trades right there… walking my members through each step… all live.
Get your trading moving forward… Join Stock Profit Pro Today
---
Afternoon Watchlist
ENZC +54%
FCEL +51%
PEI +44%
POLA +38%
MARA +35%
RIG +18%
---
To get the most out of your trading, you need to be in my Live Trading Room.
This is where I spend the majority of my day…trading, teaching, and having fun with over 1,000 members.
Learn the strategy, see it live, trade with friends, and do it every day…