It's been interesting, there's no doubt about that.
And you don't have to look far for questions to pop up all over the place.
Let's start with the coronavirus. A week ago it was certainly going to crush the global economy (still could). And this past week, we saw a full rebound in the markets (as if nothing is happening).
Just look at the chart of the SPY. The previous week it tanked to the 200 day MA on virus fears… and as you can see in the blue rectangle, a full rebound this week, even hitting new highs again.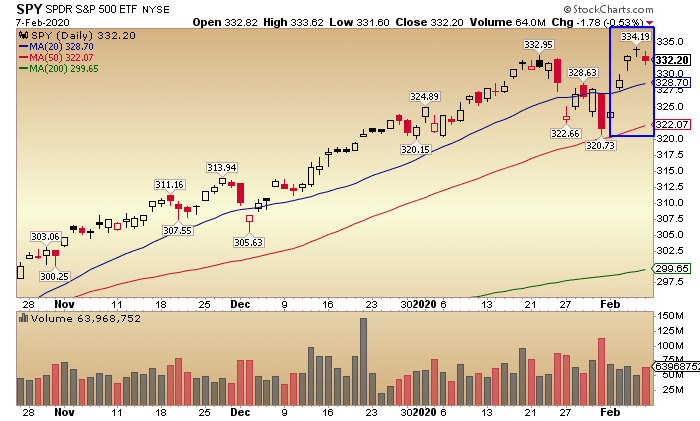 How could this be when nothing has really changed? Over 800 deaths, almost 40k cases, and still… no vaccine (hopefully it's close).
Until the vaccine is a reality, how can the market be so chill about everything? Sure it's been contained to China (so far), but China just so happens to be the 2nd largest economy in the world. 
No big deal? You tell me because I'm confused. What I'm not confused about is how to make money in any market… bull, bear, sideways, recession, volatile, you name it. So how do I make sense of this?
Well there are some possible answers…
There is the talk that a cure is near. That along with strong earnings and economic numbers of late could be quelling worries related to the virus… but I haven't seen the cure yet.
And then China lifted tariffs on $75 million worth of American and Canadian goods. Not bad… but with tens of millions of people in lock down, China is certainly taking a hit and needs anything they can to help offset the economic damages.
We also had a great employment report this week… things look robust, so is that all we needed?
Maybe, but it seems a little nearsighted to me. Our economy isn't an island. It feels like we are being led into a slaughter. But I don't have to worry about that.
Do you? Keep reading for more telling moves from this week and how I plan to stay ahead of the pack.
So what happened here? I mean, is it that big of a surprise…  It's a mattress company that hasn't turned a profit.
CSPR is basically being priced like a tech company. But it's not a tech company. It's a mattress company.
Their view… Casper is a pioneer of the new "sleep economy," an economy with a worldwide value of over $400 billion.
Exciting right? Yeah kind of… but no profits yet? Why buy now?
And new to the story…  they began opening bricks and mortar stores. Aren't they an online company that sells a bed in a box?
Maybe they think that's a way to fight off the many, many new competitors joining the space…  Purple, Nectar, Serta Simmons' Tuft & Needle, Walmart's Allswell mattress brand and Eight Sleep to name a few big names.
I'm pretty sure these are the questions being asked by investors as the IPO pricing was slashed.
The original pricing was a $17 -$ 19 range, putting the company's value at upper $700 million.
Well needless to say there wasn't enough interest. Whether it be the underperforming IPO market of late, or simply the high valuation of Casper itself… 
The final pricing was $12, the bottom of the lowered range, putting a valuation at mid $400 million.
This being way below the original pricing of upper $700 million and even further below the $1.1 billion valuation from the last round of funding.
Tough crowd… but it's not over… take a look at the chart to see what happened when it opened.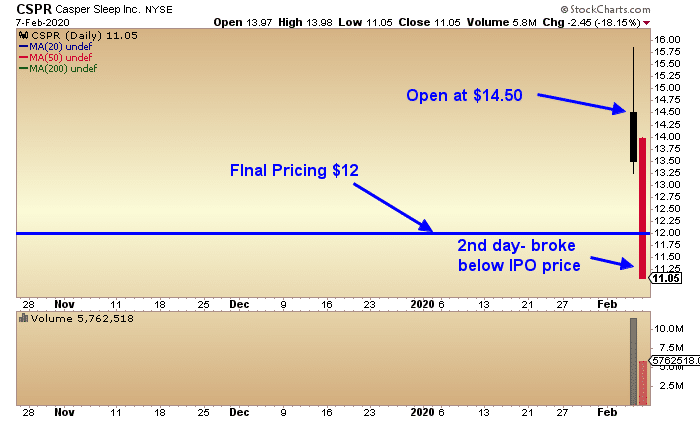 Opening at $14.50, there was some interest (probably just the banks trying to support it). But after a spike up, the stock closed down to 13.50. Sure that's a bit higher than the $12 pricing, but down from the open…
And the very next day… BAM!
A little fake out by gapping up, just to tank breaking below the $12 pricing…
If there's one thing I know about IPOs, it's that a break below the IPO price is a disaster for a stock.
We'll see what happens this week, but with recent troubles in the IPO market… this could set the tone for the year…
Or it's just an overvalued company and investors aren't going to be tricked… this time.
TSLA – Tesla's Massive Short Squeeze
And then we have TSLA, the mother short squeeze of the week.
As a penny stock trader, I'm no newby when it comes to a good short squeeze… and take a look at that pop. Looks like a penny stock move. But it's a $700 stock.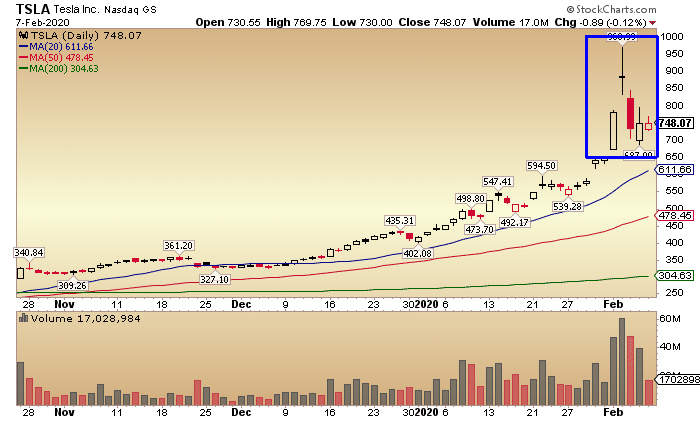 TSLA was up over $300 from the close on Friday to the high on Tuesday… that's a massive gain in just 2 days.
By the end of the week it was back down to $748… more than $200 under the high.
The shorts got squeezed no doubt. Was the move back down a profit taking breather, or did the shorts get back in?
When you read the commentary… it's still a battle between the 2 beliefs… 
TSLA is super overvalued
And…
TSLA will be a $7k stock in a few years.
Is this bitcoin or the future… or both?
How Do We Stay Ahead?
So what can we expect going into this week?
Most likely more coronavirus volatility. From what we've seen, this isn't over.
When the market tanks on fears of something and rebounds the very next week… when nothing has changed… Well, that usually means we are in for more back and forth.
With consumer confidence up in January, if we don't get a vaccine soon, we will see if that holds up in February.
And we will get a little preview of that this week with the Michigan Consumer Sentiment Index.
With so many heavy questions to be answered, do you have the answers? And are you willing to put your money down without them?
If not, check out my 5 Steps to Grow your account quickly. I have the answers to make money trading in any market environment.
With the stocks that I trade and my trading strategy, I don't have to worry about the unknown. 
My strategy gets me quick profits so I'm not at risk of the changing whims in the market.
And the stocks I trade… they move for their own reasons. Reasons that I have keyed into and have created my whole system around.
Uncertain times are ahead, if you want to make money with less worry… and more certainty.