What if you could wake up Monday morning to start your week off with profits?
That might just take the edge off the rest of the week, letting you focus on your best trade setups without worrying so much about each tick.
Well, that's why I love my personal trading strategies…
I key in to specific patterns at the end of the day that have the potential to make big moves the next morning…
And it's no different on a Friday… I'm just cashing in Monday morning to start the week off with a bang.
Today, I pulled out 4 winners in a row with my picks from last week.
And it's not really that complicated either.
In fact I'll walk you through it in a matter of minutes…
Beyond Commerce, Inc. (BYOC)
BYOC had been consolidating for a couple months.
Last Friday the stock broke out on high volume (a key in all my setups).
I jumped in at .0021 looking to carry that momentum into Monday's open…
Which is exactly what we got with a quick pop and $1,400 profit this morning.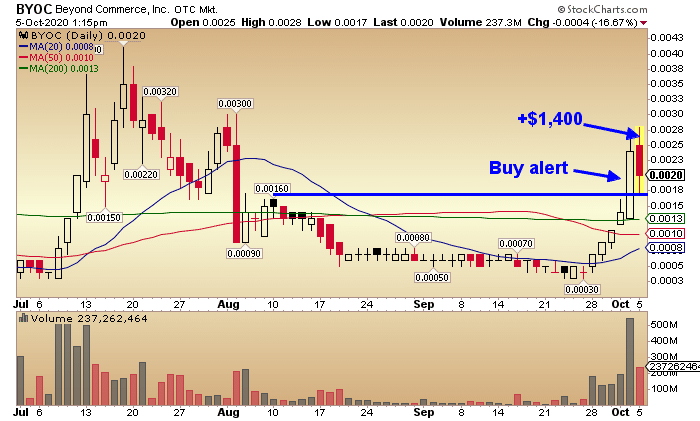 CHF Solutions, Inc. (CHFS)
Look at the chart below for CHFS…
CHFS has been bottoming in a tight range since early September… potentially setting up for a breakout move.
Last Thursday volume picked up while pushing the stock up through the 20 day sma.
I pulled the trigger at .363 but the stock didn't follow through the very next day as they so often tend to do.
That's okay though. I got a small pullback that stayed above the 20 day sma, and this morning I was able to get the follow through I wanted for a quick 14% gain.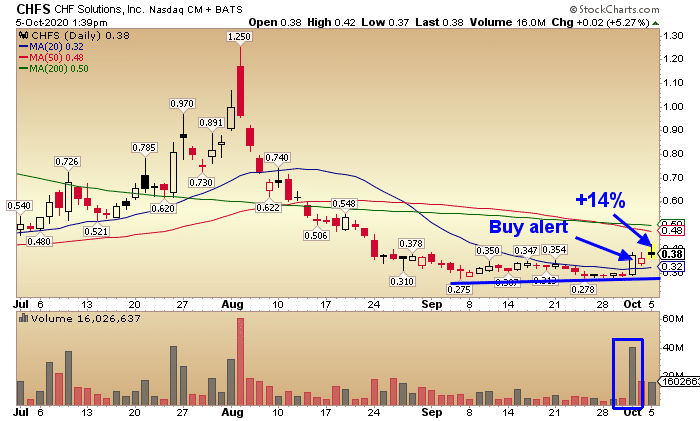 Westwater Resources, Inc. (WWR)
This was my Weekend Wiretaps trade last Friday…
Picking some up at both 4.60 and 4.80, looking for the momentum pop on Monday.
And I definitely got that pop, cashing in for $750 gain, I left a lot on the table with this one.
It happens. It just goes to show the massive potential in these trades.
And really, you have to learn to be okay with leaving profits on the table. That's all part of the game.
You can't get every dollar out of every trade. Take your profits when you have them and be happy with the result.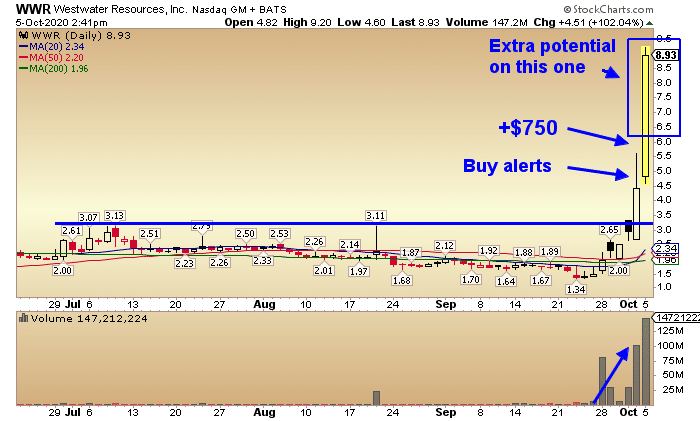 Enzolytics, Inc. (ENZC)
I traded ENZC back in September for a nice overnight pop.
You can see it in the chart below… buying at .0055, ENZC hit a high of .093 the next day.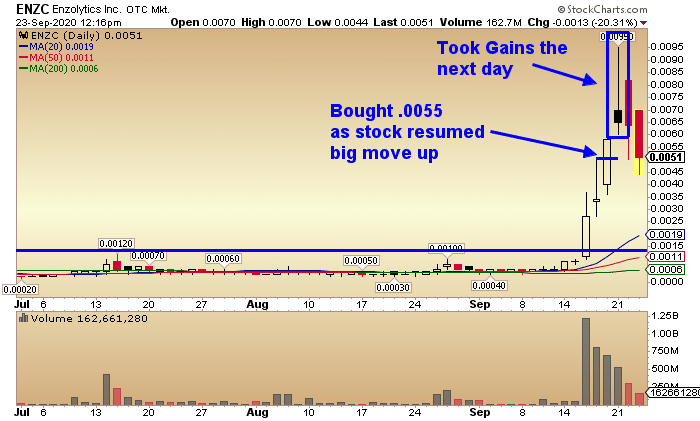 Continuing on from that trade…
As the stock pulled back, I took a small position for a longer swing trade that pulled in a decent 15% this morning.
And just like WWR… You can see there was clearly a lot more potential in this one on the swing high breakout today.
But again, I'm happy with my 15%.
I'm not saying I don't pay attention to these moves after I get out.
I am always paying attention, and studying the moves to learn anything I can that will help me with my profit targets next time.
But I must point out that sometimes I take my profit and the stock tanks right after, so there's a balance between grabbing profits now and holding for more.
Finding that balance will make you consistently profitable.
And that's what my strategy teaches… taking profits in areas that are likely to hit resistance.
As the saying goes… No one ever went broke taking profits.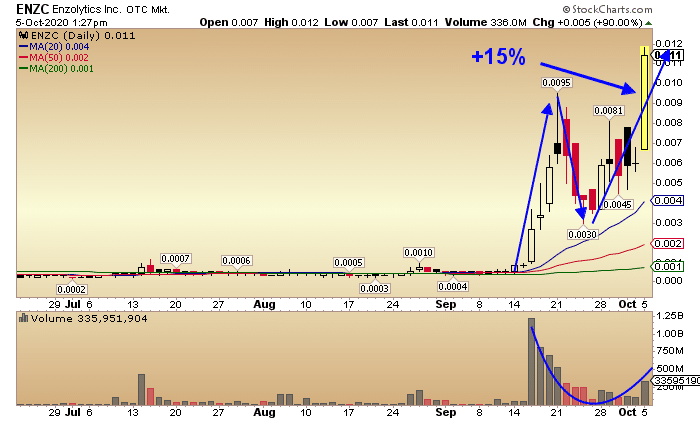 Well, that pretty much sums up my Monday morning.
Do the setups look complicated to you?
They shouldn't. I rely on the fundamentals of supply and demand to tell me when a stock is making a move that can continue up.
Then I simply use a few basic chart patterns to find my entries.
And here's the key to it all… I'm looking to be in and out so it's just about a quick momentum surge. I don't need to know where the stock is going over the next month or year.
By getting in AND out on the surge, I'm able to stack the odds in my favor.
You can learn more about my strategies right now with my Free Stock Trading Starter pack.