There are several reasons why top traders outperform the competition.
And one of those reasons – They Don't Trade Alone
For example, most hedge funds and prop trading firms encourage people to trade as part of a team.
There are several benefits of team trading. Including:
Several set of eyes on the entire market

Support—helps with the psychological side of trading

More time to develop and learn new ideas and strategies

Lean on others who are experienced and have a track record for success
You'd be amazed at how much your trading can improve if you just talk your trades out with someone else – Before Placing Them
And don't worry about not seeing things the same way, that's the whole point… opposing views aren't bad in trading.
They can actually be very helpful. Maybe you missed something and talking it out with others helps you avoid a mistake.
And by working with others, you will be open to more opportunities because while you may find trades they didn't see… they will find trades you didn't see as well…
Sharing and talking about trades will help all of you become more successful and more profitable than trying to go it alone.
I see this every day in my Stock Profit Pro trading room.
In fact, here's what Mandy and Daniel (members of my trading room) had to say:
"People in the chatroom actually respond, whether it's the moderator, or members, I always get an answer for my question" — Mandy H.
"This chat room makes me feel included, everyone is very helpful, it is a community built on trust and friendship" — Daniel M.
So you don't work at a hedge fund or at a big firm on Wall Street?
No problem! You can still trade as part of a team… I am going to show you how you can AND why it will help you trade better and become more profitable…
Growing Your Profits With A Team
Just look at the big money making firms in the industry. Hedge funds for example split traders into groups (stocks, options, bonds, etc.) and they each share their ideas with each other, as well as talk out their trades.
In my experience… the traders who don't share their ideas and thoughts about their trades and try to go at it alone are typically the ones who end up failing.
While I may have started trading with little to no money and no experience or knowledge… I DID have a trading partner that I would talk about all my trades with.
In fact he is the co-founder of RagingBull, and super successful trader Jason Bond…
I wouldn't be where I am today without having him there to talk to in the beginning… and he would tell you the same thing about himself…
We are both successful traders today because we talked to each other about our trades…
And I'll tell you this as well… it might sound hokey… but I wouldn't be where I am right now without my members…
You see I trade live every day and talk everything out… they ask questions… we talk back and forth and that's what keeps me firing…
I might miss something that someone else sees and vice versa…
I'm a teacher and a mentor… but I'm also a member of my team… and that makes all the difference…
You see, we all come from different backgrounds and different experiences that shape our views… therefore when we trade in a group setting, we benefit from the many different ways of looking at something.
And that's priceless…
Take a look at this chart: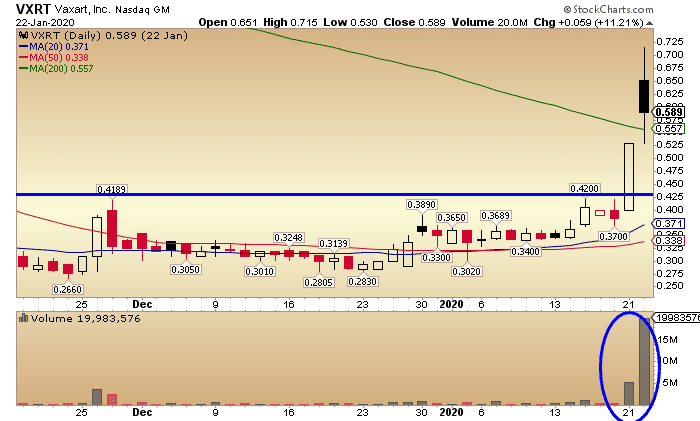 This is a classic consolidation breakout. One of my favorite patterns that I use every day. We talked about this in my chatroom when volume picked up (circled on chart) with a break above the consolidation range (blue line on chart).
The stock closed strong right on the high of the day. This tells me there is good potential for follow-through the next day.
What happened next?
As seen on the last bar on the chart, it gapped up hitting a high of .72. This is a classic overnight move that I teach and preach in my chatroom.
Buy strength on breakouts at the end of the day… and pull profits out the next morning on the follow-through.
In and out… over and over.
Now…Imagine trading this breakout all alone.
You might get excited at the fast move and try to hold it for more gains (instead of cashing out on the follow-through)…
Just to watch it crash back down below your entry, where it retested the original breakout point (the blue circle on the chart).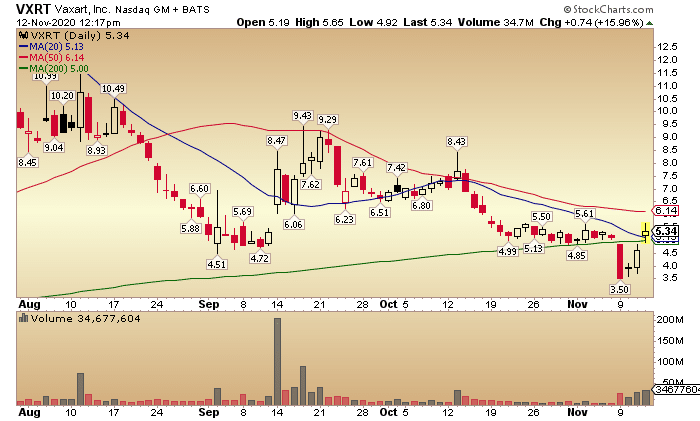 Then being alone you freak out and bail for a loss… after which you watch it take off again (the blue arrow on the chart).
So what went wrong?
It's simple… you were trading all alone.
You didn't get out on the follow-through…

a key part of the strategy I teach

.

You bailed at support for a loss…

where other traders were likely buying

.
It's hard to trade, but it's even harder to trade alone.
There is a reason for the way I trade these setups, and when you are a part of the Stock Profit Pro trading room, you are seeing it and learning it first hand…
If you traded VXRT in my Stock Profit Pro trading room… that was a money trade… an easy one.
If you traded it alone… who knows…
And that's not all you get from trading within a community…
There's another big benefit to being in the Stock Profit Pro trading room every day…
Having a room full of traders actually allows you to spot more trading opportunities because there are more eyes on the market.
Let's face it, sometimes we miss trades and don't realize it until after the fact. Trading in a community is one solution to that problem.
For example, in the Stock Profit Pro trading room, we're always looking for new trades and talking to each other about our ideas and what we see.
I have a great group of moderators that all post their trades too, along with other members calling out setups they are watching.
So you won't just be seeing the trades I take…you'll be seeing so much more.
And many of my moderators are more active than I am, so there are trade alerts going off all day in the room.
As you would expect, this has been helping members tremendously…
"Puts a great group of people together trying to accomplish similar goals. MOD are great for trade ideas. Jeff does an absolutely fabulous job of practicing what he preaches with the steps he takes everyday!" — Aaron B.
"I love the support from Everybody, and the CONSISTENCY! It takes time to truly learn and begin to master anything, and this group is more of a "Family" than just some place to make money. Everybody truly cares about everybody's success." — James G.
"You and Mods are real, you all care about this group. I have had many services over the years, some very expensive, and this real world trading…. Good, Bad and Ugly… Can't be beat. Education is priceless and can't find it in any other stock services." — Mike E.
Listen… if you want the benefit of a community of traders helping each other make more money…
Then join me in my Stock Profit Pro trading room every day where I talk about setups and trades with a group of traders just like you… and the best part — we have a blast while doing it.