If you don't already know me… I am the master of growing small accounts.
The strategy I use is legit. And with my help, you can grow a small account extremely fast.
Just look at this.
My current small account challenge is up 500% in less than 5 weeks. I started with just $500 on Jan 21st and my account is currently sitting at $3,000.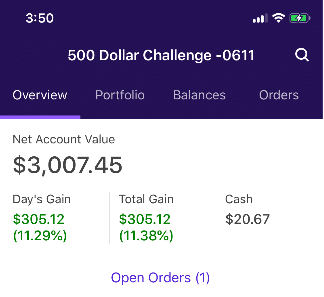 That's fast growth, but you're here to create a large account… and $3k isn't going to cut it… I feel you.
So how do we get you to the next level from here?
More of the same… In my last small account challenge from November 11th To January 11th, I turned a $3k account into over $21k in just 2 months…
By stacking your gains and sizing up, you will be making massive returns on a bigger amount.
This allows you to grow that 3k into something real… like the 21k I got to, in just  2 months of trading.
Take a second to think about how fast that is… I turned $500 into $3k in less than 5 weeks and in a separate challenge I turned $3k into $21k in 2 months.
Keep reading because this is where it gets interesting…
Once you get your account up to bigger values like 20-30k+
Just keep stacking and one day you will be taking bigger trades like Greg… 
Greg B. — Out of SPOM at .487 avg. from .156 +$16,550
Greg B. — Out of ABML at .133 avg. from .061 +$7,200
Greg B. — Out HENC at .31 avg. from .183 +$6,350
Over the course of a few days Greg cashed in on $30k of profits.
If you want to grow your small account fast, this strategy works…
And to show you how easy it is… I'm going to walk you through the trades, as well as the strategy that will have you stacking up the gains in your small account in no time.
In the chart below you can see where HENC broke through resistance (black line) for a nice move up.
We got interested in this trade after it pulled back and held above the breakout point. Once it made a strong move up from there, I jumped in and alerted my members.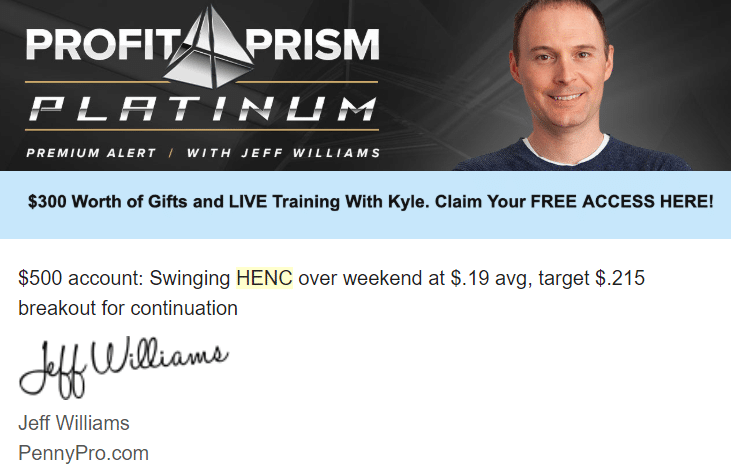 The very next day, we got a rocket move up and grabbed our profits. With his bigger account, Greg grabbed a cool $6,350 on this one trade.
And with Profit Prism Platinum, you can too.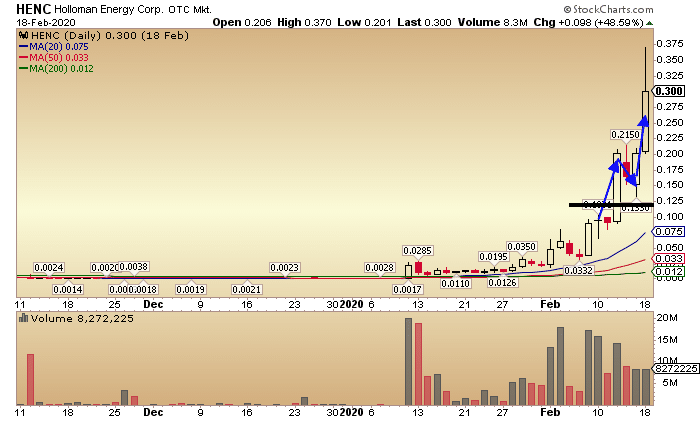 American Battery Metals Corp. (ABML)
Now look at the chart of ABML.
We get a classic cup and handle formation here… and once we get a break above the high of the cup, we jump in.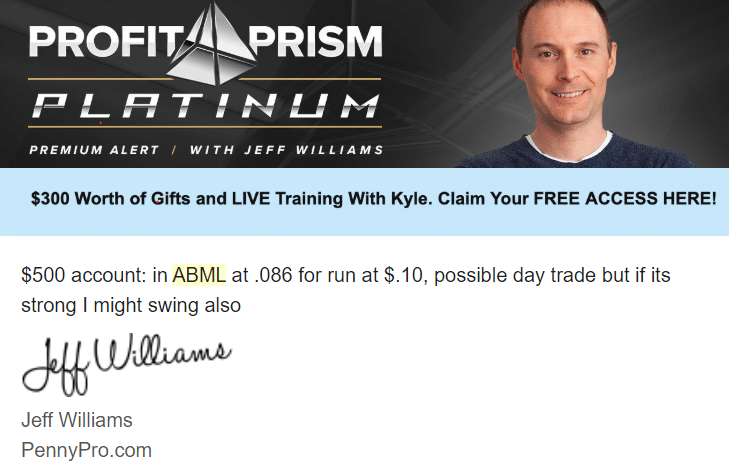 And this is where it gets sweet… often times in penny stocks you will see a stock just blast right past your original target handing you more gains than you even expected.
That's exactly what ABML did for us on Wednesday with a 120% move on the breakout.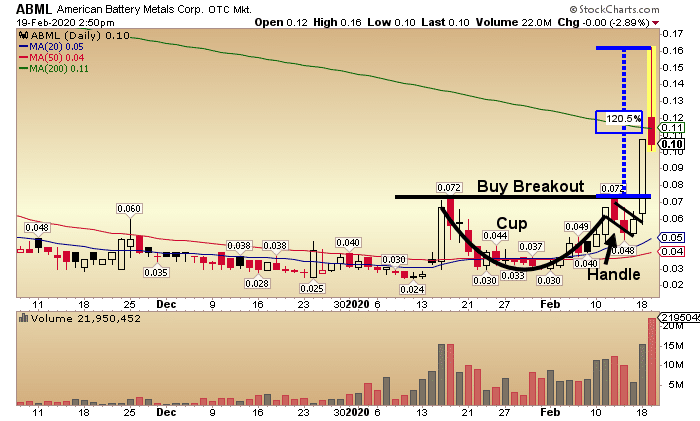 And what about our friend Greg?
Well he grabbed $7,200 in just one day on ABML. With the Profit Prism Platinum system and chat room, it doesn't take long to grow your account.
And once you get to Greg's size, you too can pull in overnight gains that you never thought possible.
SPO Global Inc. (SPOM)
And the best for last.
Check out this chart… talk about liftoff.
Greg entered this trade at .156 and exited at a .487 avg for a profit of +$16,550. Wow!
SPOM is a trade I actually didn't take, but shows the value of the Profit Prism Platinum system and chat room…
We talk about all of these trades in my live chat room, so everyone is alerted not just to my trades, but to others as well. It's just part of the added value.
And this trade was a testament to my system and education. We got the classic breakout on high volume followed by a pause. Giving us ample time to sniff this out and talk about it.
Once it broke above the previous high, there was a great opportunity to buy… and it was off to the races the next day. At the high it was up nearly 350%.
Don't Be Afraid To Start Small
I have shown my members over and over that you CAN take a small account and grow it into a fat account in no time at all.
And not only that, I show them how. In my live chat room, you don't just get alerts, you get my coaching and teaching… and live trading. I walk you through every trade in detail.
I can promise you this, you won't be lost with me.
Get access today… and start growing your account.