If investors see an acquisition being overly expensive to the value added, it can take the stock down until the value is realized in the earnings reports.
But it's also not uncommon for investors to love the idea causing an acquirer's stock to take off on the news.
And that's the reaction we saw this morning in two stocks that I'm watching today, miRagen Therapeutics (MGEN) and Titan Pharmaceuticals (TTNP).
If you're in my Stock Profit Pro trading room, I'm there sharing my thoughts, scans, and trades with my members every day in real time… so you already know about these stocks.
But for those who aren't…
I'm going to share my thoughts on these two monsters today…along with a few others I'm keeping an eye on.
miRagen Therapeutics (MGEN) is a biotechnology company advancing new treatments for patients with diseases that are underserved by today's therapies.
Today in a company press release they announced the acquisition of Viridian Therapeutics, including clinical stage antibody for treatment of thyroid eye disease.

After disappointing earnings in August, MGEN has been in a downtrend hitting a low of .472 just last week.
But this morning the acquisition announcement has the stock up over 100%.
The next high if it can clear $1.24 is at $1.61, which was the high before the earnings disappointment.
It's pulling back now, so I'll be watching the 200 day moving average at .83 for potential support.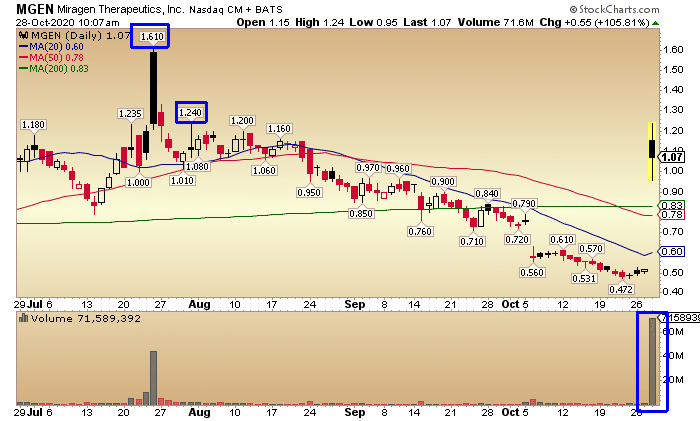 Titan Pharmaceuticals, Inc. (TTNP)
Titan Pharmaceuticals, Inc. (TTNP) is a pharmaceutical company that develops therapeutics for the treatment of chronic diseases.
It develops products based on ProNeura™, Titan's innovative drug delivery platform for advancing the treatment of select chronic diseases by delivering low-dose, non-fluctuating medication levels for up to one year following a single procedure.
Today Titan announced the acquisition of JT Pharma's kappa opioid agonist peptide, JT-OP in order to develop it using their ProNeura™ technology for the treatment of chronic pruritus.


And like MGEN, Titan (TTNP) is taking off on the news, up over 60% this morning.
Stalling at the 200 day moving average, I'll be watching for support at .18.
The markets are getting crushed today, so it's not a total surprise to see even these strong stocks pulling back intraday.
I'll definitely be patient today and not jump in anything without a clear reason.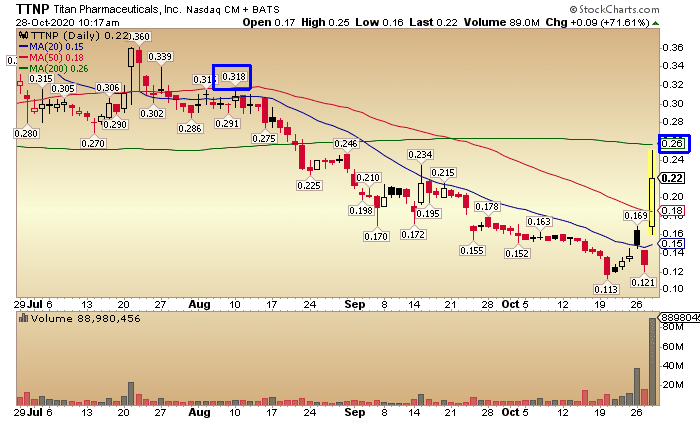 (AUVI)
Applied UV, Inc. (AUVI) is focussed on the development and acquisition of technology that address infection prevention in the healthcare, hospitality, commercial and residential markets.
Its products utilize disinfection technology that applies the power of narrow-range light (UVC) to destroy pathogens safely, thoroughly, and automatically.
This is an interesting area given the recent virus containment issues facing us today.
And just today they announced an agreement with Axis Lighting to commercialize devices for hospitals…

AUVI was up over 60% this morning and has since pulled back.
With such a recent IPO, there isn't a lot of trading history to look at here.
Recent consolidation is around $6 – $7, so for this runup to mean anything, I want to see the stock hold above this $7.50 – $8 area on the pullback.
Currently it's showing a lot of weakness after the initial spike up.
I'll keep an eye on it, in case this is just the weak hands being washed out.
But I won't buy into a selloff… I need to see support hold and a volume come in on a turn back up.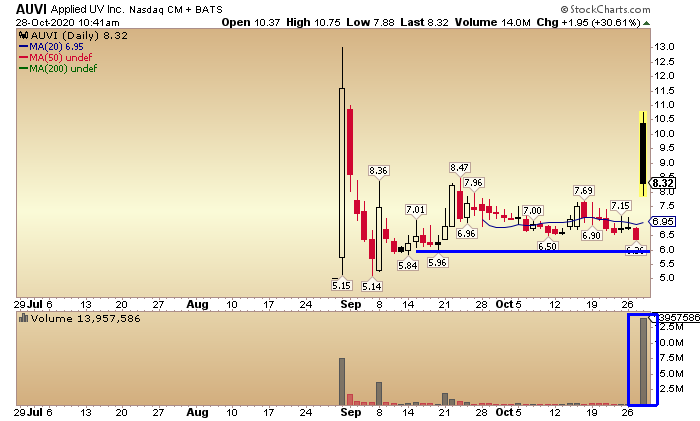 ---
Other Stocks On My Radar
ASTC +31%

CYH+26%

ITP +26%

SCKT+18%
---
To get more out of your trading…
You need to be in a Live Trading Room
And that's exactly where I am every single day with my members, helping them to become better traders.
And next week I'm starting my newest small account challenge…
My goal is to 10x my account in just 30 days…
If you hurry, you can get access to the best training out there and my next challenge!
Click here to Join Stock Profit Pro…