Today's movers are heavily weighted in the biotech industry.
A recent report showed a new high for seven-day average daily virus infections of over 120,000, a 33% rise from the prior week.
And the headlines only get worse from there…with the specialists all calling for the worst times ahead.
Looking at super spreader events from Thanksgiving through New Years Eve, they are calling for the biggest outbreak and death counts we've seen going into the spring.
The latest good news from Pfizer, on the vaccine front, isn't enough to stop this train in the short term.
And with that I've got my eye on an industry that's finding a lot of trading interest today…
Sorrento Therapeutics, Inc. (SRNE)
Sorrento Therapeutics, Inc. (SRNE) announced today that it is filing an investigational new drug application for intranasal COVI-DROPS to study the safety and pharmacokinetics in both healthy volunteers and patients with mild COVID-19.
I like this chart.
After a move down, SRNE hit the 200-day moving average on a gap down and the next day the stock made a hammer candle.
Today SRNE gapped up and retested the 200-day, holding support there.
If the stock can get above the $7.50 range, the next high is $8.36 and the 50-day is at $8.63.
I'll be watching for renewed strength going into the close today… I want to see volume come back in and push it up to close on strong.
No matter what happens, I'll keep an eye on it tomorrow in case we see a pull back and hold at the 200-day again.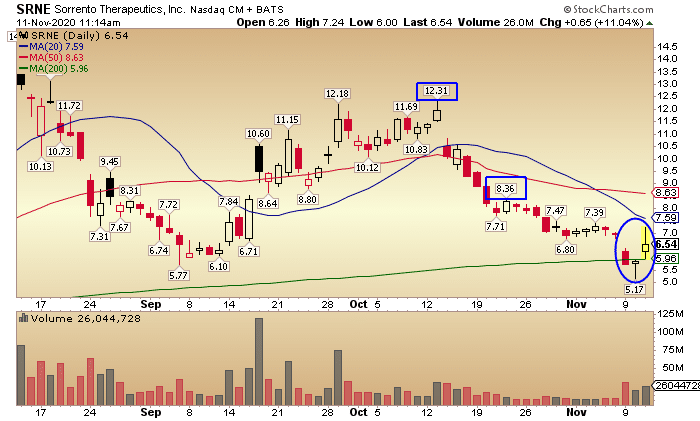 Abeona Therapeutics, Inc. (ABEO)
ABEO has been trading in a consolidation range since September 28 after the stock gapped down on executive management changes.
The company reported earnings on Monday after the close beating estimates with a smaller than expected loss…still a loss though.
The stock moved up yesterday after the report and gapped up above the 20-day moving average today…receiving an upgrade from Cantor Fitzgerald.
Volume has been increasing this week, so I'll be watching ABEO at the upper end of this channel. I would want to see a break above the consolidation range for a potential gap fill.
Watching the 50-day at $1.46 as well.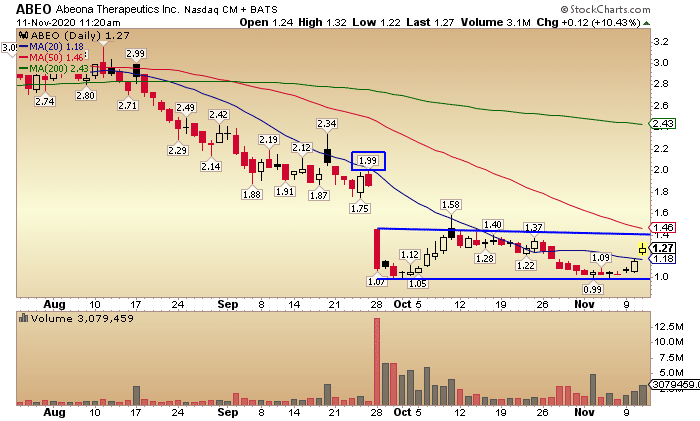 Strongbridge Biopharma plc (SBBP)
SBBP has been trading in a consolidation range since mid-September. Hitting a low of $1.87 at the end of October, the stock has been slowly working its way up.
Culminating in a gap above the consolidation today.
Currently above the 20-day and 50-day moving averages, the next swing high and the 200-day sit above at $2.91.
Volume has been increasing over the past few days…
SBBP is pulling back some here mid-day…
So I will be watching for a bigger increase in volume and move back up into the close for a confirmation of strength.
If SBBP trades back into the consolidation range, I'm looking elsewhere for trades.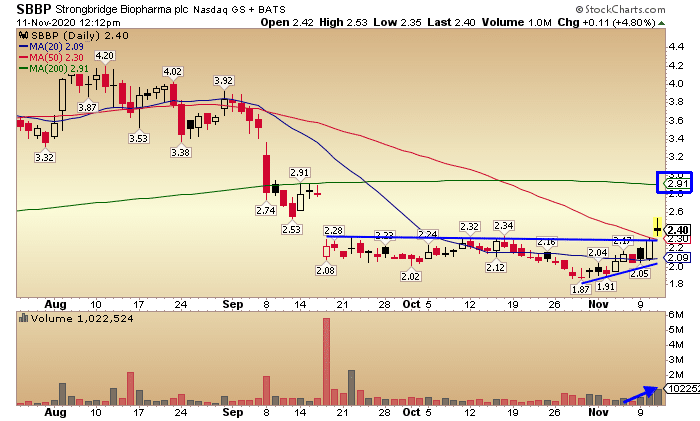 TRACON Pharmaceuticals, Inc. (TCON)
I'm watching TCON this afternoon as it is trading out of a flag formation on the daily chart with the next high at $6.37.
What I don't like with TCON is the low volume, so that will play into this potential setup.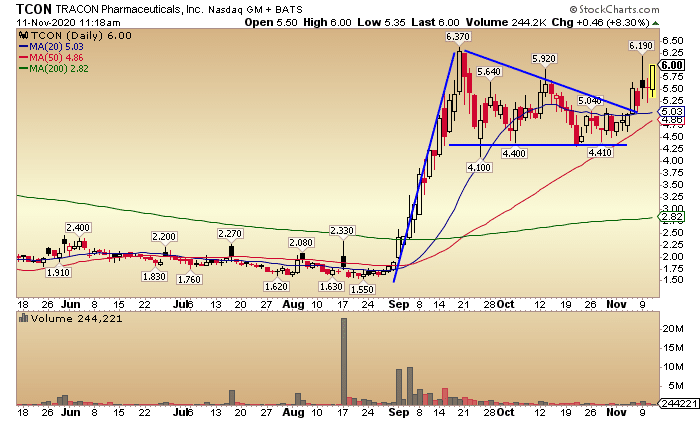 ---
More Biotechs "On the Move"
EQ             +24%
VXRT        +18%
INFI           +17%
ZSAN        +10%
GHSI         +12%
---
As always, patience is key… don't jump into a trade without a clear setup and never trade without a plan.
Tune in every day as I share my thoughts on the market…and what I'm watching.
And if you really want to understand how I look at charts to find my trades… Learn more about my personal strategy for finding stocks on the move… Each and Every day…