We are seeing a surge in COVID cases daily…
And with that, a massive increase in the need for reliable testing.
Waiting 3 days to 1 week is just nerve racking.
In the meantime you need to quarantine because you simply don't have any answers…
Are you sick or not? Have I passed it on to loved ones already? How many people have you been in contact with?
The longer the wait the more stressful the toll of being stuck waiting with no answers.
That's why I've had my eye on TPT Global Tech (TPTW) for a while now.
They created a point-of-care test with quick turnaround times… and cost savings.
I've been playing TPTW for months now… the company continues to make moves in order to take advantage of investor appetite for anything coronavirus related…
Let me show you how I've been finding great setups with the coronavirus catalyst behind this stock…
"QuikLAB" COVID Testing Pods
TPT Global Tech is basically an umbrella company for many tech projects from 5G to "the cloud" and they recently joined the coronavirus world with both a telemed development, a testing pod, ppe supplies, and a quick scan sanitation pod.
They are in the process of expanding the TPT MedTech "QuikLAB" throughout the country recently inking a deal with Meredith and Boo in Miami to help sell their "QuikLAB" pods.
Now I've had my eye on this for a while now…
And here's how I use a catalyst such as the coronavirus to look for trade setups…
The catalyst adds demand and interest to the stock but I don't simply buy on the "story."
I need a technical reason to get in as well.
Here's what I saw when I took this trade on February 25. At this point they were more focused on other tech such as 5G…
In this chart I was watching the nice stair step pattern up throughout the day on increasing volume…
Coming into the close, the stock broke above the swing high on the daily chart with a nice spike in volume.
I jumped in and it was moving fast so I pulled off an $1,100 profit in about 10-15 minutes and let the chart set back up for a second play.
I got the second entry as TPTW broke out of the ascending triangle… and held it until the next morning…
It made a little move up, but I wasn't getting the follow through I had expected so I took the trade off banking another $550.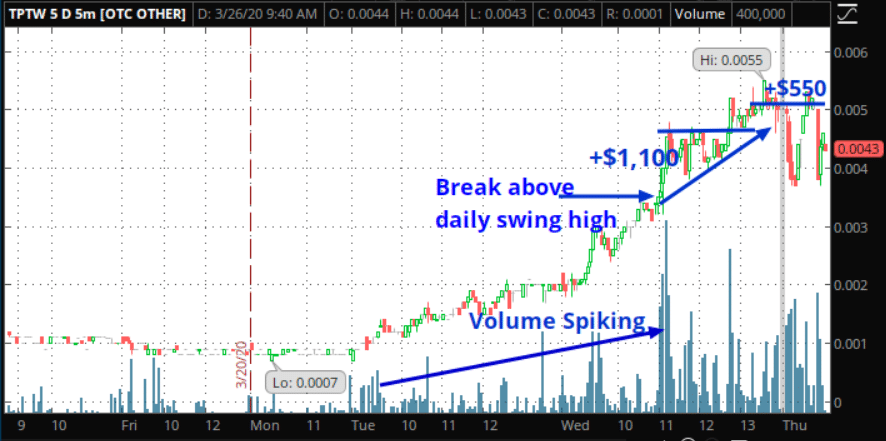 It's important to know what you are looking for… and if you don't see it, get out. Go find another trade.
TPTW got even more interesting at the end of April when they announced the launch of a new Medical Technology and Supply Division "TPT MedTech LLC" which will focus on Medical Software as a Service (SaaS) products and PPE supply products.
Part of that development was the launch of an e-commerce medical supply website www.tptmedtech.com for retail customers to access the company's PPE products directly.
Now take a look at the trade setup in the chart below…
This trade popped up on my radar right around that announcement.
Volume comes in as the stock breaks up to form a flag pattern on April 24… I jumped in towards the end of the day when it broke out of the flag on increasing volume.
I took advantage of the build up in demand by holding this over the weekend… and early Monday morning I'm grabbing my 31% gain in TPTW from the last bit of momentum carrying through.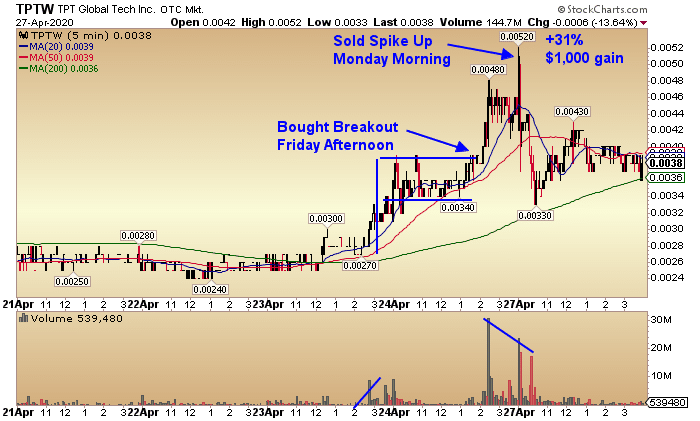 TPTW fell out of favor for a while after this, but like a good penny stock… they weren't going to let the opportunity to ride this catalyst get away from them…
And in an effort to keep themselves in the news… on June 5, they announced the acquisition of a majority stake in San Diego based manufacturing company The Fitness Container (dba "Aire Fitness" www.airefitness.com).
Using The Fitness Container's fitness pods, TPT MedTech then began developing the mobile testing "QuikLAB."
Now look at the chart below…
You can see the big spike on the "QuikLAB" news. After which TPTW trades in a triangle pattern.
Now I'm watching this and when demand comes in and pushes the stock out of the triangle on higher volume, I'm jumping on this trade.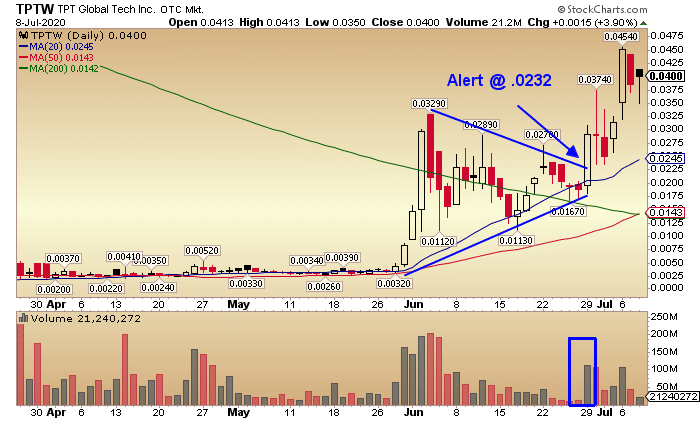 I took a profit off pretty quick but it wasn't over yet…
With COVID testing taking off, they are getting more interest and I got another entry just last Friday…
After the move up from the triangle breakout, the stock consolidated for a few days and spiked up again… this is when I jumped in.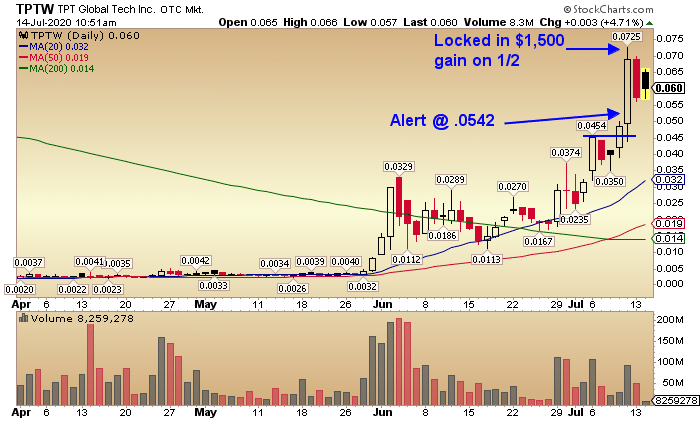 As you can see I am not trading just based on the news… that would be going in blind.
Knowing the news is why I have my eyes on this in the first place… it keeps me alert to the potential.
But I am still waiting for the right setups based on my personal trading strategy.
Find out more about that for FREE with my Stock Trading Starter Pack.
And keep your eyes on TPTW, they are keen on playing the excitement around coronavirus stocks as this just came out yesterday…
TPTW entered into an agreement with Miami-based Meredith and Boo to oversee the sales and operation for TPT MedTech "QuikLab" deployment in the Miami-Dade county area.
It's not performing well today, so I'll just be patient and wait for my setup…
Meanwhile, check out my Stock Trading Starter Pack… For Free