When it comes to growing a small account there's nothing better than quick gains.
And that's why I developed my strategy around the idea of taking quick base hits.
This simple concept has allowed me to grow my small accounts quickly.
I say accounts because I do it over and over… I start with a low dollar amount, turn it into something more meaningful, then clear it out and do it again… Rinse and Repeat
At this point you might be wondering what I mean by quick gains.
Well my goal with most trades is to get in towards the end of the day and get out the next morning.
And the best part… I'm looking for trades with 10% or more in potential return or I'm not even interested.
How is this possible?
Sit back and I'll show you with this real-money trade I took on a breakout gap fill in GEVO just a couple days ago.
GEVO on the Gap Fill
While I put this trade on towards the end of the day as usual… with the intention of holding it overnight to get into the gap.
It broke out so fast, I was pulling in 18% in just over an hour by grabbing my profits after the market closed.
How's that for a quick profit?
Here's how it went down.
GEVO announced a secondary public offering last Tuesday, for 30 million shares at .60 plus 30 million warrants exercisable at .60 any time in next 5 years.
At the time the outstanding shares totaled around 14.45 million, so we are looking at a pretty big case of dilution here.
So with the stock trading around $1, it quickly headed south.
I mean you're not going to want a stock at $1 if they are about to issue twice as many shares as are currently outstanding at half the price are you?
The next day GEVO gapped down and hit a low of .46.
This is what set up the gap play…
A gap happens when a stock opens lower than the low or higher than the high from the previous day, creating space between the bars on the chart.
A gap fill is when the price of the stock trades back through the gap closing the space on the chart.
Often when a gap forms, it's like a void without any specific support or resistance. So when a stock can break into it, there is potential to trade through it.
Look at the chart below… you'll see the gap in GEVO creating from the offering.
And notice how much space there is… if GEVO was to fill the gap, it would need to move up over 40%… that's potential I'm seeing.
And we didn't have to wait long to see GEVO enter the gap…
The offering closed this past Monday July 6th and the stock traded up on heavy volume as it broke into the gap.
Which is my buy entry… but not immediately. I needed to cross a few things off my list first.
As mentioned, I aim to enter a stock towards the end of the day with the idea to hold it overnight and let the momentum carry it up into the morning… which is when I look to capitalize on the move.
GEVO hit my end of day scan Monday afternoon due to the increased daily volume and the big move up.
This is exactly what I want to see… heavy demand pushing a stock up.
But not just in the morning. I need to see it continue into the afternoon… This ups the odds of the momentum pushing the stock up the next morning on the built up order flow overnight.
Looking at the 15 min intraday chart below, you will notice GEVO trends up nicely all day… after gapping up a little in the morning, so it's looking nicely bullish already…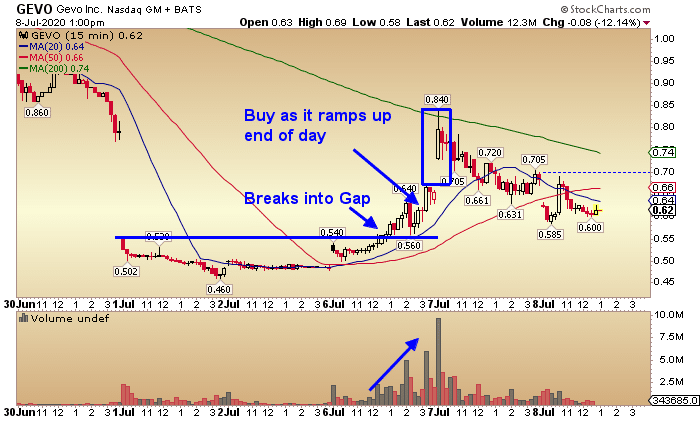 So when I see volume pick up as it trades near the highs going into the close, I know this is a stock I want to be in.
So I send out my trade alert and enter at .625.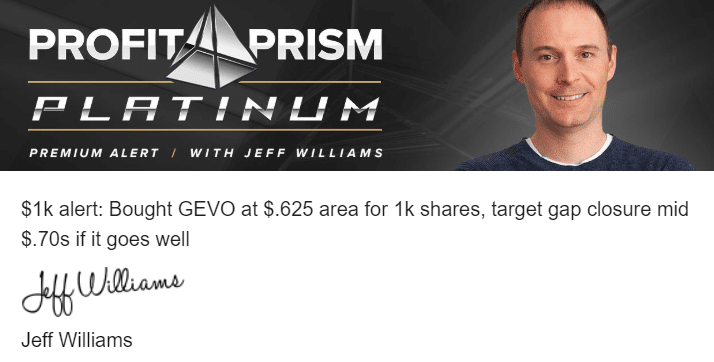 But GEVO was trading really hot, so I didn't even have to wait till the next morning to hit my mid-70s target…
I was able to grab a clean 18% just little over an hour later in the after market trading session.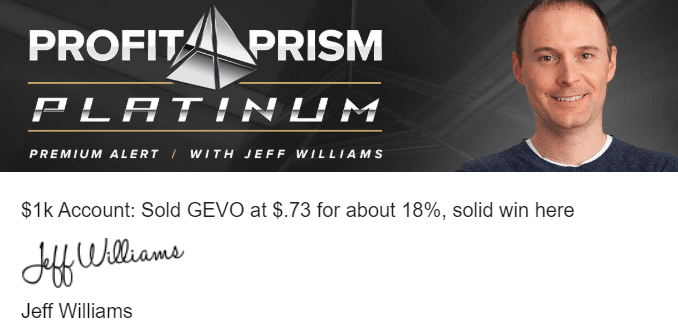 Sure I could have held it until the morning… clearly the momentum was in my favor.
But this was one time I was ready to lock in a profit and clear my account for the next trade.
Keep in mind the recent offering at .60, so I felt great with 18% in hand, not knowing what lies ahead from here.
The trade worked, just quicker than expected… so why push it.
As you can see below the momentum did carry through into the morning session as GEVO actually filled the whole gap… so I left some on the table.
But that's actually something I'm more than happy to do with any solid trade I take. I'm not going to be greedy… that's when you start to lose.
This is how I grow my small accounts so quickly.
Stick to my bread and butter trades and pull in base hits… over and over.
Looking at the trade above, you probably see it's not rocket science.
But it does take patience, practice, and of course education of…
So if you are ready to start learning how I am doing this in my own accounts and finding trades each day, check out my FREE Stock Trading Starter Pack… and you'll be on your way.
Click Right Here And Grab It For Free