Let's talk about trading the gap.
What's a gap?
It's basically an area on the chart where no shares were traded.
For example, on June 22, the low for SNSS was $0.535 and the next day the stock opened at about $0.354…
Leaving an empty space (gap) on the chart from .535 to .354.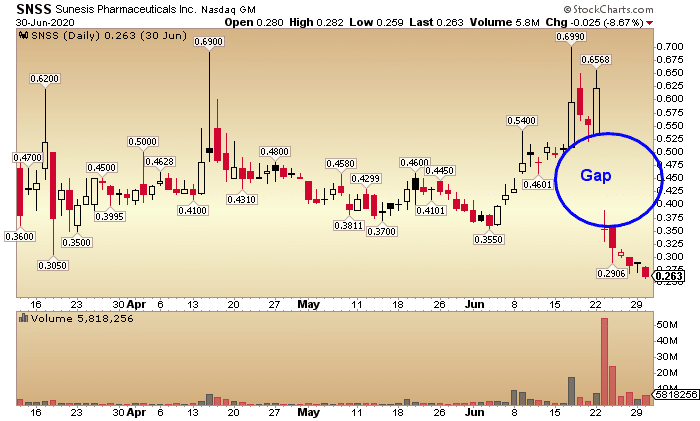 Why does this happen?
It's simply an imbalance between buy and sell orders during pre- and post-market hours…
Generally caused by some sort of major news coming out while the market is closed.
This could be earnings that miss or beat expectations, new product announcement, lawsuit, fraud, etc…
Or in the case of SNSS… deciding not to advance into phase 2 on one of their pharmaceutical studies… thus disappointing investors, ultimately creating the gap down to $0.354.
The good news is that gaps happen every day…
And I'm going to show you exactly how I trade the gap-fill with a real-money example I just took in SNSS…
Gap Fill
Now you know what a gap is…
Let's talk about the gap-fill.
With a gap, there is little information on support or resistance inside the gap, as there was no trading volume that took place.
So there are no levels for traders to look to for insights into supply and demand.
For that reason, stocks that enter a gap often have a tendency to trade through it… or fill the gap.
There are no guarantees though. The stock gapped down for a reason, so it's not a blind buy and hold.
You have to use a strategy that will put the odds in your favor and always have a plan.
Since I am all about hitting base hits day after day, it's the best way I've found to grow a small account, I am not trying to get the full gap-fill in my plays.
If a stock really takes off, it's possible.
But for me I will shoot for a reasonable price level within the gap to up my odds of getting paid.
Let's take a look.
Sunesis Pharmaceuticals Inc. (SNSS)
Here's a trade I just entered yesterday based on my strategy for playing a gap fill.
After a big gap down, SNSS bottomed out and consolidated in a range from .25 – .35.
There are a couple things I was watching for.
First off, SNSS needs to trade into the gap… afterall, it can't fill the gap if it's not even breaking into it yet.
I need more than just that though…
I want to see a pick up in volume showing me that demand for the stock is increasing as it breaks into the gap.
Something needs to propel the stock up. Without increasing volume, there likely won't be enough buyers to push the stock further into the gap.
And as you can see with SNSS, as the stock broke into the gap yesterday… volume was also increasing, along with a 3rd sign of strength… closing near the high of the day.
This tells me people want to be in the stock… instead of selling, they were still buying into the close ready to hold it overnight.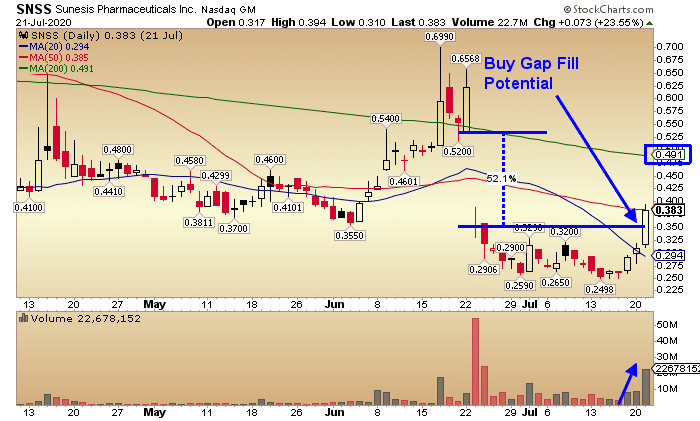 Needless to say, I took a trade in SNSS yesterday.
Jumping in at .35 and of course alerting my members to my trade as well…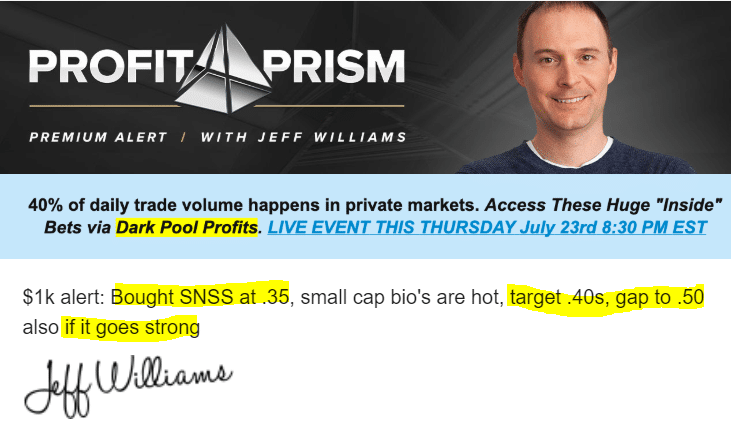 And looking at the stock today, you can see it moved up to my first target in the .40s quite easily hitting a high at .4188.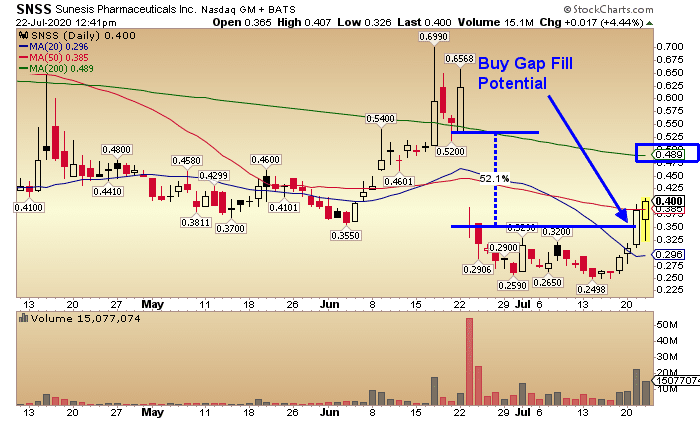 Could SNSS fill the whole gap to .50?
It certainly can.
But I don't need to shoot for the moon to grow my account.
When I have quick double digits returns overnight, I will take them to the bank and get ready for my next trade.
The likelihood of SNSS shooting through the gap wasn't near as high as the chance of it hitting somewhere in the .40s.
Small gains add up fast.
And if SNSS sets up again, I will be quick to jump back in… but in this case it wasn't moving as fast as I would have liked to hold longer.
My members are taught to trade it according to their own plan…
So while some may grab profits quick like I do, others may choose to hold a little longer.
That's up to each individual trader and what their plan and risk tolerance etc..
Trading isn't rocket science… it just takes some time to learn the setups that will give you the highest probability of success.
And of course creating a plan and sticking to it.
To learn the setups I use, including the gap fill… Grab Access to my Free Stock Trading Starter Pack