Anyone can make money on a trade here and there…
The key is to become consistently profitable.
That's really all that matters.
And to do this, you need to have a strategy that lets you win in any market… or one that can be adjusted to any market.
That's why I trade with my Profit Prism strategy.
Because it relies on the basics of supply and demand, I can trust it no matter what is going on in the overall market.
At any given time I can find myself winning in different sectors, industries, or any of the few simple chart setups that I use.
Today I'm going to walk you through what trades are working for me right now… so you too can find winning trades in this market.
Today's Market, Tomorrow's Profit
The same simple patterns that have put money in my pockets for over a decade are still working today.
And right now it's the consolidation breakout pattern that's putting money in my pocket.
A consolidation happens when a stock needs a breather.
This is a resting phase where the stock can be seen trading in a range.
The purpose of this is to let the players adjust and build up positions for the next move… whichever way it may be.
So what I am looking for here is to find a stock that is breaking out of a consolidation range… to the upside.
And to confirm the relevance of the move, I look for increased volume on the break.
This shows me there is real demand behind the move and likely to continue long enough for me to grab a decent profit on the move.
A lot of pressure gets built up in the range, so if the stock does break this level it can be a significant change in the dynamics.
Oftentimes the top of the consolidation range will become a support level for a new move up.
Therefore I am using this level to plan my trade around.
Take a look at the recent trades I alerted my members to below:
Sunshine Biopharma Inc. (SBFM) – 7/20
SBFM was in a consolidation range from early June to late July.
And as you can see when volume picked up on the breakout, which is when I alerted my members to the trade, SBFM shot up over 300% in just 5 trading days.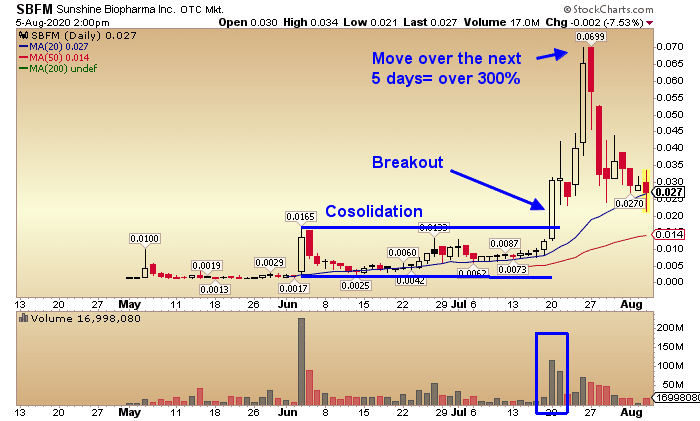 I'm not saying that I picked up that whole move… I'm just showing you how explosive the moves out of a consolidation can be…
With moves like that, I don't need to get every last cent and neither do my members… The gains add up fast when you can find setups like these every day.
Here's the way a few of my members traded SBFM**



There's a lot of meat on that bone.
Vystar Corp. (VYST) – 7/17
Moving on to VYST.
Here's a consolidation that happened after the stock rocketed up and fell right back down just as fast…
I guess it got a little ahead of itself there.
But once it consolidated for a month, the breakout came as volume increased and pathed the way to a nice less parabolic move up…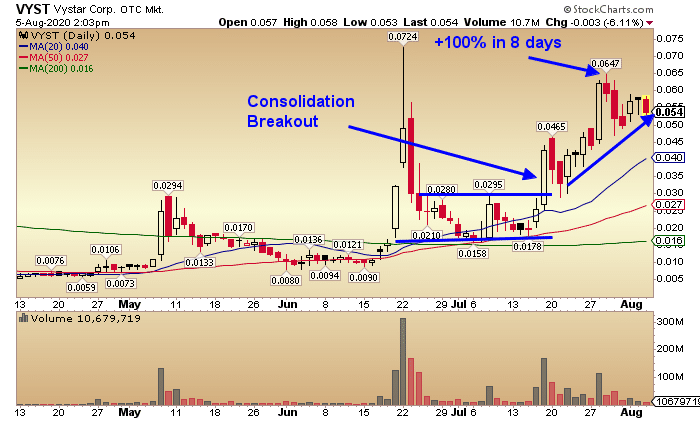 Here's how a few of my members fared**



Revive Therapeutics (RVVTF) – 7/31
RVVTF looks more like VYST… after a parabolic move up, the stock totally pulls back to consolidate.
As traders and investors figure out the next move, the stock builds up pressure and I jump in and alert my members as it breaks out on high volume.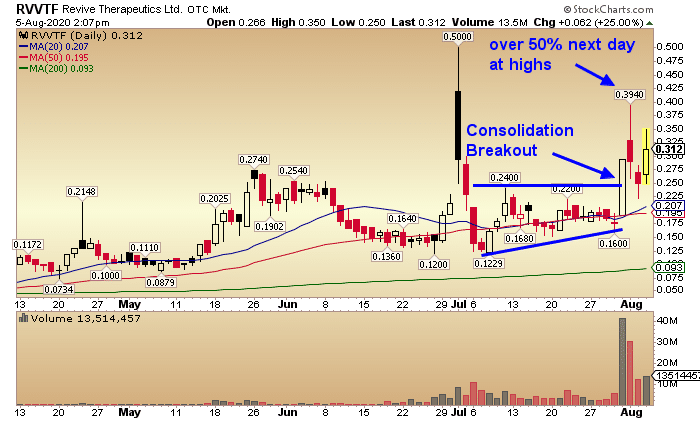 And my members**



Optec International Inc. (OPTI) – 8/3
And here's a trade I took in my free open house this past Monday.. Hopefully you tuned in for that.
If not, you missed this trade alert.
OPTI was in a consolidation range of over a month and as I was showing everyone the daily scan I use to find trades like these… OPTI was setting up perfectly.
I alerted my members, and anyone that tuned in for the free open house, right there live as I took the trade…
And you can see what happened the next 2 days…
My members sure didn't miss out on it and as always they took what they have learned from me and made it their own.**



Final Thoughts
Trading consolidation breakouts has worked for years… the proof is in my small account challenge… I continue to bank returns time and time again…
In fact, I started with $500 in my last small account challenge and in just 58 trading days I turned it into $10,758* — a whopping 2051% return!
Being a former teacher… my members benefit from my ability to turn complicated matters into something easy to understand…
Join Profit Prism Today… and get started with what's working now…