Yesterday we got some exciting vaccine news which led to sector rotation out of techs and stay-at-home plays…and into cyclicals like Exxon, Chevron, and Boeing.
And this rotation has so far continued today.
What's it all mean? Is this the end of tech?
Of course not…in the long run, there's still plenty of growth in the tech sector.
We don't know a realistic timeline of the vaccine rollout and if people will take it etc…and currently we are still facing record virus cases.
Hope is out there and we are seeing some rotation, but only time will tell on how fast things really move.
For now I'm sticking with the trade setups that give me the best chances of getting quick gains out of this confused market.
And here are a few stocks I'm currently watching for continued momentum on a breakout.
I was able to pull in a quick 19% midday gain in one of them…and I'll show you how and why I'm still watching it.
Summit Wireless Technologies, Inc. (WISA)
Summit Technologies (WISA) is up big today, and with good reason…
They announced:
45% increase in Q3 2020 revenue, compared to Q3 2019

17.1% gross margin in Q3 2020, up from 7.6% in Q3 2019

Management expects to exceed 100% revenue growth for Q4 2020 year-over-year

They also shared new business developments that will spur growth going forward.
At the moment I'm writing this, WISA is up nearly 60% on the day.
After a long downtrend, the stock has been in a consolidation since mid April.
With a massive increase in volume today, WISA broke out of the consolidation range and traded up to the 200-day moving average in the mid 3's.
With resistance at the 200-day met, I'll be watching for a break with the next high at $3.85.
I'll also be watching for any pullbacks to see where WISA can find support. If it falters back into the consolidation range, then I'll be moving on.
I'm looking for strong stocks with follow through momentum. So I won't waste much time watching something that has no follow through.
If you are watching this stock…keep in mind there are only about 7 million shares in the float making this a low float stock with the potential to break out fast AND pullback just as fast.
So it's important to trade it with caution and have a plan to get out before volume dries up.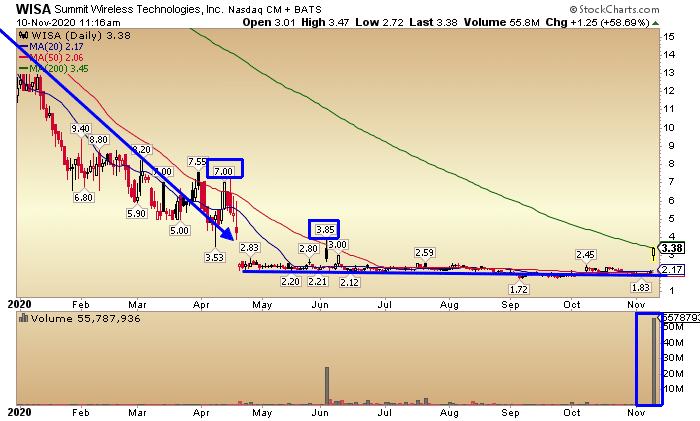 Zosano Pharma Corp. (ZSAN)
Zosano Pharma (ZSAN) is popping off its 52 week lows of .327 on higher than average volume the past two days.
I grabbed some shares of this stock on the break above the 20-day moving average. Looking for the potential of a gap fill to the .60 area and next highs near the .70 range.
It didn't take long for the momentum to carry it forward, and I took a quick 19% gain at .56.
I wanted to lock in my gains before the mid-day doldrums, but that doesn't mean I'm done with it.
ZSAN is on my watchlist for this afternoon, as I'll be looking for another entry point if the stock shows me the strength for potential follow through tomorrow.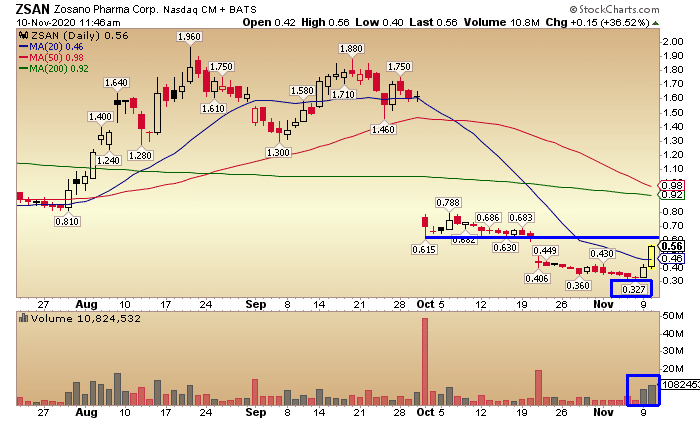 Borr Drilling Ltd. (BORR)
Borr Drilling (BORR) is up 30% today coming off a big pop yesterday too.
The next chart high is upper $.90s but would like to see this trade hold over $.75 for me personally.
If you look back at previous pops… the stock ran from under around $0.50 to over $2 in April and June, but both times it was back down within days.
For that reason, I would like to see it hold up here if I'm going to do anything and even then, I need to see the right setup at the end of the day. (learn about my trading setups here)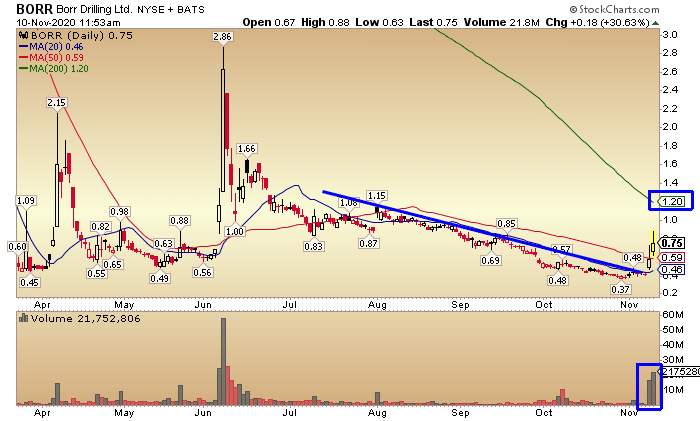 Teligent, Inc. (TLGT)
This stock has been stepping down pretty consistently with short lived pops here and there.
Is today going to be short lived? We shall see…
For now, the next resistance is at the 50 MA line is at $.81 and then a recent spike to $1.08 after that.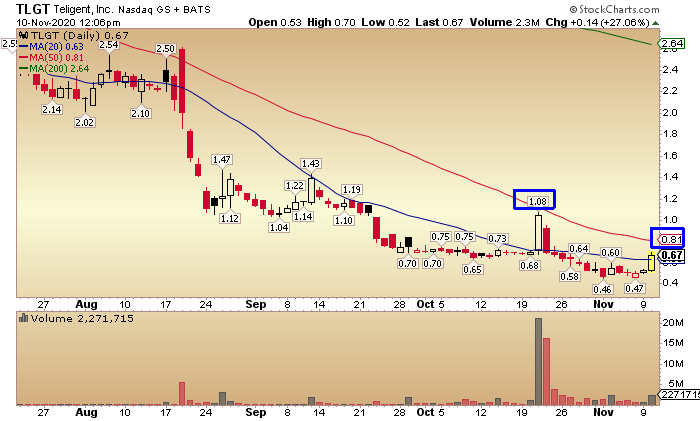 ---
More "Stocks on the Move"
APTS        +18%
ACST        +18%
OPK          +17%
ADXS        +17%
ACB          -24%
KNDI         -23%
---
As always, patience is key… don't jump into a trade without a clear setup and never trade without a plan.
Tune in every day as I share my thoughts on the market…and what I'm watching.
And if you really want to understand how I look at charts to find my trades… Learn more about my personal strategy for finding stocks on the move… Each and Every day…
Grab my Free Stock Trading Starter Pack…