Despite popular opinion, stocks don't go straight up…
Prove me wrong.
You're going to see big moves that seem to say the opposite, but if you pay attention…there will be pauses, pullbacks, and consolidations along the way.
One consolidation pattern to look for is the flag…
This occurs when a stock has made a quick runup (flagpole) and then takes a pause (flag)…trading in a tighter range, oftentimes with a slight drift in the opposite direction as the trend.
A flag pattern is pretty self explanatory. Once you see it on a chart…it looks like a flag on a pole, imagine that.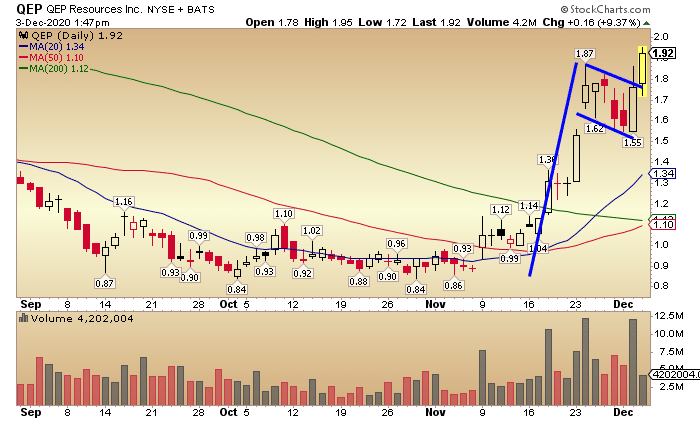 And guess what?
This gives traders and investors, like you, opportunities to get in stocks that seemingly won't stop.
Once you learn this pattern, you will no longer have an excuse for "chasing a stock."
Simply wait for the right opportunity and pounce.
At least that's what I do…and you canjoin me in my Stock Profit Pro trading room…I'm there, trading live every day.
And for more on the flag pattern, I'll walk you through some potential flags setting up today…
And what to look for when you're doing your own research…
Flag Patterns
The flag pattern is used to identify the possible continuation of a previous trend.
So this can be up or down…for simplicity I'm looking at the uptrend
The pole is formed from a strong move up on high relative volume.
The stock then consolidates near the top of the pole on lighter volume, forming the flag.
The final piece of the puzzle is the breakout…
For a proper setup, the stock needs to break out of the consolidation (flag) on high relative volume to continue the trend.
Volume is very important to confirm major moves and the likelihood that a breakout will be successful.
Party City (PRTY)
Party City took hit after hit during the pandemic. It's a retail store so it took the hit by being closed…
And to top it off they sell party supplies…and party plans were pretty much canceled across the board.
The "pole" of the flagpole for Party City formed on a rebound in the stock, coming from the hopes of a renewed economy from vaccines to economic stimulus…and the view that this company can survive and get back to business.
We are now seeing a potential flag (consolidation) form as the stock is trading in a tighter range with a slight drift against the trend.
Another thing to note is the volume pattern.
Volume was high on the run up and is drifting down as it consolidates.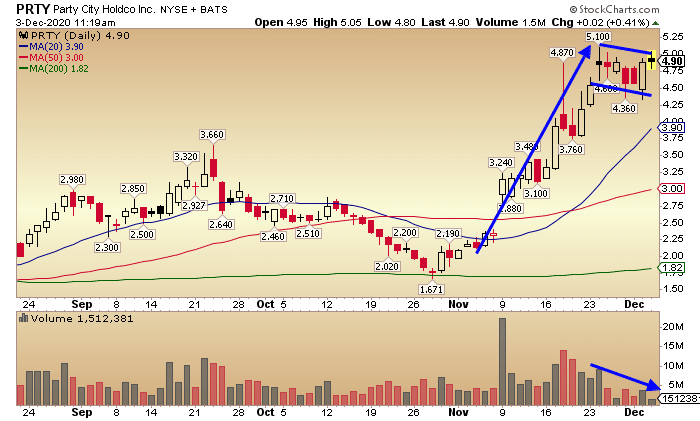 What do we need to look for now?
Two things…volume and price action.
For a continuation trade, I would be looking for a big increase in volume as PRTY breaks above the "flag."
Without volume, it could just fade back to nothing.
PG&E Corp. (PCG)
Here's another example.
PCG as we all know was in…and is now out…of bankruptcy.
And they just survived the first wildfire season after coming out of bankruptcy protection…could that be a catalyst?
A flagpole formed over the past month, with the stock currently forming a pennant, symmetrical triangle pattern (another form of flag).
Again, I would watch for changes in volume on a break above the pennant/ flag.
If you follow me…you know how important volume is no matter what pattern you are trading.
So I can't stress this enough…pay attention to volume. Don't get suckered into a false breakout.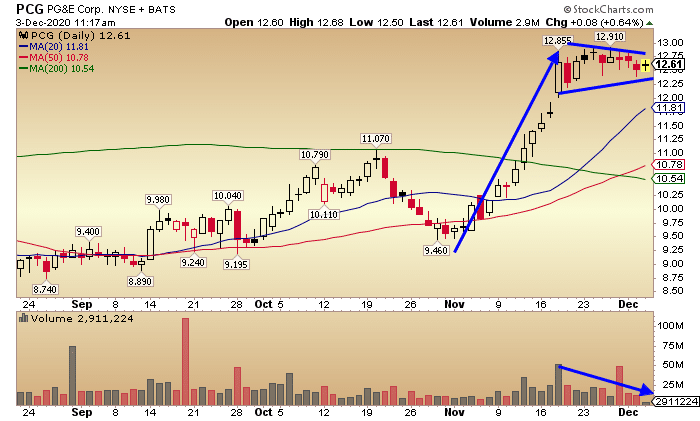 Another important note on flags… and any pattern for that matter.
Just because we see what looks like a flag, doesn't mean the stock is definitely going to break out and continue the trend.
There is nothing that says it can't break the pattern in the opposite direction…or breakout and fail.
Pay attention to the breakout.
Is volume increasing or decreasing…and even better, is there a catalyst that will keep the stock moving?
Take the trades that have the most things lining up together.
I break down the charts every single day in my Stock Profit Pro trading room… so you can learn live.
---
Today's Biggest Movers
ITRM +38%
AMTX +25%
ORMP +22%
ARLO +19%
GSM+17%
ERJ +15%
---
To get the most out of your trading, you need to be in my Live Trading Room.
This is where I spend the majority of my day…trading, teaching, and having fun with over 1,000 members.
Learn the strategy, see it live, trade with friends, and do it every day…