Tomorrow is the big day.
If you don't know what I'm talking about…
Allow me to refresh your memory…
It's the first day of my brand new small account challenge.
The Goal → 10x $1,000 in just 90 days.
That's right… The goal is to take $1,000 and turn it into $10,000 in the next 90 days.
(You can be a part of it by clicking here)
Needless to say, I'm ready to rock.
And as a preview to the fun… I'm going to walk you through a trade from Friday in Valaris (VAL)…
I want you to pay special attention to the chart pattern. Once I spotted it, I was able to profit off it quickly.
Study it, and you too, could have similar success.
Valaris (VAL)
Before jumping into the 5 minute chart, let's take a step back and look at the setup on the daily chart.
It all started here.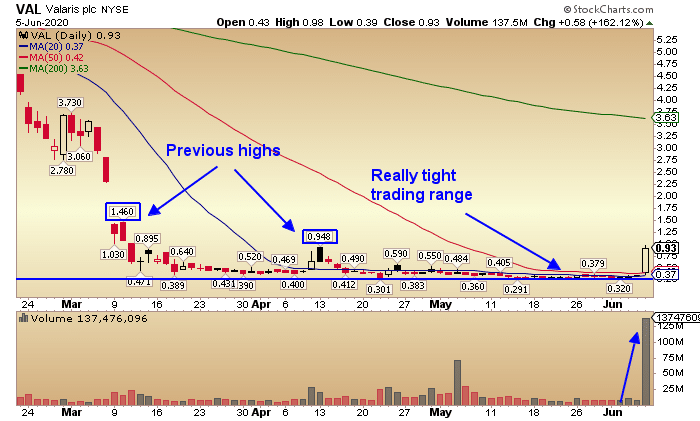 Valaris is an oil and gas drilling company… so it's no surprise that the stock is this beat up.
But it gets interesting when VAL comes into such a tight consolidation range.
Volume is low and the stock is trading in less than a .10 range towards the end of the consolidation.
I like to think about consolidation as a pot of boiling water. It starts by just simmering and that's the consolidation phase.
It has to go through this first to build up enough heat and pressure to boil over…
So while VAL is simmering in that .10 range, it's working on building the pressure to bust out.
And that's what happened on Friday with a huge volume spike.
Now let's go to the 5 min intraday chart to see the trade.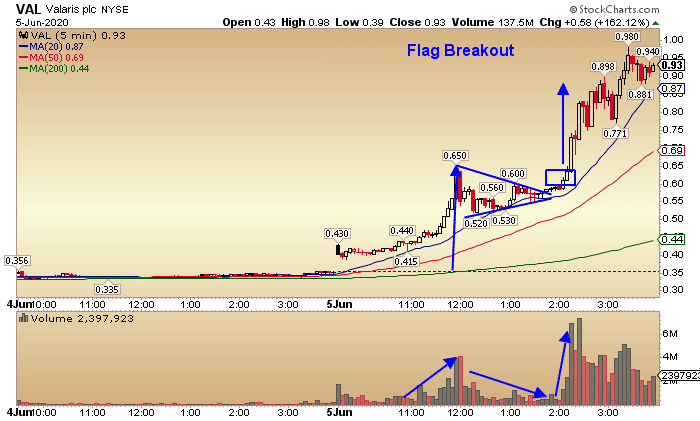 A flag is formed when a stock makes a quick burst up in price through a previous resistance level (which is what we saw when VAL broke above the consolidation range).
This creates the flagpole… in the chart the first blue line pointing straight up.
After the quick move up, on an increase in volume, the stock then consolidates with a downward drift creating a flag or pennant formation.
In this case it's a pennant/ triangle, as seen drawn on the chart after the flagpole.
During the consolidation phase we want to see a decrease in the volume to let the pressure build up again… let it simmer (just like on the daily consolidation earlier).
And the trade sets up an entry when volume spikes back up pushing the stock out of the flag pattern, often for a quick move up on continuation.
I picked up shares on the breakout at .64 and shared this with my members.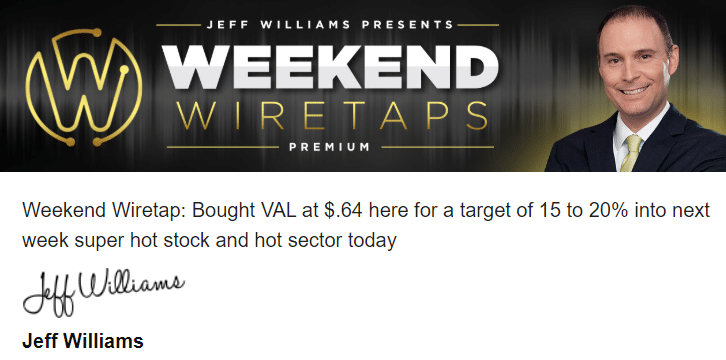 Like I said, a continuation move out of a flag pattern often moves very quickly…
Sometimes it is much faster than I even expected.
I thought I was going to be holding VAL over the weekend for a gap up on Monday, but it moved so fast I had to take my profits.
In less than 1 hour I was pulling a 33% gain for about $1,350*… I'm all about taking profits when they are in front of me.
But that doesn't have to be the end of the trade… It just allows me to reduce some risk.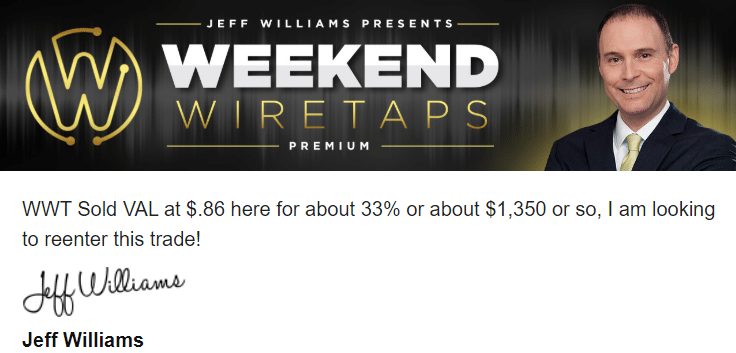 I knew VAL was strong and likely to have the momentum needed for an overnight hold, so I was looking for a second entry…
And I already pocketed $1,350, so it takes some of the pressure off the trade.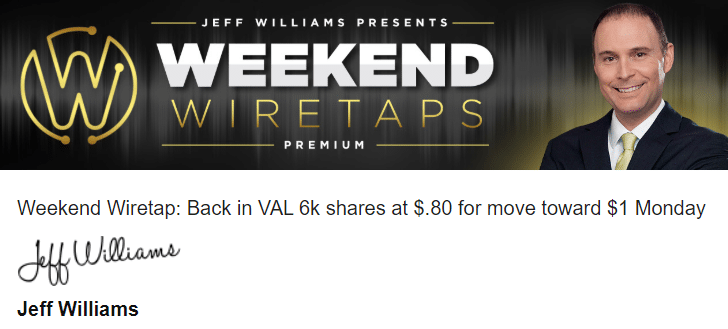 Looking back at the daily.
VAL closed on highs with a huge volume spike on the move, showing the demand has come in and there is a good chance of follow through.
The next levels of resistance are at previous swing highs of .95 and 1.46, with a gap above that.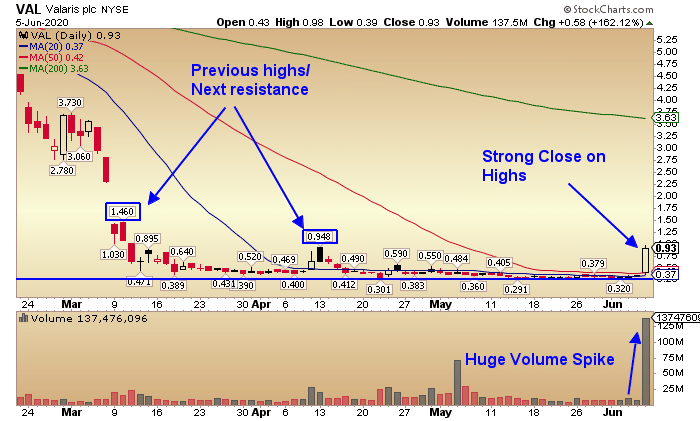 My bread and butter trades like this are how I continue to grow my small accounts over and over.
I'm not just a watch me trade type of guy… I'm a teacher.
In fact I spent over a decade as an elementary school teacher before this. And I use the skills I learned there to break trading down into a simple to follow process.
Learn my strategy for trading in any market…
And right now, if you join today… you can get started from the very beginning of my newest small account challenge.
Join Profit Prism Platinum Today
*Past performance is not necessarily indicative of future trading results, and the results presented in this communication is not necessarily indicative of future results, and the results presented in this communication are not typical. Investing in securities is speculative and carries a high degree of risk; you may lose some or all of the money that is invested.
**RagingBull.com, LLC utilizes select testimonials depicting profitability that are believed to be true based on the representations of the persons providing the testimonial. However, trading results have not been verified and will vary widely given a variety of factors such as experience, skill, risk mitigation practices, market dynamics and the amount of capital deployed. It is easy to lose money trading and we recommend educating yourself as much as possible before you even think about trying it. Past performance is not necessarily indicative of future results.