We are off to a great start in my newest small account challenge.
My very first alert of the challenge was a trade in HEXO on Monday afternoon.
Cashing in the next morning for a nice 13% gain.
But the fun didn't stop there…
I run midday scans every day to put together a midday watchlist that I send out to all my members.
And I do this live every day in my Profit Prism Platinum trading room. Get access here.
While running my scans on Tuesday afternoon I keyed in on a few stocks, one of which was NAKD…
Look at this move in NAKD yesterday… nearly 200% low to high.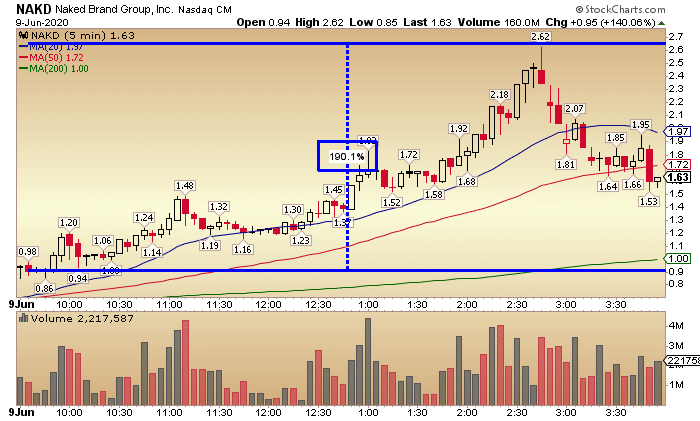 That's the value in my midday scans… more opportunities.
And I'm going to show you exactly how my members jumped on that opportunity.
Strap in for a quick review of HEXO, my first trade of the new challenge…
…and then we will dive into the value of my midday scans with a look at how my members rocked NAKD midday.
Hexo Corp. (HEXO)
This is the trade that kicked off my new challenge. A nice 13% winner overnight.
Let's dive in with this 15 min chart.
HEXO gapped up above a consolidation range with a spike in volume.
After the initial pullback, it began to stair step its way up throughout the day.
As you know, I like to come in at the end of the day and look for stocks that have momentum to run into the next day.
And that's what I found in HEXO buying as it came out of the last pullback at 1.12 going into the close…
I held it overnight and cashed in at 1.26 Tuesday morning for 13%.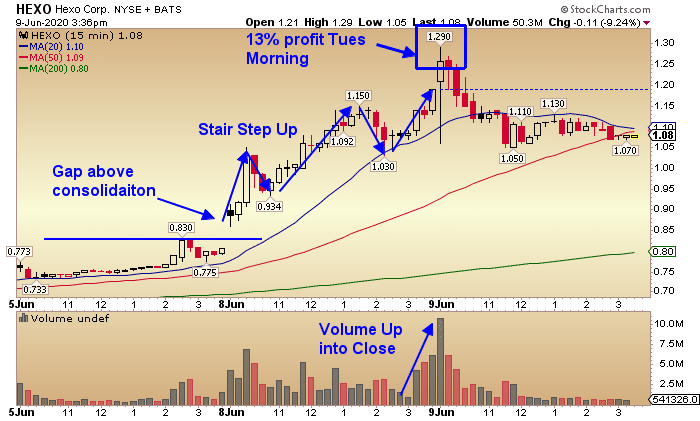 What a great way to get my challenge going.
And it's not about tooting my own horn…
It's really all about my members learning to trade and make money for themselves… just look at some of their trades in HEXO.*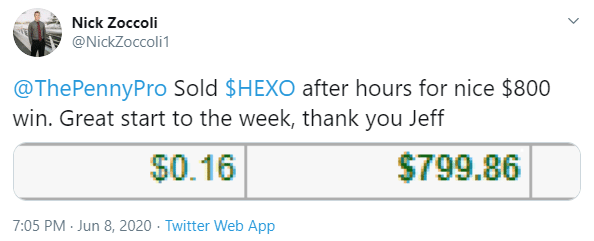 It's not rocket science folks. As with all of my strategies, I try to keep it simple.
If you want to learn to trade… click here
Naked Brand Group, Inc. (NAKD)
When I run my midday scans, I search for stocks that are moving, have momentum, or "in play."
Things like 52 highs, close to the high of the day, up a decent percentage on the day, and large volume spikes, etc.
You get the idea.
Tuesday when I was walking my members through the scans, I came upon NAKD.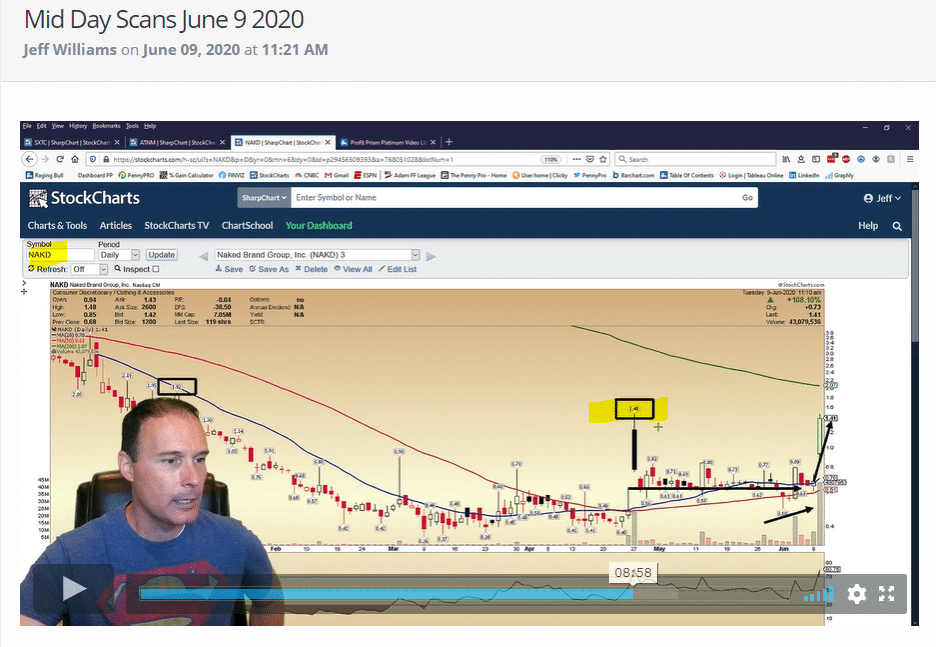 I walked them through the chart and what I liked about it.
Was there a trade?
Maybe.
I was clear that it needed to break $1.48 first (highlighted in the image above). It wasn't quite there, but close.
And then what happened next?
Just look at the chart…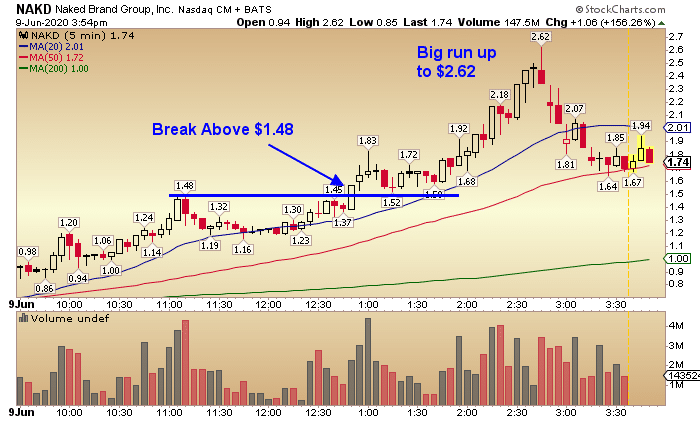 BOOM!
NAKD broke out with a big run up to $2.62.
But the best part…
Many of my Profit Prism Platinum members jumped on it.*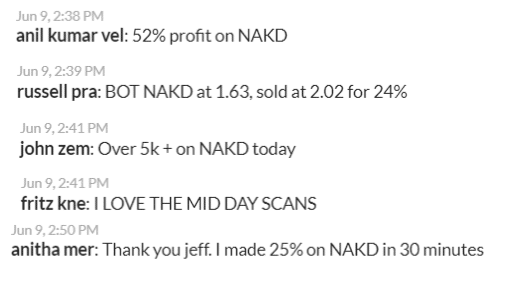 The name of the game is EDUCATION.
Learn To Trade Folks…
We just got going with my new small account challenge…
It's not too late to get in and be a part of it.
Join Profit Prism Platinum Today