Genius Brands announced last Thursday that they would host a conference call on Monday to discuss an "exciting business development."
Keeping it pretty vague there. And why did we even need to know about it on Thursday if they weren't giving any details until Monday?
Sounds like a classic PR hype play…
The news might be legit, but it could be they know the announcement isn't so "exciting" and without any detail we can only speculate…
And that's what traders did on Thursday as they bought the stock up on the rumor of an "exciting business development."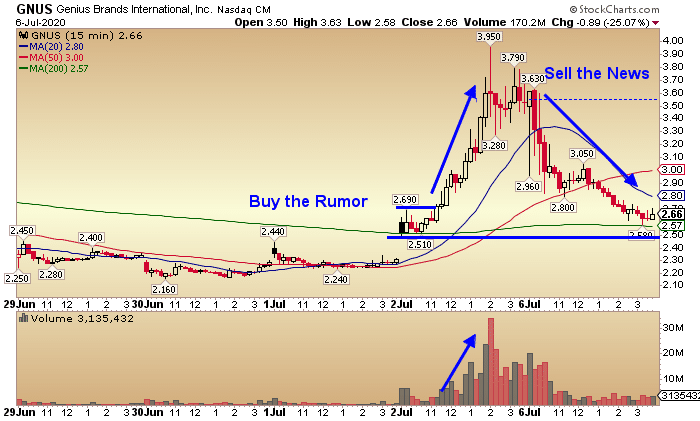 But as you can see in the chart traders may have bought the rumor, but they also sold the news sending the stock crashing back down on Monday.
To see how it all played out I'm going to walk you through the details of the GNUS hype machine, so you can see what really happened… and the step by step of how to trade it.
First let's just look at the price action in GNUS stock over the past month.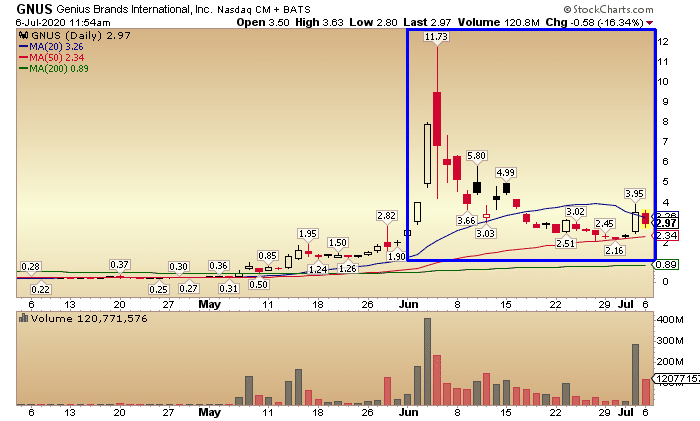 There's a lot going on in that chart.
GNUS recently launched their "Kartoon Channel," a network of children's programming focused on "content with purpose." And it was launched at the perfect time with kids stuck at home due to the pandemic, just what every parent needed… and the stock took off.
It didn't take long for the stock to fall right back to earth where it was sitting around $2 last Wednesday.
Now let's look at last Thursday when the CEO announced that the company would hold a conference call Monday morning to discuss an "exciting business development."
First off, it's sketchy because of a lack of details. But you don't need to be concerned about that, we are trading not investing.
So regardless of seeing through the CEO's thinly veiled attempt to hype the stock, this is still a catalyst potential for a stock like this.
Given that we now have a catalyst, we just need to look at the chart and look for opportunity.
Now focus on the morning price action. GNUS gapped above the 200 day that morning (the green line on chart).
It then trades in a consolidation range for the first hour or two as it builds up the energy for a breakout. This you can see in the trading range marked between the two blue lines.
If I am looking for a buy setup. I would have one as the stock trades out of the morning consolidation with an increase in volume.
This is really as clean as it gets out there… a catalyst, a gap up, the stock holds the gap and the 200 day sma, then breaks out of the morning consolidation with volume ramping up.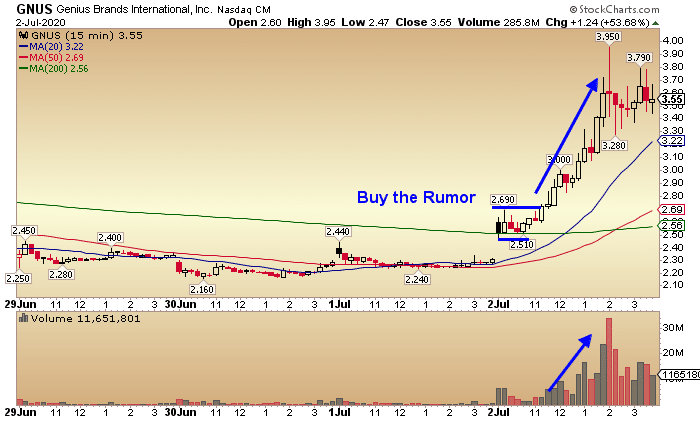 This was a slow setup with plenty of time to catch that break… as traders entered the rumor play, the stock broke out and as volume picked up and it's off to the races.
But now we have to wait until after the long weekend to see what the "exciting development" actually is, which poses a natural question… should we even be in it after that move up?
Yes and no… With a quick return like that, there is no reason you need to be in this stock over the long weekend. Take your gains.
But if you are playing all the way through, you could hold it until the conference or just before.
Who knows, if the news ends up being huge, the stock squeezes the massive number of shorts out and jumps to $10.
That didn't happen but it very well could have if you remember the daily chart up above.
Come Monday morning we get a press release along with a live conference call to talk about it…
Genius Brands entered into a joint venture with Stan Lee's POW! Entertainment to create STAN LEE UNIVERSE. And Genius will be the managing and controlling partner of the venture.
Just seeing the name Stan Lee is enough to perk me up…
But what is this STAN LEE UNIVERSE?
This is where it gets interesting…
The joint venture "will assume worldwide rights, in perpetuity, to the name, physical likeness, physical signature, live and animated motion picture, television, online, digital, publishing, theme park, comic book, merchandising and licensing rights to Stan Lee and his IP creations past*, present, and going forward."
So everything that Stan Lee created that has basically not been made a success thus far is now under their control…
If you don't know Stan Lee… just think Spider Man or simply go to the Avengers and you have a big list of huge hits… with billions in value as a Disney asset.
So yeah he's a big deal.
Enough so to think that even these previously unused characters would likely have some sort of value. Granted this is a children's programming company, so it's unclear where this is headed and if it's really that big.
And is the news big enough to sustain the stock's rumor spike from last Thursday?
Let's go to the chart: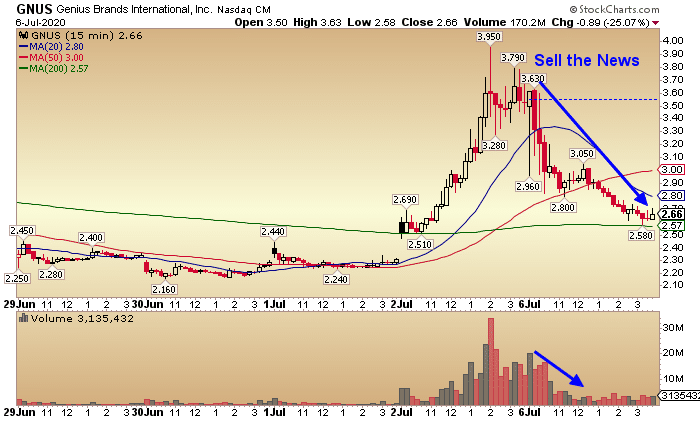 Initial reaction?
Not so great.
Classic example of buying the rumor and selling the news…
News doesn't always make a stock go down… but in this case we ended up with traders grabbing a quick profit and selling the news to the late comers.
Two things to note about this conference call.
One, there was already news about Stan Lee products. GNUS had previously released news about a program called Stan Lee's Superhero Kindergarten with Arnold Schwarzenegger as lead.
So it's not likely that this was super fresh news. Even if it was only recently inked.
And two, there weren't a lot of details when it comes to the numbers.
Joint ventures can mean a lot of things and they really didn't talk about any of it.
Investors will want some clarification on the level of profit sharing and what it cost to make this happen.
And with the massive short interest (38% short float) in GNUS, there are a lot of people betting against the stock and trying to keep it stock down.
So does it all amount to nothing?
Long term, who knows… but for the moment, the market isn't buying.
If you look at where GNUS traded to… it went right back to the 200 day sma, only to gap down this morning in what would amount to a major beating for anyone that bought the news yesterday.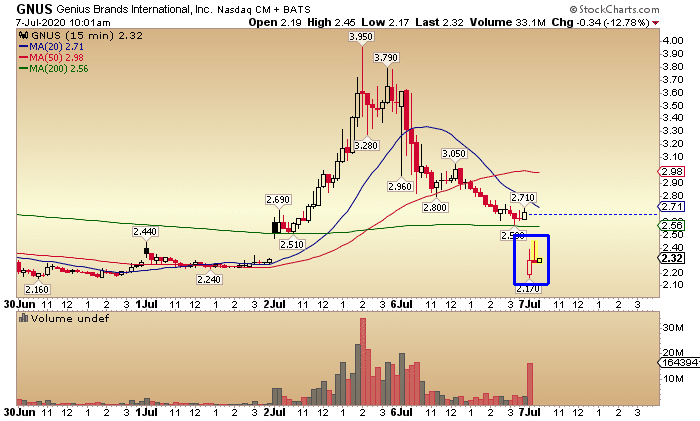 There you have it… while the "exciting business development" wasn't so exciting to the stock price, there was an easy trade on the rumor Thursday.
To get more in depth with my trading strategy check out my Free Stock Trading Starter Pack