Ever wonder what happened to all those "Got Milk?" commercials?
Well it's no secret, milk is out of favor now. At this point one might even wonder… Why the obsession with it in the first place?
Dairy farmer propaganda? I don't know.
But as I type, there is a new generation of tastes and beliefs about dairy milk… millennials moving towards veganism, plant based diets, global warming studies on cows, new studies (not sponsored by "Big Dairy") showing an opposite view on the healthiness of dairy, etc.
Whatever the reason, Americans don't drink as much milk anymore. Well not dairy milk anyway.
Nuts, soy, rice, and hemp milks are all the rage. As long as it's not from a cow, it's considered a healthy option.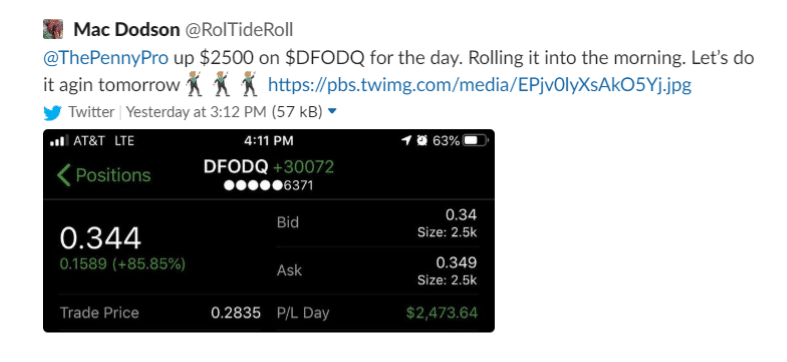 Now that doesn't mean dairy milk is gone. There has been a lot of growth in yogurt and cheese demand. However, milk prices for that use are much lower, hurting companies like Dean Foods.
Lower milk consumption along with a number of other factors have taken the once meaningful Dean Foods down. Cost of freight and fuel, Walmart and other private labels producing much of their own milk and using low prices to get shoppers in the doors.
In fact Walmart was Dean's largest customer, so you can imagine the hit it took as Walmart began to produce some of  their own milk.
And after years of declining sales and profits, Dean Foods filed for Chapter 11 in November of last year.
But that doesn't mean there isn't money to be made. After all, PCG also presented plenty of good trades after entering Chapter 11.
And I am going to show you just how Dean Foods set us up for a massive win… and why it's not over yet.
Dean filed for Chapter 11 in November. As you would expect, the stock tanked. It was already in penny stock land due to years of declining sales and the major losses over the past year.
But once they announced Chapter 11… it tanked hard. You can see the gap down from .70 to .13 and the next day hit a low of .01, Ouch!
Since then, Dean Foods has been consolidating. Partly due to investors and traders waiting for more information on what might be next.
And there is definitely a lot of intrigue in the dairy industry as the monster dairy co-op, Dairy Farmers of America (DFA), is trying to merge with Dean Foods.
But there is no certainty yet as the DOJ is investigating the potential loss of competition in the market.
So how do we make money when there is so much up in the air? And does any of it really matter?
Not really…
While the backstory is certainly what created the opportunity for us to make a boatload of money… but it's not what happens with the merger that matters, it's all about the charts.
You see, the only thing I needed for this trade was my simple 5 step system. I didn't need to know much about what was happening between Dean, the DFA and the DOJ…
I simply ran the same scan I use every day to find stocks ready to explode and cash in on big moves overnight.
Using the same parameters I use for all of my trades, my scanner picked up on Dean… and the profits followed.

Let's go to the chart… This is one of my go to chart patterns, the consolidation breakout.
The stock is building up pressure in a really tight range creating pressure for a potential breakout.
And listen, potential is the key word there…  I don't accumulate the stock during this time.
As you can see it took more than 2 months to break out, and it very well could have gone to 0. I don't need to have my money sit there that long, nor do I need to take on that much risk.
Not when I can easily get in and out of trades quickly for big gains, and when you can do this over and over again… well, it adds up fast.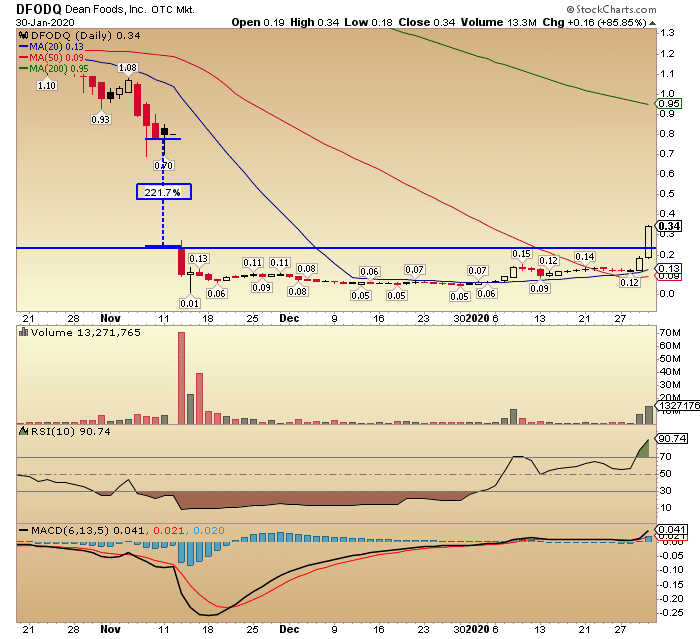 So here we have Dean breaking out from the consolidation. And over the past two days, volume picked up as it began to break out, which is exactly what I want to see.
So I alerted my members to the trade in txt, email and live in my chat room… and we all participated in the quick profits.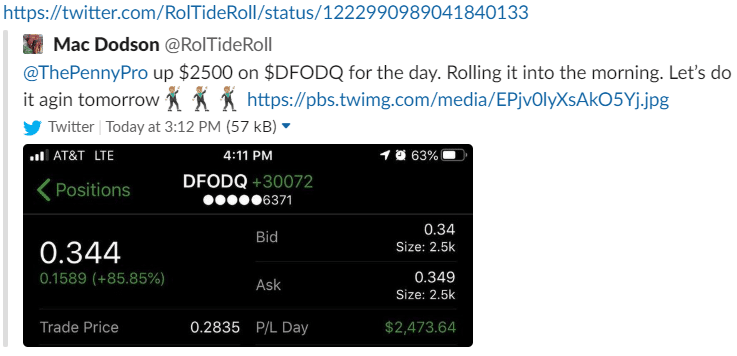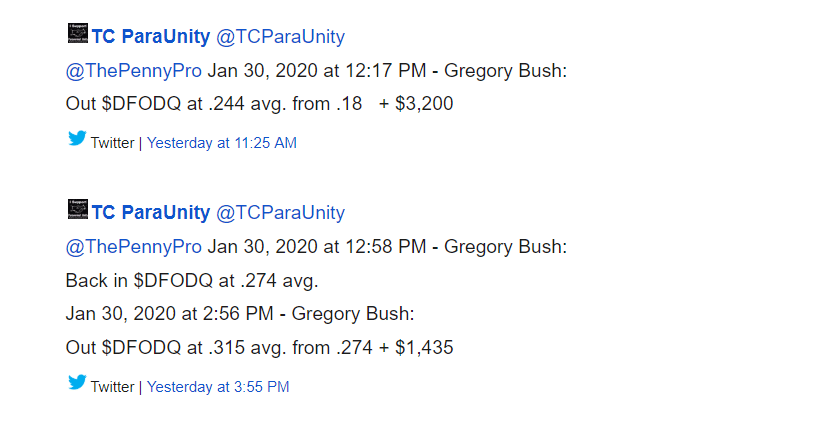 At this point the Dean's stock price is now in the gap… already up 100% with another 100% to fill the gap.
Needless to say, trading in Dean Foods is not over… Join Profit Prism Platinum to see my next move.
And listen… with my Profit Prism Platinum service, you get so much more than just alerts. I am there every day in my live trading chat room. You got a question, I got an answer.
Constant talking, training and trade alerts all Live… and it's not just me… my moderators are there as well, providing insight along with trade alerts of their own.
Jan 30, 3:25 PM
"Big thank you to Jeff, Greg, Marco, Tom, Jersey, Ranger and Funky Bunch. When triple top in DFODQ just broke, I sold into that strength in my small acct. up $454 today. Small Acct. is up 75% since your recent re-set. No day trades left until tomorrow so I'm going to go play racquetball." — Gary T.

To gain access to all of the amazing benefits… Join Profit Prism Platinum Today
Related Articles: