With the markets closed today, I wanted to take the opportunity to share something very interesting with you.
In Jeff's letter a couple days ago, he highlighted some of the hot stocks making moves in the sustainable energy industry.
And one of those stocks was Workhorse Group Inc. (WKHS).
I just happened to have a conversation right around that same time with our own Kyle Dennis, and he had some really interesting things to share about WKHS…
So today I am taking over the PennyPro so you can learn something new and potentially game-changing…
Workhorse Group (WKHS) has been one of the hottest stocks this week…
The stock finished up 46.57% on Monday…
And was trading 25% higher shortly after the opening bell on Tuesday.
The reason for the large run in WKHS?
The stock was added to the Russell 3000 Index yesterday and got a $70M financing agreement with an institutional investor this morning.
While the stock was hot… the options were scorching.
Today, I want to show you the activity I noticed, why it was so interesting… and why I believe it's important to follow "insider" activity.
You see, I actually noticed some "smart money" activity on Friday. That option player nailed the trade.
So what was the specific activity that caught my attention?
Workhorse Options Gain More Than 600% In A Matter Of Days
With all the positive catalysts in WKHS… it makes a lot of sense after the fact why a "smart money" player threw down a large bullish bet.
Just three hours before the closing bell on Friday, someone came in and bought
955 WKHS Jul $15 Calls
Paying $0.65 Per Contract
In other words, they paid more than $60K on that trade.
What was most interesting about this trade was the fact that it went off when the stock was trading at $9.34.
That meant they needed the stock to rally by 60% just to break-even.
If I know anything about these players, they don't play to break-even, they play to win big.
Well, on Monday, WKHS was added to the Russell 3000 Index.
What that means is there should be buying pressure as some exchange-traded funds (ETFs) that track that index would now need to buy shares to reflect the addition.
Not only that but…
On Monday, the stock caught a massive upgrade from the analysts at Cowen.

The shares caught a large pop after those two catalysts on Monday.
This morning, shares were rocketing again on Tuesday morning, after there was a press release announcing WKHS received a $70M financing agreement.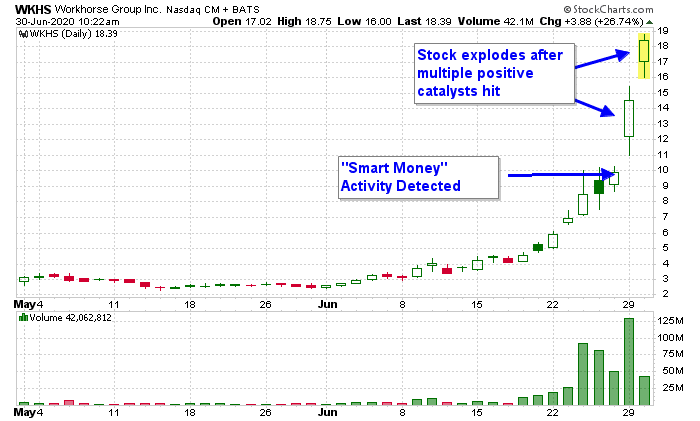 Was someone tipped off in advance about the upgrade?
Or did the options player just have perfect timing?
To be honest with you, we can only speculate on that.
What I can tell you is those options were trading at $5.10 X $.520 at 10:25 AM ET on Tuesday.
In other words, that Wall Street whale could've made as much as $429.83K if they held those options.*
Imagine if a trader was able to follow that options player and bought just 25 contracts on Friday at the same price they bought them at.
That would've just cost $1,625 (excluding trading fees, if any).
If that trader was able to sell those options for $5.10…
That $1,625 could've turned into $12,750… or $11,125 in realized gains.*
The thing is…
That's just one trade my Dollar Ace scanner picked up on…
If you want to learn how the "smart money" moves and the power of my strategy…
Then you'll want to check out this important training session.
Watch, as I reveal how I detect "insider" activity and use the information to my advantage.
*Results presented are not typical and may vary from person to person. Please see our full disclaimer here: ragingbull.com/disclaimer