The market got kicked in the teeth yesterday.
With the Dow down 800 points and the Nasdaq off by 5%… many of the new Robinhood day traders got a taste of what markets are really like.
But you don't have to get crushed just because the market is…
Here's what I do when the market gets slammed like it did yesterday.
How's that for simple?
You see part of the reason my strategy has worked in so many different market conditions is because I am trading on single stock momentum… AND taking quick profits.
Most of the time, I am in and out before the market has time to mess things up.
Yesterday was a prime example of this.
I grabbed an overnight win for 28% in NWBO… even though the market got spanked.
And I'll show you how right here…
Here's a classic consolidation breakout setup.
When a stock takes a breather and trades in a tighter range, this is a consolidation.
Notice how NWBO made a run up in May…
And after this quick move up, the stock began trading in a range. It wasn't going higher or lower, just floating around in a defined trading range for the most part.
When a stock makes a quick move, it often needs to take a breather… or consolidate.
This gives the players time to build positions for the next breakout, whether it's up or down.
It's basically a time to build up pressure for what comes next.
In the case of NWBO, what came next was a breakout… seen in the last candle on this chart.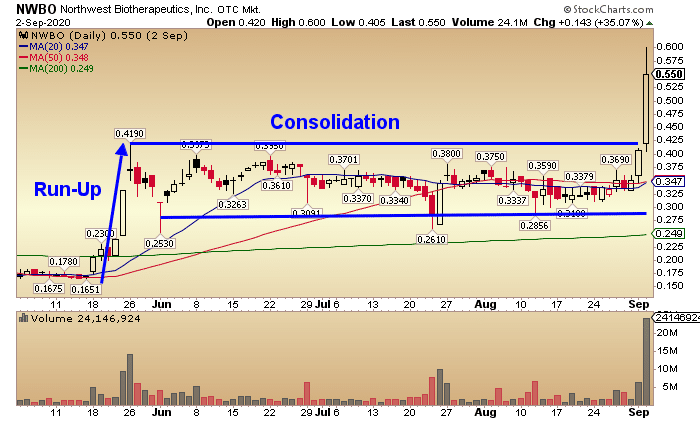 With my Profit Prism strategy, I am looking to capture the momentum of that breakout.
And therefore, I am not looking to get in until it actually happens…
Why?
Well… Just because a stock is consolidating after a move higher doesn't mean it's getting ready to break to the upside.
It could just as easily go nowhere.. Or even worse break back down.
So here's what I am looking for in a trade like this.
During the consolidation, I am waiting for the stock to actually break above that range.
But not just get above it… I want to see real conviction.
And if you'll look at the volume bars in the lower window, that's what I call conviction.
NWBO is breaking above a long consolidation channel on a huge volume spike.
This has my attention.
And I actually jumped in and sent my members an alert at .4998…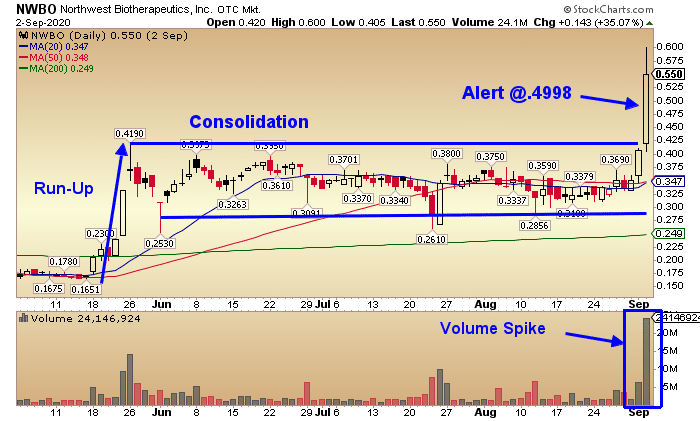 And sadly the next morning I woke up to this market…
Surely I'm screwed right?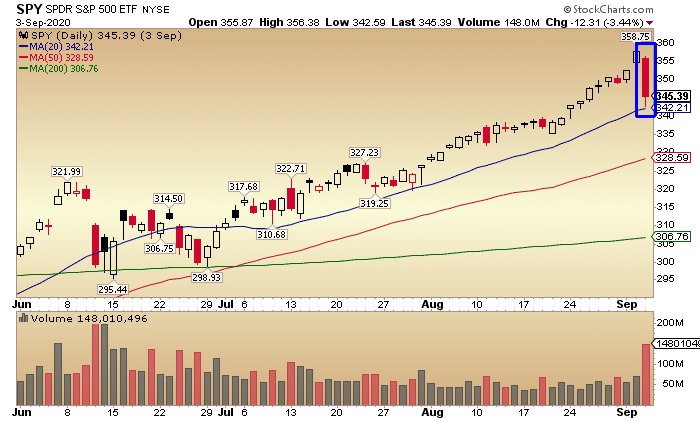 Not necessarily…
You see, there's a reason I am trading stocks based on their own supply and demand.
They don't need the market to make their move.
NWBO was breaking above a consolidation range on a large spike in volume…
The demand for the stock was enough to play out into the next morning… regardless of what the overall market was up to.
Just look at the chart below…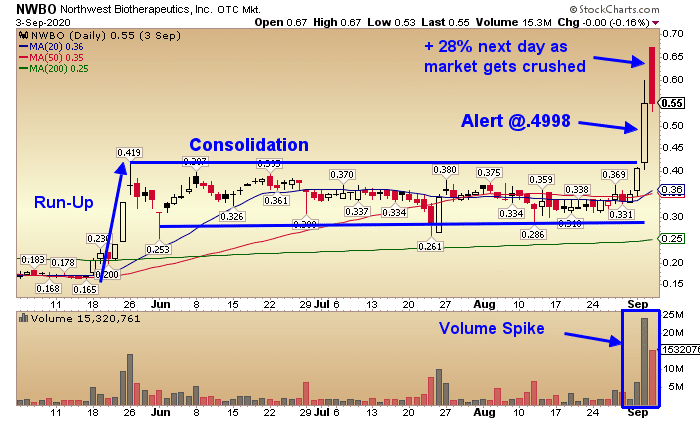 NWBO gapped up, even though the market was gapping down, and it gave me plenty of time to grab a nice 28% return*… overnight.
You can't beat that on a day when the markets are getting crushed.
Heck, you probably can't beat that on a day the market is raging.
I was able to do this because my strategy looks for stocks that are moving on their own.
My strategy uses specific criteria that helps determine if a stock has the demand and momentum to propel it further in order to grab quick profits.
I keep my risk contained by trading stocks like this and keeping my exposure to the overall market low.
With my Profit Prism strategy, I've been able to not only endure, but profit in every type of market condition you can imagine…
If you want to learn to trade and not be afraid of what's next in the market… this is for you.
Get access to my educational suite, daily trade alerts, nightly video watchlists, ongoing video lessons, and so much more…
*Results presented are not typical and may vary from person to person. Please see our Testimonials Disclaimer here: https://ragingbull.com/disclaimer