Busy with the 9-5 grind?
Per a recent Gallup Poll survey, the average full-time worker in the U.S. spends 47 hours at work… and many people are working over 60 hours.
With full-time salaries around $45k, it's hard enough to get ahead.
These days, more and more Americans are turning to side hustles to supplement their incomes, get ahead, or simply stay afloat.
That's how I started trading.
I was an elementary school teacher and as much as I loved it, between bills and our student loan debt, we were barely scraping by.
That's when I decided it was time to make a change, and I knew the stock market was a place that I could make good money without taking up too much of my time.
This allowed me to keep my full-time job while I learned.
Fast forward to today — I made it out of the rat race. I trade full-time and I'm able to continue my love of teaching by showing others how to do it too.
But it's hard to start a trading career when you're working 50 plus hours a week…
That's where my newest service Weekend Wiretaps comes in…
I'll explain exactly why Weekend Wiretaps is the best way to get started while working full-time and show you the last 4 trades I took using this system.
It Only Takes One Trade Every Friday
My trades are all based on a simple set of rules that break the trade down to the basics of supply and demand. So no matter what the market is doing, I am making money.
One single trade that provides me with extra income to use however I want.
There are other options of course.
You can write a blog, but that can cost you 20-40 hours a week.
Fill out surveys online? The truth is, you're probably going to end up making around $1- $2 per hour and that won't get you anywhere.
Some people even try to start businesses on the side. If you want to go that route, good luck…
Failure rates are close to 90%, not to mention the hours a new business takes and the investment to get started. (With Weekend Wiretaps, you can get started trading with as little at $500.)
That's why I chose trading as a way to get ahead and create a better life for my family.
With my new service Weekend Wiretaps, in just a few minutes every Friday, I enter the trade and simply go about enjoying my weekend.
Come Monday morning I am looking to cash in.
Just look at my last four Weekend Wiretaps below and see for yourself.
Zosano Pharma Corp. (ZSAN)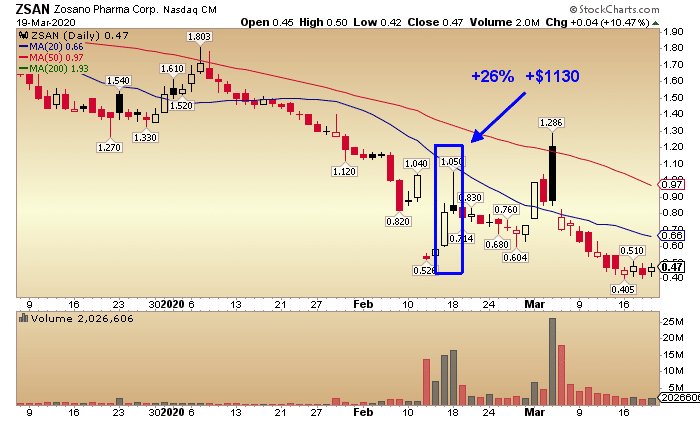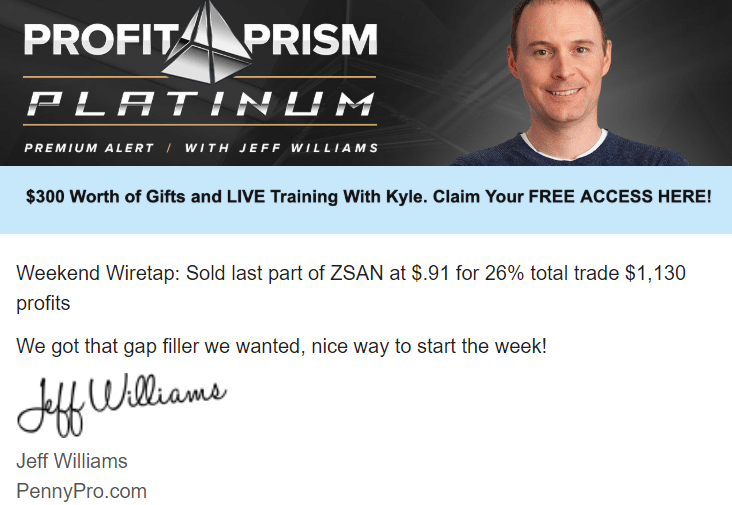 You've seen how I traded ZSAN, now check out how some of my members traded it: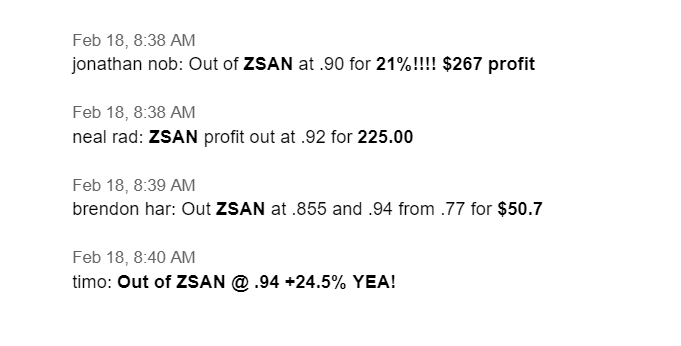 Biocept, Inc. (BIOC)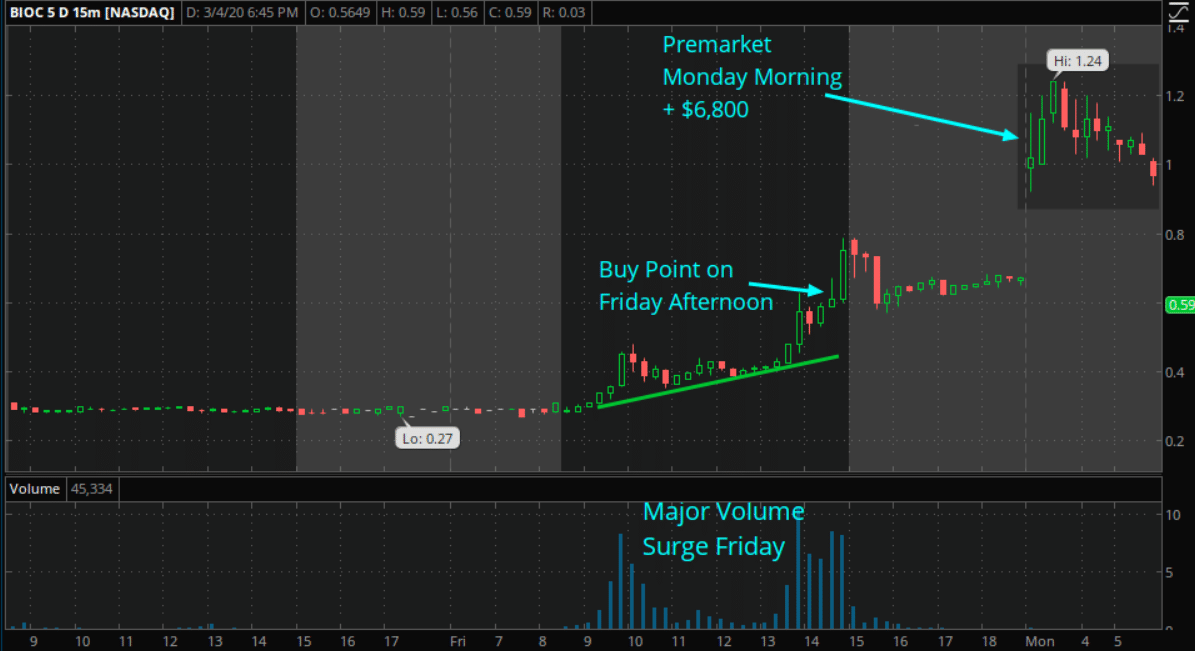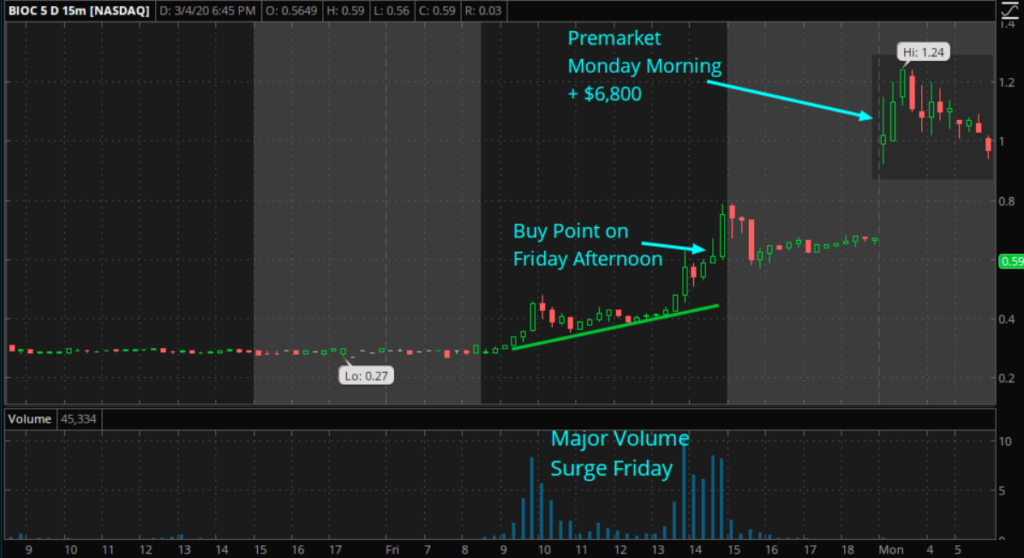 And I'm not the only one who cashed in on BIOC:

Innovation Pharmaceuticals Inc. (IPIX)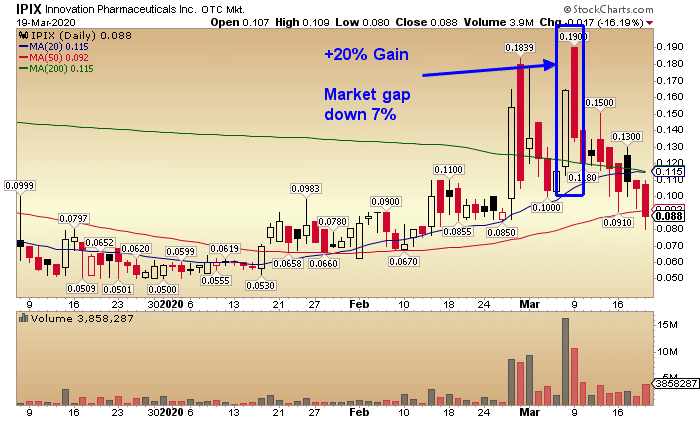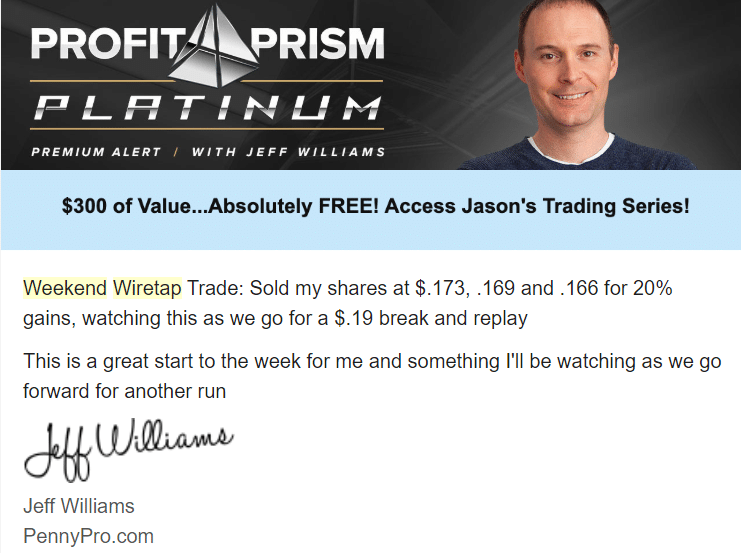 And to keep it going, check out PASO, last Friday's Weekend Wiretaps alert.
Patient Access Solutions (PASO)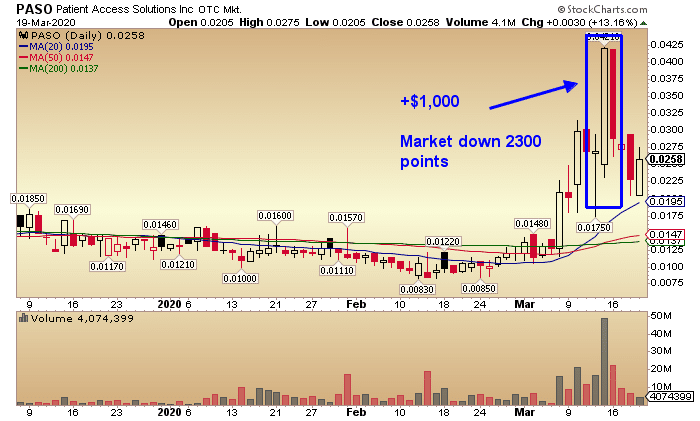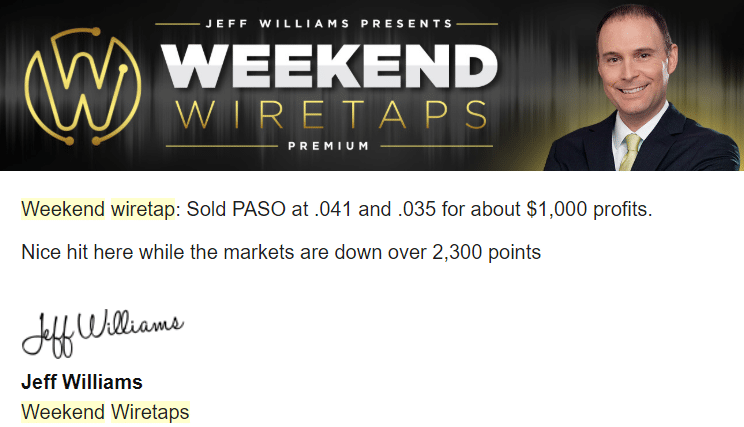 Mar 13, 11:02 AM
bill b: In PASO at .0308, out at .0337….+$725
Playing on supply and demand, I find the best stock ready to make a move over the weekend and create an opportunity to grab a paycheck on Monday.
My next Weekend Wiretaps trade is this afternoon, so don't delay getting in or you will have to wait another week before my next alert.