With restaurants, movie theatres, and business offices all close down for weeks or longer, this is truly going to be a big blow to the economy.
While we do need to stay inside and distance ourselves from others as much as possible, we still have to survive somehow.
I mean if you want to go to the grocery store and stand in a line that goes out the door and round the corner, I won't stop you.
But that seems a little counterintuitive to the distancing we've been asked to maintain.
So what if you could just order your groceries, meals, toilet paper and anything else you might need directly to your front door.
Then all you need to do is spray the packages down with Lysol and bring them in. The less exposure you have the better off the whole community will be.
We are lucky enough to live in a time with companies that provide these services.
Amazon, Uber Eats, DoorDash, Blue Apron, Hello Fresh, and the list continues.
In fact, one of the only ways in which restaurants are allowed to operate at all right now is through delivery services.
So not only will you be keeping yourself distanced and safe, you will be supporting your local establishments which might otherwise be shutting their doors. It only makes sense.
The companies that will get the big boosts, however, will be the delivery services.
Just look at the chart of Blue Apron Holdings, Inc. (APRN) this week. From $2 to a high of almost $20 yesterday.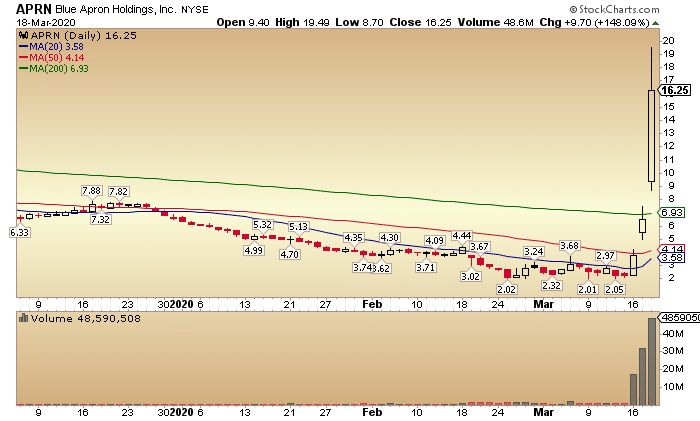 Waitr Holidings Inc. (WTRH)
Waitr Holdings Inc. provides online food ordering and delivery services in the Southeastern United States with approximately 8,500 restaurant partners in 250 cities.
Per the company website:
"Its platform connects local restaurants to hungry diners in underserved cities in America's heartland. Waitr is the most convenient way to discover, order and receives great food from the best local restaurants and national chains."
They facilitate the ordering of food and beverages by diners from restaurant partners for pick-up and delivery through a network of drivers. Think Uber eats for underserved communities.
This is definitely a quarantine/ social distancing play.
Now let's go to the chart.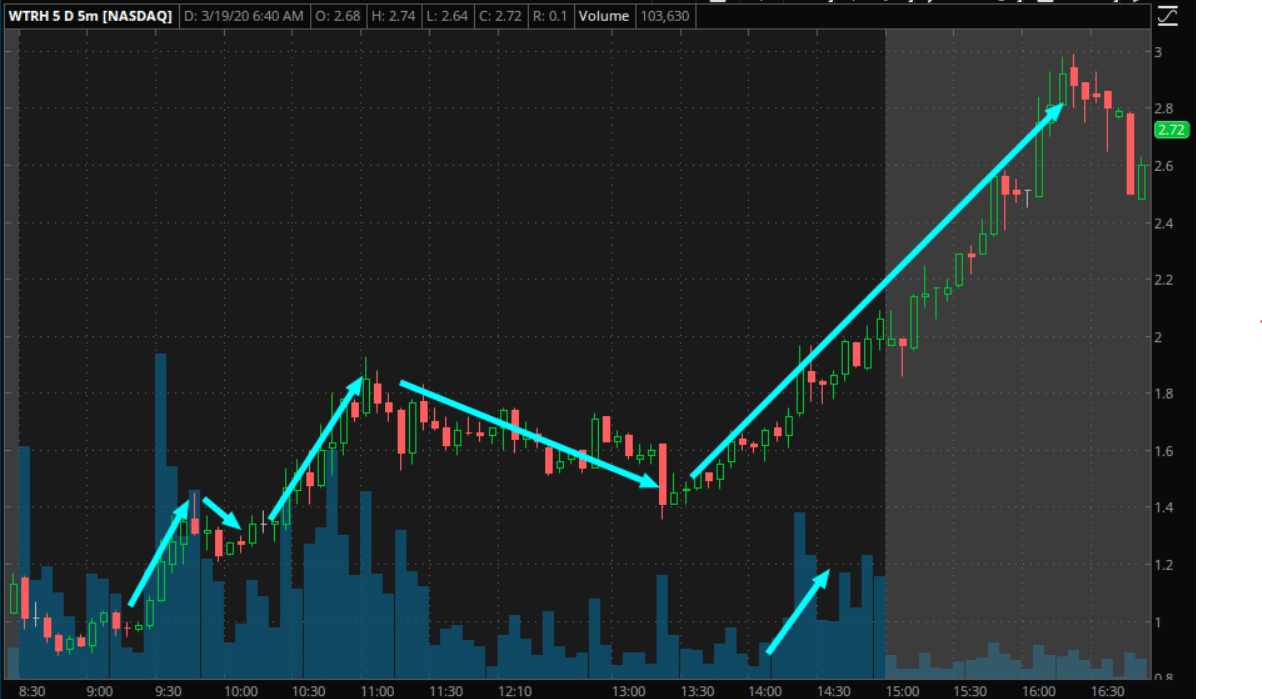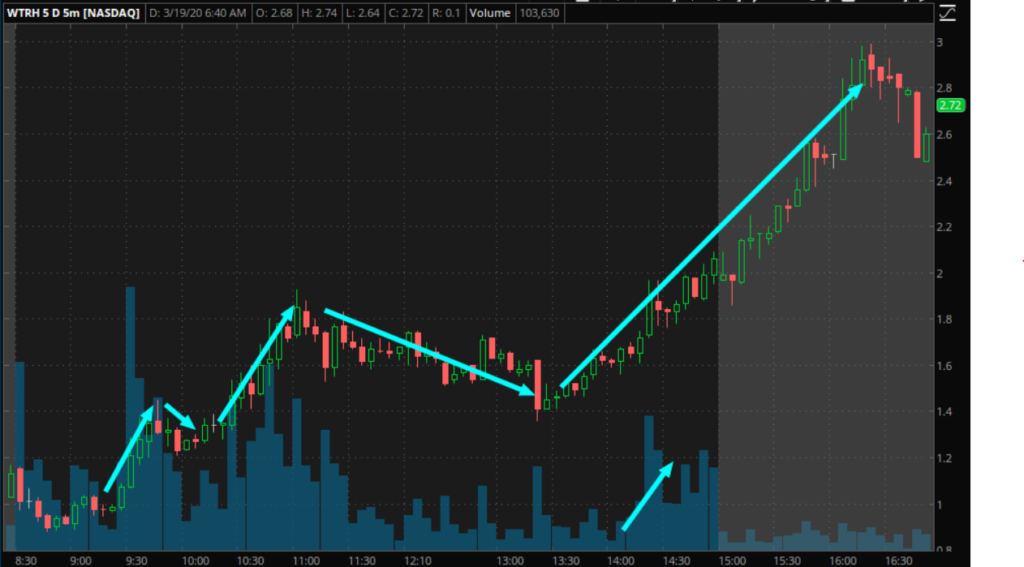 In the 5-minute chart from yesterday's trading day, you can see a clear stair-step pattern up.
I like to time my trades to the end of the trading day.
This allows me to limit my exposure to the market.
The stair-step pattern is one of my go to's, so I had my eye on this chart.
But I needed to see how it traded at the end of the day. That's just as important as anything.
And what I saw, I liked. Volume was ramping up and the price was rising into the close. People wanted to be in this stock.
This is what I like to see in a potential trade. I want to be where the momentum is.
And knowing Waitr is a food delivery service added the catalyst to the trade.
This stock was recently breaking out on news of continued shutdowns and restrictions on social gathering.
The chart showed me the way and the catalyst added conviction to the trade.
With everything in line coming into the end of the day, I entered the stock at $1.66 and alerted my members.
I shoot to hit my targets the next morning so I'm never in a trade for very long, limiting my exposure to the market.
But sometimes a trade just takes off and I'm grabbing my money long before that.
You see… with WTRH, after entering, the stock just kept going right up to my target without stalling. So I locked in my profit while I had it.
I can always trade it again, but for now, I was able to lock in 39% in less than an hour.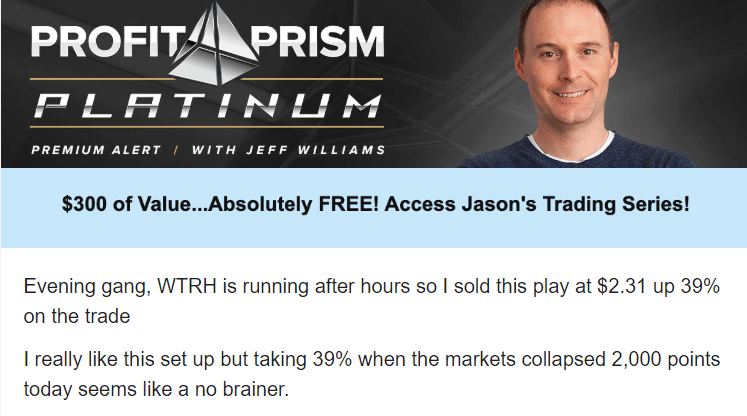 So I took it and moved on with more cash in my account ready to find new trades today.
And yes — WTRH is on the watchlist and will be for quite a while given the catalyst behind it.
Will I trade it again? I don't know. It depends on whether it gives me a clean set up or not.
But you can know about WTRH and many other trades every step along the way by clicking here.