If you have been following me, then you will remember the SPI move from $2 to nearly $50 in just one day.
If not, be sure to check it out.
I'm in my Stock Profit Pro trading room sharing my thoughts, scans, and trades with my members every day in real time.
And on that crazy day, I was teaching a lesson on gap trades…SPI set up perfectly.
Needless to say, so many of my members crushed it.
My Live Trading Room is truly the best place you can be every trading day…for learning, trading, sharing, AND having fun.
To get you ready for the rest of the trading day, I'm going to share some of the stocks I personally have an eye on…along with, what the heck is SPI up to today?
SPI Energy Co. (SPI)
Today SPI Energy announced the spinoff of Solar Juice and the stock is up 16% on the news.
Looking back at the daily chart, you can see that SPI has a history of "pump-and-dump" price action.
When they announced the development of an EV subsidiary, the stock rocketed from around $1 to nearly $50 in one day and was back down to single digits just as fast.
Then on Oct. 15 they announced a manufacturing deal for EV logistics vehicles and the stock doubled overnight and again, headed south right after the spike.
So it will be important to keep that in mind and patience will be key when playing this stock.
With the spinoff announcement, SPI spiked from $8 to $9.78 overnight, so nowhere near the same moves it's shown recently.
Nonetheless it's up nearly 16% on the day.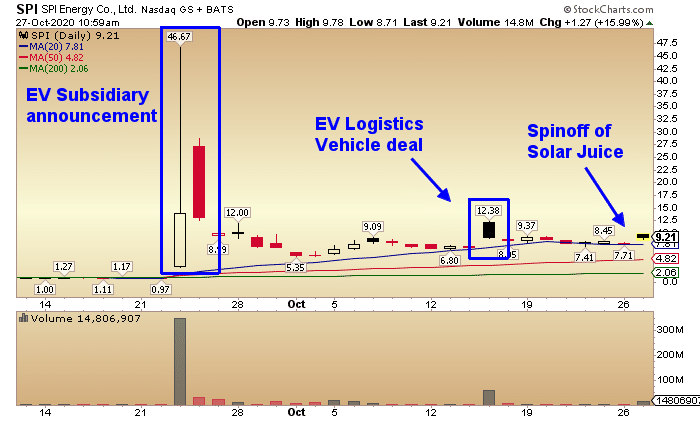 Looking at the 15 min chart you can see the gap up move this morning.
It has since pulled back and is trading in what could set up as a flag pattern.
I will be watching for this potential later in the day.
Another thing I will be watching with SPI is the 20 day moving average on the daily chart.
If you look back at the blue line (20 day) on the daily chart above, you can see that the stock has been riding that higher ever since the original breakout on the EV announcement.
If SPI breaks back down, I'll look for support at the 20 day MA.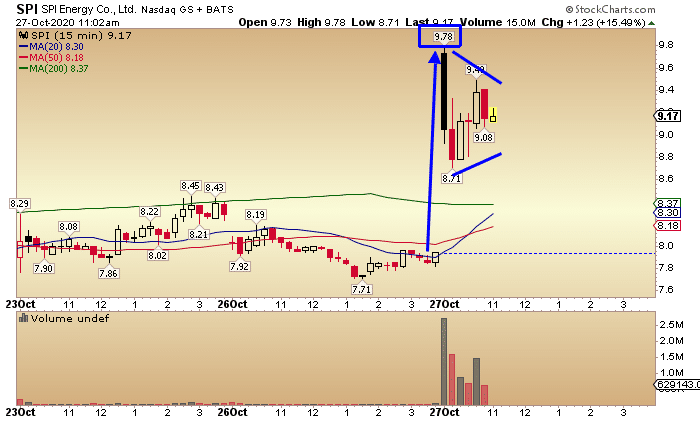 Westwater Resources, Inc. (WWR)
Here's another stock with a recent spike. In fact I traded this in my room and did quite well on that move up to $14.50.
In early October, Westwater's stock took off on an executive order stating the need to get away from foreign dependence for our critical minerals.
WWR shot up from $2 to $14.50 on the news, but traded its way back down to the upper 3's.
With a little spike up yesterday on increased volume, the stock held above and bounced off the 50 day moving average.
Over the next few days, I'll be watching WWR to see if it can break out from yesterday's high.
With the 20 day just above at $6, there's a decent move to that level… and above there, WRR has room to rock.
One thing I will be watching closely is the volume. On a true breakout with conviction, there should be a good increase in volume.
Yesterday we saw an increase on the bounce, but today there's no follow through so far.
If it picks up at the end of the day, it may hit my scan…if not, I'll have an eye on it for the next few days just in case it finds legs.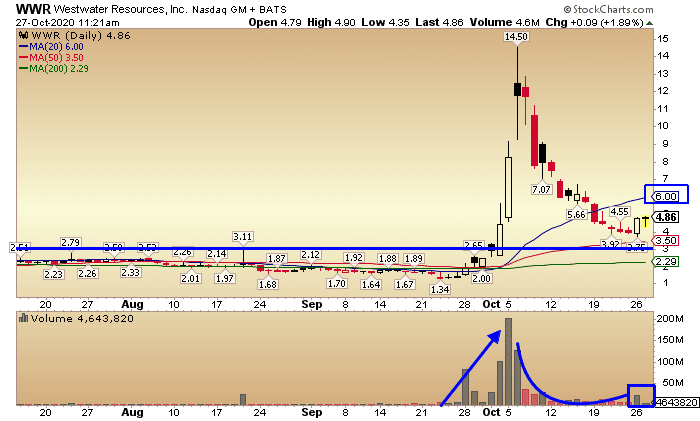 Synalloy Corp. (SYNL)
Synalloy Corporation manufactures and sells metals and specialty chemicals in the United States and internationally.
The stock is up nearly 30% today on news of its CEO retiring.
That's not normally a good thing…
But in this case, maybe the shareholders have lost faith and see better potential with someone new.
The stock has been in a downtrend…and this news seems to have sparked some excitement.
Coming off a consolidation, volume spiked up as the stock shot up to test the 50 day moving average.
From here, I'll be watching to see if the stock can break through with next highs at $6.33 and $6.83.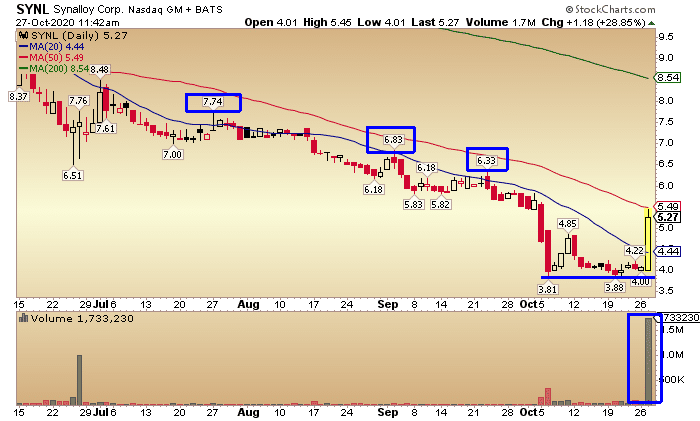 ---
Other Stocks On My Radar
WEI+35%
ISIG +32%
CHFS+17%
CASI +15%
---
To get more out of your trading…
You need to be in a Live Trading Room
And that's exactly where I am every single day with my members, helping them to become better traders.
But with my next small account challenge starting next week…
You need to Hurry!
My goal is to 10x my account in just 30 days…
Click here to Join Stock Profit Pro…
…and get access to my next Small Account Challenge