It's no secret that Amazon was a big winner in retail during the shutdowns.
But for all of Amazon's success, the average retail company (and its shares) got bodied during the pandemic lockdown. 
One of those stocks was Party City which hit a low of $0.26 during the peak of the pandemic.
Keep in mind that beginning 2019 this stock was above $12. Ouch!
So is the party over?
I'm not an analyst…so I can't answer that. 
But I can teach you how I trade stocks like this, the setup I use to trade them, and how you can potentially profit off similar stocks which have this pattern.
Party City (PRTY)
This is truly a dog of a stock.
But guess what?
When it comes to trading, the fundamentals aren't the key.
Any catalyst can put a stock, even one in the dumps like PRTY, back in the spotlight.
That's why I wanted to highlight this today.
I don't have to spend a ton of my precious time reading through financial statements, gathering a ton of data, or making any assumptions on the future earnings growth of a stock.
With Party City, the financial woes were upon it way before Covid popped up.
Last November the stock plummeted nearly 70% when it guided earnings expectations lower.
But it didn't end there. In March, Covid was kicking into gear and Party City again missed the earnings estimates… even after guiding lower back in November.
Sending the stock down nearly 50%.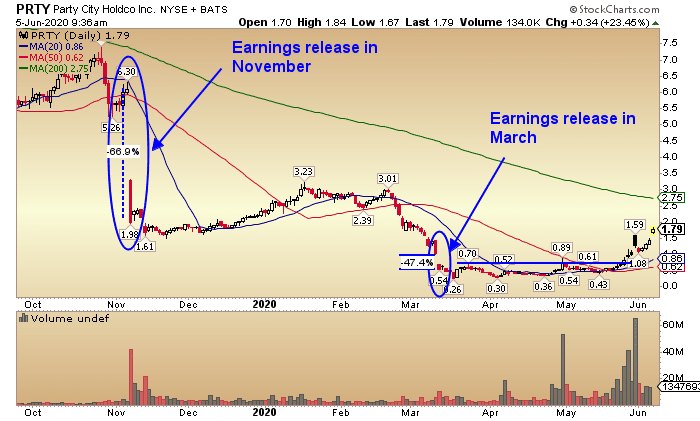 Adding insult to injury, they had to furlough 90% of their retail staff as they closed stores for the Covid shutdowns.
From there, the stock hit a low of .26 and entered into a consolidation range.
So what's next?
This is a dire situation. One might expect them to be the next in a long line of bankruptcy announcements in the retail sector. Big names like JCPenney, Pier 1, Neiman Marcus, and J. Crew… the list goes on and on.
And with 2 billion in debt, negative earnings, and no one partying due to social distancing… Will they be next?
I don't know… it's possible and maybe even likely.
But what I do care about is making money now.
And no matter what happens, there is still money to be made trading a dog like this.
Trade Setup In PRTY
In the chart below, PRTY breaks above the consolidation range… AND closes above the range.
The close above is key to this trade.
As you can see, in May it broke above but didn't hold to close there. The resistance held.
Another big indicator of the legs of this move is the volume.
In the bottom window of the chart volume is ramping up into the break and spikes even higher on the day it breaks out.
This proves the demand for this stock has increased and the odds of follow-through are higher.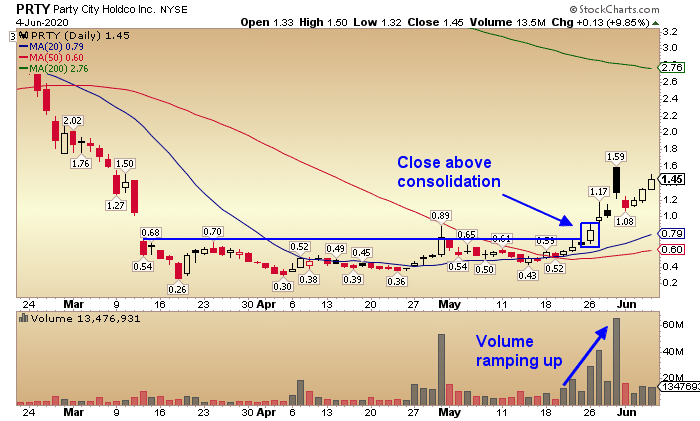 So with all of the bad news, what happened? Why is it that we can still make money in stocks like this?
It turns out that Party City is working out a deal with it's bondholders to get it's debt under control and create an infusion of cash to keep it alive.
The stock is so low that any good sign gets the speculators out in force.
But will Party City actually make it?
I don't know, but I also wouldn't be surprised if one year from now it doesn't exist… or another trade speculators love… some sort of merger, buyout or takeover.
But none of that matters for a trade like this. The technicals tell me the story.
Looking at the chart the breakout was 3 full days before the potential debt deal announcement.
With a potential entry price just around .80 that day… the stock jumped to 1.59, nearly a 100% in 3 days.
All without knowing that news was coming.
Rightly PRTY pulled back. After all, it's a potential deal and nothing is set in stone, so a lot of people that got caught in the big gap downs used the spike to get out.
Now with the stock grinding back up, and closing above the high of the announcement day…
What's in store?
They will release earnings next Friday. And with the continued negotiations with the bondholders, there is a lot going on right now.
Is PRTY grinding up because someone knows something or is this just speculation. I'll be watching it closely next week.
But one thing I will never do is hold a stock into the earnings release. It's too unpredictable.
There are so many great trades every day, I won't risk my money on wild speculation. I let the charts tell me the story.
To learn more about what I trade, Why I trade it, and How I trade it…
Related Articles: