First things first, if you don't know what a short squeeze is, you can get all the info right here.
Now that you've gotten acclimated with the term…you should be asking…
Why should I care?
Well, when a short squeeze gets going… those who bet against the stock flood the exits — and that causes stocks to skyrocket with "no ceiling in sight."
In fact, if you get caught on the wrong side of a short squeeze… you could literally blow your account out in violent and quick fashion.
However, if you know how to play the long side… It could be a monster payday!
There are specific market forces that create the fuel for an epic squeeze.
When I stalk explosive opportunities in the market, I focus on the overall concentration of short interest (days to cover and short percent of float), and the recent price action.
In the right setting, those two simple indicators allow me to spot potential parabolic moves in stocks.
Once the shorts panic and start to cover, it creates a demand that can not be matched… and in turn, creates the most powerful move you will ever see in the market.
The good news for you, I am always watching stocks that have the potential of getting caught up in a squeeze, and today I am going to share those stocks with you…
Today I am going to share two stocks that were previously featured as short squeeze candidates.
They have since gone on to squeeze up and fall back down. But there could be another squeeze setting up.
So now I'm eyeing them again and I'll show you why.
Ocular Therapeutix, Inc. (OCUL)
Ocular Therapeutix (OCUL) is a biopharma company that focuses on the formulation, development, and commercialization of therapies for diseases and conditions of the eye using its bioresorbable hydrogel platform technology.
Concentration of Short Interest:
Short Ratio (days to cover)   —    5.9
Short Percent of Float  —   12.67%
As you can see the concentration of short interest is not off the charts, but it is high. But it also has interesting price action, and I will show you how this puts the stock in squeeze territory.
Another interesting thing to note is that an insider upped their position by about 40% in March in the $4 range. Current insider holdings are around 10%, with institutional holdings over 50%.
Before getting into the current price action, let's look at what happened the last time I featured this stock as a squeeze candidate.
A look at the previous setup:
Below is the exact chart I showed in my post on 2/23.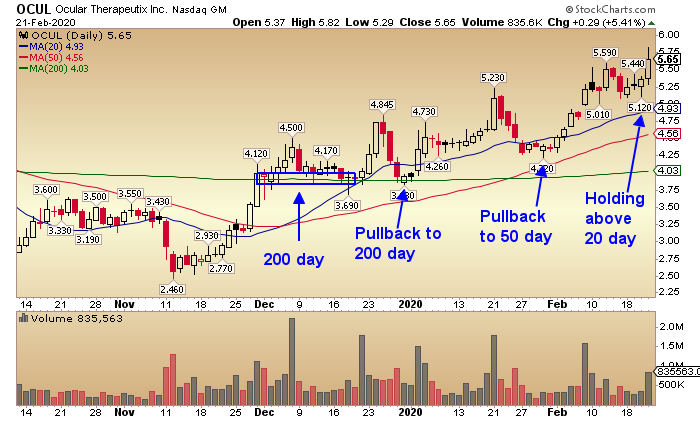 As you know, when people are short a stock and it's going against them, they are losing money.
So just take a second to consider how you would feel if you were short this stock right now. It's trending up, each pullback is at a higher moving average showing the growing strength of the move. And… It's trading just under its 52 week high.
This is big. If the stock catches a bid to push it through the 52 week high, that could be the catalyst to pressure the shorts to run for the door.
And what happened next?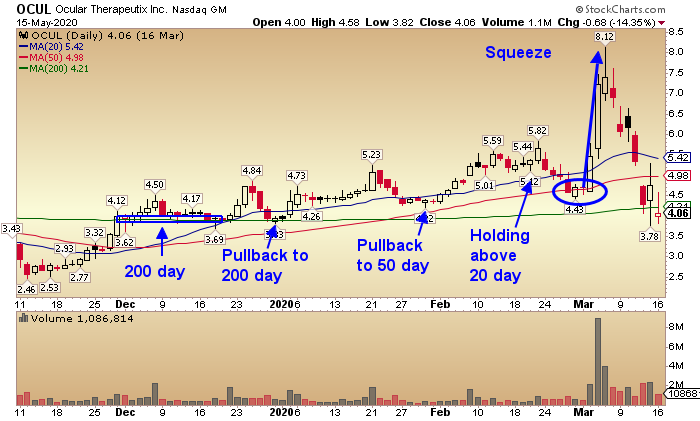 After a pullback to test the 50 day again, OCUL caught a nice squeeze almost doubling in 3 days.
Of note to point out. A squeeze can get out of control and go on and on which is why you don't want to get caught on the wrong side… but it can also be a parabolic blow out, shooting up and coming back just as fast, so be ready to grab your profits.
If you are up 100% in 3 days, you better come away with profits. Otherwise, you need to evaluate your trade management rules.
Now let's look at today's price action: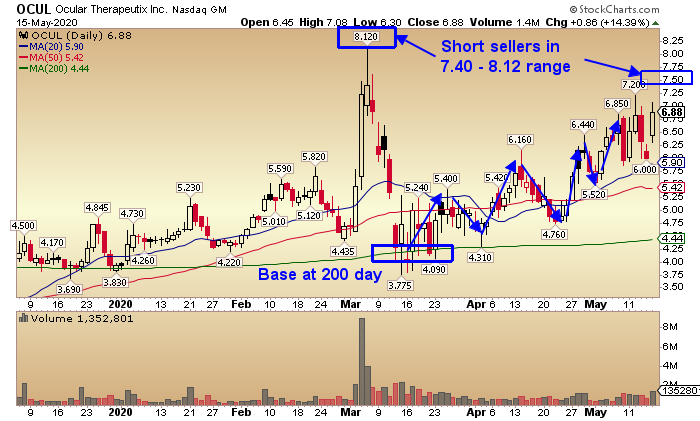 Notice any similarities?
Just like in February, OCUL based at the 200 day and then began a trend up forming a stair step pattern.
It isn't as tight as the first time, but what is in these current market conditions.
What I'm Watching For:
It's a tricky spot here, as it could go either way.
Here's why.
During the previous squeeze, the high was at $8.12 and the highest close was $7.40.
So there will be a lot of shorts trying to protect their position at those levels. This area will be a key battleground.
But if the stock can get above there, this would put the pressure on the shorts. Potentially forcing them to cover and squeeze the price up.
This stock hasn't been above $8 for years, so there could be a strong move if buyers can force the shorts out.
Vivint Solar (VSLR)
Per the Vivint Solar website: "Vivint Solar provides homeowners with simple and affordable clean energy. We believe that going solar should be headache-free and hassle-free. That's why we supply the solar panels, and take care of all the installation and maintenance—for little to no upfront cost."
Concentration of Short Interest:
Short Ratio (days to cover)   —    6.7
Short Percent of Float  —   31.7%
Of particular interest in VSLR is the level of institutional ownership at a whopping 98%.
And like OCUL, Vivint was also a stock I featured as a short squeeze candidate in the past.
A look at the previous setup:
Below is the exact chart I used for VSLR in my 1/24 short squeeze post.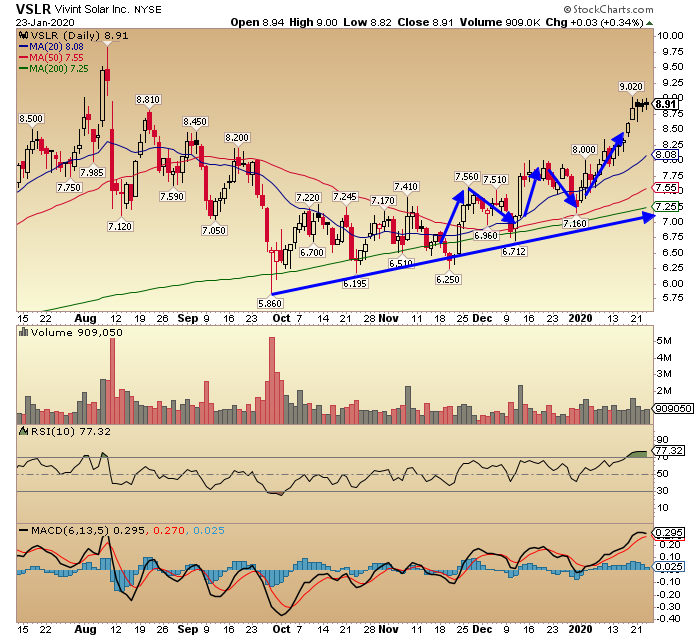 Looking at the chart VSLR was moving up in a stair step pattern. Starting in October, the price began trending up along the 200 day SMA, forming a stair step pattern.
In December, the 20 day SMA crossed above the 50 day with both moving averages turning up.
All bullish signs.
And what happened next?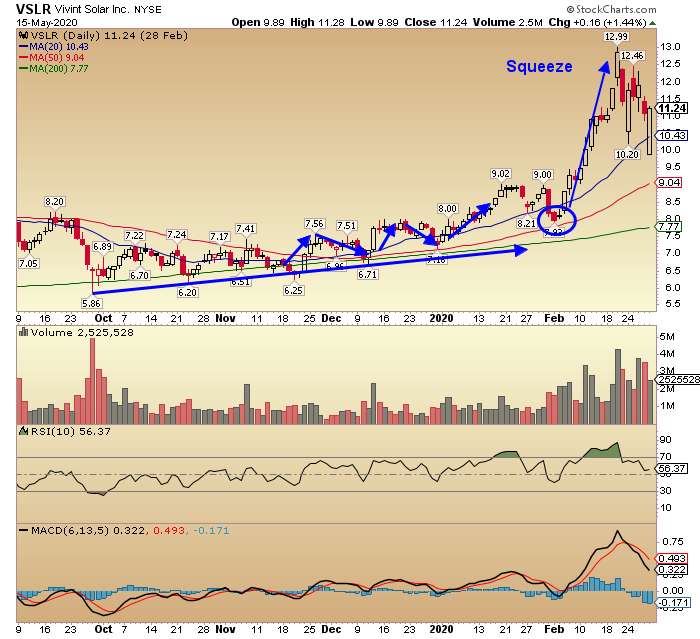 VSLR pulled back to test the 50 day before squeezing up to a high of $13.
Now check out the current price action: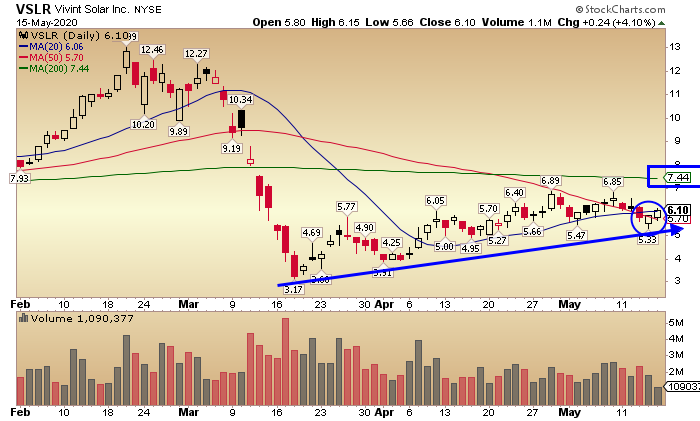 After hitting lows in March, VSLR began trending up in a stair-step pattern.
With high short interest and institutional ownership, could we get another squeeze?
What I'm Watching For, And What I Don't Like:
There are some key differences in VSLR this time around.
First, the stock is below the 200 day. Looking back at the previous trend into the squeeze, it was riding above the 200 day which shows more strength.
Being below the 200 day AND below that previous trend, there will be more pressure from the shorts to keep the stock below the $7.50 area… and really all the way to $9.
And the second thing I really don't like to see is the close below the 20 day over the past 3 days.
VSLR had been holding above it for the past month.
It could just be shaking out some weak hands. We'll see this week, it's either going to push back against the highs or fail.
To get me interested, I need to see it pull in some volume and push through the 200 day to get the pressure on the shorts.
It doesn't have to break above tomorrow or this week even. But I would like to at least see it make another high while I wait for the right setup to pounce.
Final Thoughts
Both of these stocks offer potential that can lead to a short squeeze.
I will be keeping a close eye on each of these for their potential to put some pressure short sellers.
But while I am watching these stocks… I am also trading every day with my core Profit Prism system… and I am absolutely crushing the market.
If you want to keep an eye on potential short squeeze stocks and see how I make money on a daily basis, Join Profit Prism Platinum to see it for yourself.