It's not every day you'll catch me holding a stock into earnings.
But that's just what I did last Thursday with J.C. Penney's stock.
While I consider this a higher risk trade…
I had my reasons to take it this time… as a very specific catalyst hit going into the earnings day.
Take a look…
J.C. Penney Before Earnings
With earnings out on August 10…
News came out the day before.
And it was the type of news that can send a stock soaring… specifically it was about a potential deal to take J.C. Penny out of Chapter 11 bankruptcy.

The deal puts a $1.75 billion price tag with a $300 million equity investment from Brookfield and Simon, as well as $500 million of financing from the retailer's current debtor-in-possession and first lien lenders.
The deal would also include an overall commitment in new asset-based lending financing led by Wells Fargo.
It also planned to divide J.C. Penney into a property business (Prop Co.) and operating company (Op Co.).
The Prop Co. portion would include Penny's owned stores and distribution centers put into different REITs.
While the operating company would comprise the retail business and intellectual property, and would lease properties under a master lease agreement with the Prop Companies.
Great but what about the stock?
Well, that was Aug 9th and looking at the chart, JCPNQ was setting up with a great momentum trade off the news.
Volume was spiking on a break above consolidation.
This showed a real potential for an overnight momentum play as the catalyst was big.
Coming out of bankruptcy is a big deal. Are all of the details clear? No, of course not… and that actually plays into where I take my profits on the trade.
I enter at .305 with the goal to get a nice momentum spike the next morning.
And with earnings scheduled to be out the next morning, this was a higher risk trade for sure.
I don't normally hold trades into earnings…
But as mentioned earlier… This was a big catalyst, so the earnings are slightly less important right at the moment.
Afterall, we already know they are going to be bad. That's not a surprise for a company currently in bankruptcy.
The driving force for at this moment was the news about a potential deal to exit bankruptcy.
And here's what happened next…
The very next morning I was grabbing a massive 80% return on the trade (seen in the chart below).
The catalyst showed its strength and even as JC Penney expectadbly reported losses, the stock shot up on the catalyst, at one point up over 160%…
After that initial bump… JCPNQ then traded down the rest of the day as investors began to weigh the implications of the news.
And that's why I like to grab my profits quickly.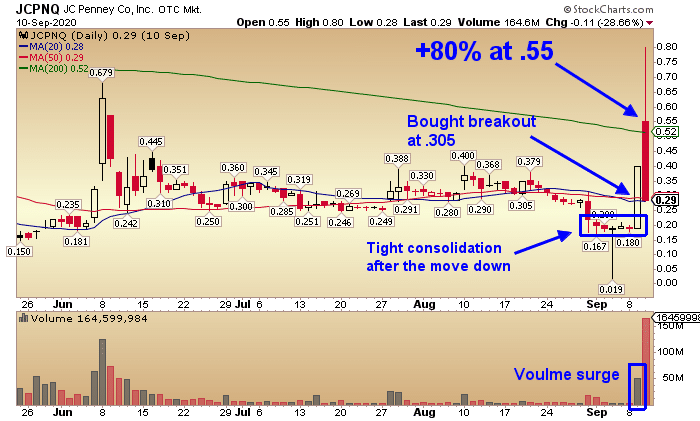 As mentioned earlier, the details of the proposal are not fully clear.
So while the catalyst itself is huge and a great opportunity to grab a quick momentum play.
I am not trying to sit on this stock just hoping for the best.
We still don't know exactly how this will affect the current shareholders… potentially this will still wipe out the stock altogether.
And that's why my Profit Prism strategy is so successful for me
It gets me in and out of stocks on the momentum and volume spikes, so I can grab a quick profit and don't get left holding the bag.
I get in and get out with my profits and move on to the next trade.
It's that simple.
When it comes to trading, you never want to get married to a stock… especially a penny stock.
I just grabbed an 80% profit overnight.
If that's not good enough for you, then I don't know what to tell you.
As you can see in the chart, had I been greedy… I would not have been so lucky.
But since I followed my Profit Prism strategy… I took my profits and moved on.
You can learn how to implement this same strategy yourself.
I simply use a few basic chart patterns along with volume and momentum indicators.
It's not about trying to hit a home run… it's about quick profits that add up to win the game.
To learn more, you can get my Free Stock Trading Starter pack right here…
And see what it's all about…
Don't waste your time on endless resources… grab my starter pack, and dig in to what matters.