The trading week is wrapping up… but it's not over yet.
So don't just run for the hills when there's a really great trade about to happen.
You see, I run my scans right at the end of each day to find my highest conviction trade to grab profits overnight.
So while you may have packed it in already, I'm about to run my end of day scan and shoot out my best trade, or trades, to all of my members. Start receiving those alerts today.
Listen… if you don't have the time or simply don't care to be in front of your screen at the end of the day, that's okay. I'll do all the work for you.
With Profit Prism, you'll get every trade alert delivered to you through SMS txt and email…
And the beauty of my alerts… you know exactly when to expect them because I run my scan at the same time every day.
If you have a cell phone you can make a trade in just a few minutes…  and you won't worry about missing alerts since you know when to expect them.
I started my newest small account challenge less than 3 weeks ago, and guess what?
I'm up almost 200% already… but that's just the beginning.
My last 2 challenges, for example, returned 900% in 4 months and 600% in 2 months… and in this current challenge, my goal is 1000% in 3 months.
So yeah, there's plenty of time to get in and grab these massive returns.
I can tell you all about it, but the next step is up to you…
So while you wrap your head around those numbers… I'm going to share some stocks for you to keep an eye on right now.
Stocks I'm watching myself… and I'll show you exactly what I'm looking at below…
Looking at the chart, there is support around 1 and it's currently sitting at the 20 MA. I like this trade, but it needs to get up over that 20 MA line to make sense.
And it would work best if we saw a little more volume come in to hold it above the 20. If we get that, it could make a run to the 1.70s.
I will be watching it at 1.35+ to see if it can break above the 20 MA with volume and get some legs behind it.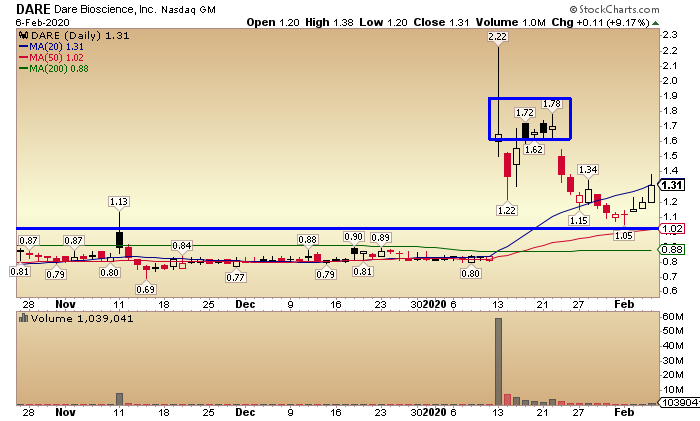 Optec International Inc (OPTI)
OPTI got a great pop yesterday with a big surge in volume. I got a hold of this one at .0021 and just 20 minutes later, I was already up over 30%.
And with the stock above the 20 MA and sitting right on the 50 MA, if we get follow through from yesterday's big move… I will be looking for a move to the recent high of .0044 next.
This could happen right in the morning if we get the momentum play. But either way, I will be watching it around the 20 and 50 MAs.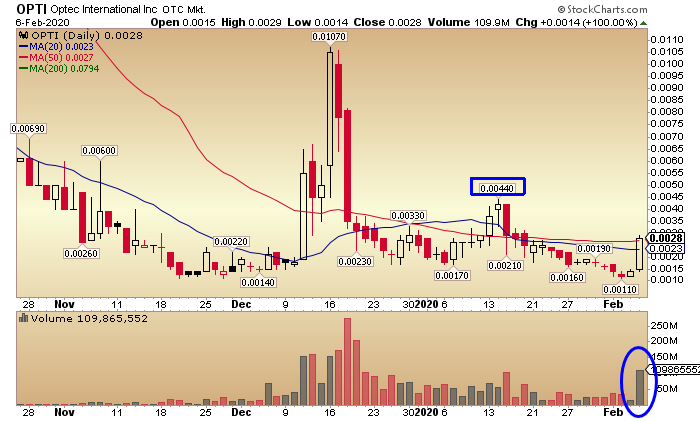 Smart Cannabis Corp. (SCNA)
Looking at the chart, you can see a wedge pattern on the daily getting tighter. This will be one to watch on each side… on a breakout, the next highs are .0179 and .02… and we have some support is at .012 on the low end.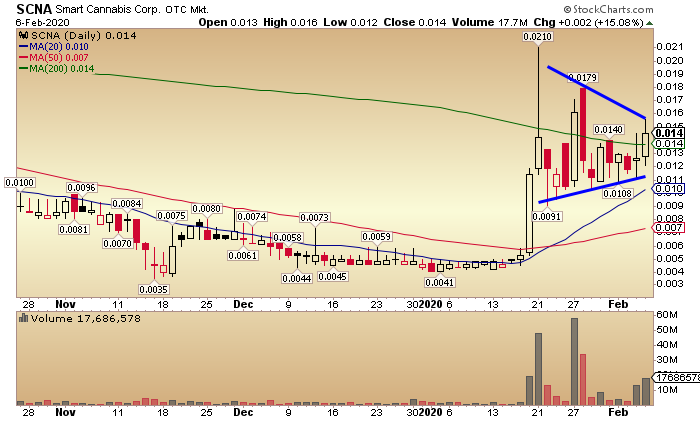 PCT Ltd (PCTL)
PCTL is wedging a lot like SCNA. But on this one, I drew a flat line through the middle of the wedge to show a level that I think could be interesting here.
With price sitting right at this level, if volume comes in and pops the stock above .012s, the next highs are in the .015s and .016s.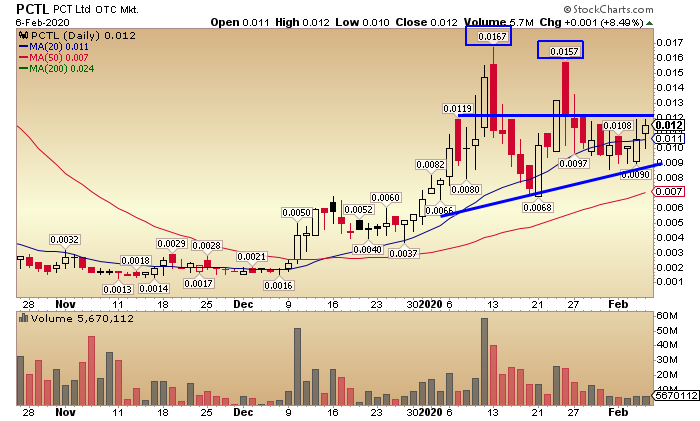 Yield10 Bioscience, Inc. (YTEN)
YTEN blew up into the close Thursday with big volume. 
The move put the stock right at the top of the gap fill from earlier, so this will be an interesting place to watch it.
Will it break out or pull back from the resistance area?
The next area to watch is 12.40 to the upside… and if it trades down watch for support above 8.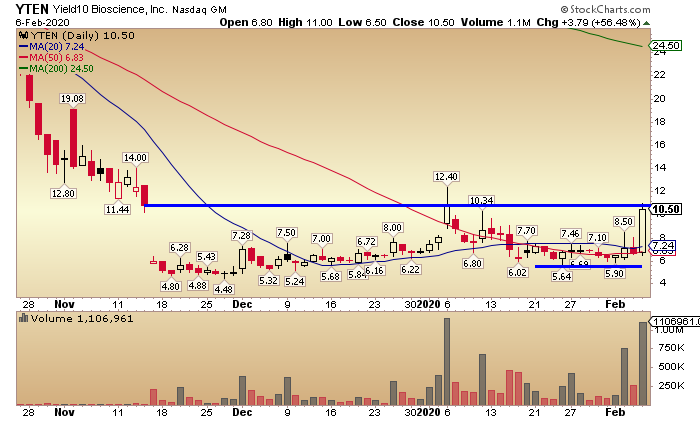 My account is up almost 200% in under 3 weeks… with the goal to pull in 1000% in 3 months, there is a lot of room left to grow.
If you want to get the same alerts that have me pulling in triple-digit or higher returns over and over again…
Related Articles: