Learning to trade isn't something you should do alone.
I mean you can…
But it takes a lot of experience. And experience takes time.
But I've got the solution to help with this.
A community of traders at different levels of experience, learning together, and working towards a common goal…to make money trading.
I spend the majority of the market hours each day in my Live Trading and Chat room with my 1,000+ members.
The opportunity to learn from experienced traders like myself and my many moderators is priceless.

And here's your opportunity to see what I'm talking about…Tomorrow at 2pm ET I'm opening up my room to share my strategy and show you what I do for my members every day.
You won't want to miss this…
With space filling up fast, click secure your spot now…
Platinum Chat
You've all seen my small account challenges…
Whether it was my last one where I turned $500 into $10,758… in just 58 trading days.*
Or maybe one of my previous challenges with triple digit returns…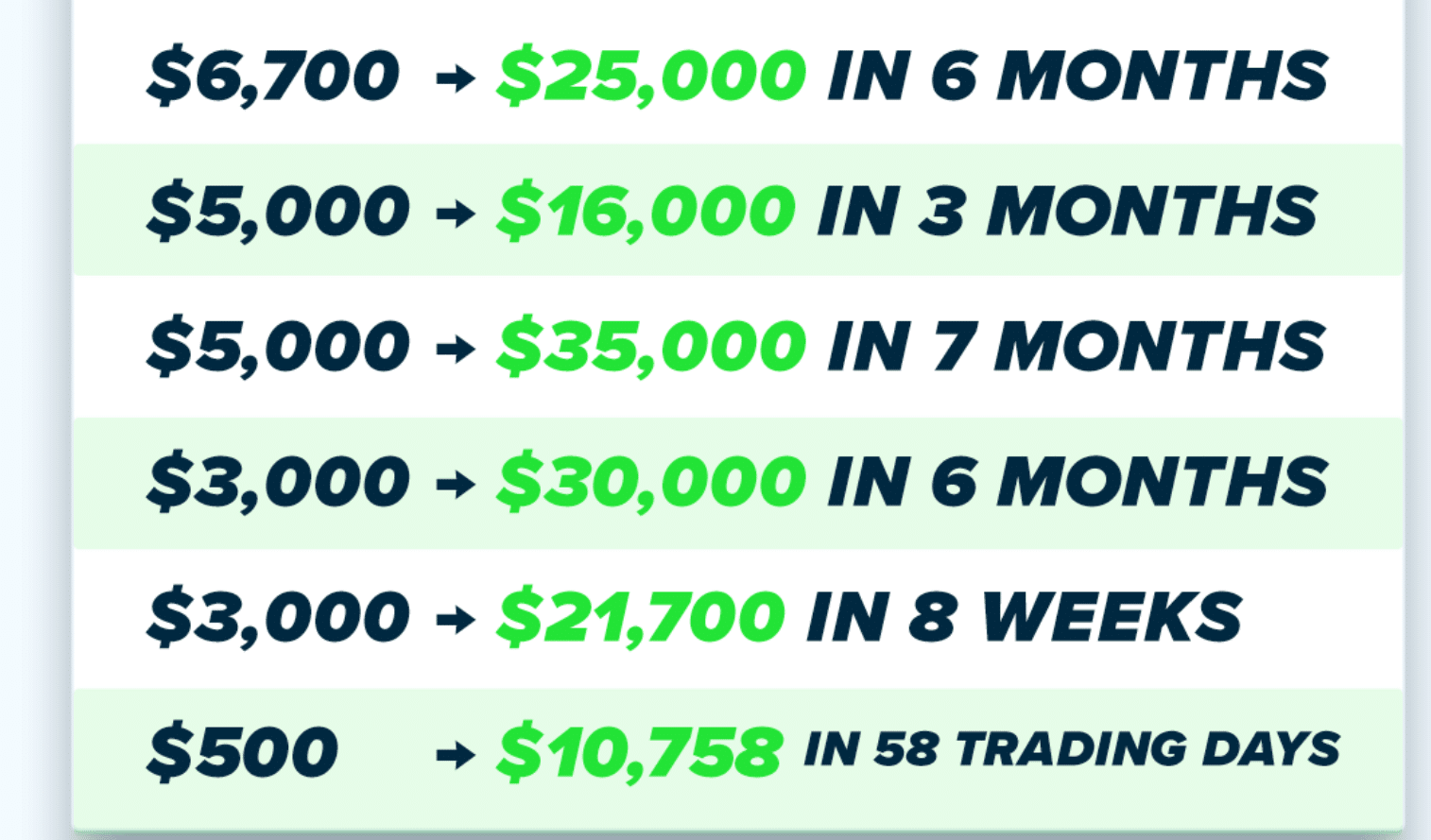 So what…
After all, I'm a professional trader, why should you care?
Well what you may not know is that I didn't learn to trade from school or by working at a big bank…
I was just like you… starting in the same place you are now…
Shoot you may have more trading knowledge than I did when I started.
I learned to trade on my own… somewhat out of necessity.
I was an elementary school teacher for 12 years and a time came where I knew I would never be able to get out of debt much less get ahead on that salary.
I needed a way to provide more for my family and I knew the stock market was a place I could do that…
It wasn't easy…but don't let the talking heads tell you it's impossible.
You don't have to be a "professional" trader to make money in the market…
You simply need to follow certain rules.
If you can learn a strategy, be patient, and follow the rules…You can learn to trade like so many other people have.
I believe in this so much that once I made it trading, I took my background in education to start teaching others how to trade.
And with Profit Prism Platinum…you'll get access to my foundational trading educational suite, packed with information from my over a decade of experience.
But that's not all…
I actually teach and trade LIVE in my Profit Prism Platinum chat room… Every Day…

You read that right… every single day.
I'm there to answer questions, teach my strategy, and walk you through my trades… so you can learn in real time.
It's one thing to try and follow alerts…
It's another to see me make my trades right there on screen as I talk you through what I'm looking at and what it is I like or don't like about each of the stocks on my scanner.
You simply can not beat this education….
And it gets even better.
My Platinum chat room is full of other members with varying degrees of experience all supporting each other in their learning experience.

And I care about my members and want to see you succeed…and my members care about each other.

This is what it takes to become a successful trader.
If you are willing to put some work in to learn, you can do this too…
And Tomorrow I'll show you everything Live
Don't miss this event…Secure your spot now