Everyone talks about their big winners… but you hardly ever hear the same person talk about losses.
I don't really care that much about a one time hit.
To me, when it comes to trading, there's nothing more important than consistency.
So if you want to talk about a winner, you better be backing it up with account growth.
There's a reason I'm able to grow my small account… and it's the same reason why I'm able to do it over and over again…
Consistency in my trading strategy.
I don't shoot for the moon on every trade.
I find a logical profit target based on the chart and I take my profits when I have them, no matter what.
The beauty of my strategy and trade setups is that I'm finding great double digit moves because I'm trading small cap and penny stocks each day.
Today I'm going to show you what I'm talking about with my most recent trade in IGEN.
Where I was happy to take a 26% gain overnight…
On a stock that ended up moving 70% to the high today.
This is one of my bread and butter setups.
And I'm going to walk you through it…
To show you how and why I'm growing small accounts like no one else out there.
iGen Networks Corp. (IGEN)
iGen Networks Corp (IGEN) is emerging as a leader in vehicle tracking and fleet management, serving both businesses and individuals across the U.S., through direct access to Internet-of-Things (IoT) cloud-based services that include Stolen Vehicle Protection, Real-time alerts, and Driver Behavior.
While that's pretty cool, I don't trade on the product or background of a company alone. I need to know if people are buying or selling the stock.
So let's go to the chart…
IGEN has been trending up since May with a strong trendline holding above the 50 day sma.
The previous swing high was to .0123 and looking at the volume in the lower area of the chart, you can see how it had disappeared since reaching that peak.
Basically, the stock was taking a breather by consolidating on lower volume in that .006 – .009 area.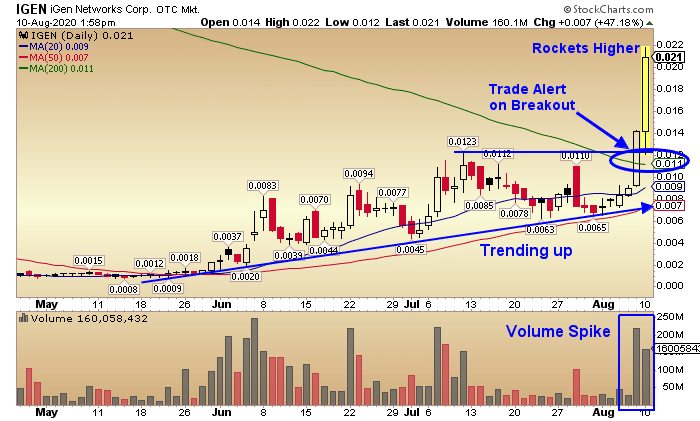 But everything changed on Friday when IGEN hit my scanners, as volume spiked on a breakout move above the previous swing high…
It was also crossing above the 200 day sma on the breakout (green line circled in blue).
I didn't waste any time once my trade criteria was hit… jumping in at .0126 and alerting my members of the trade…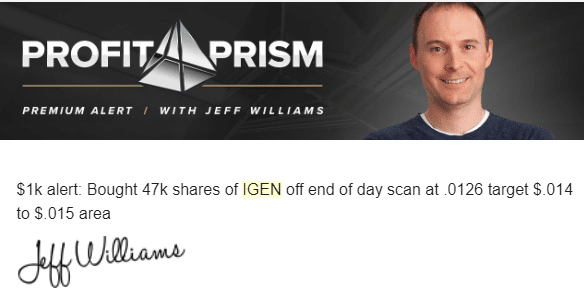 I was looking for a target in the .014 – .015 range.
I found this by simply looking left on the chart.
There was a range from .013 – .017 that made for a high probability target for the trade once it broke above .0123.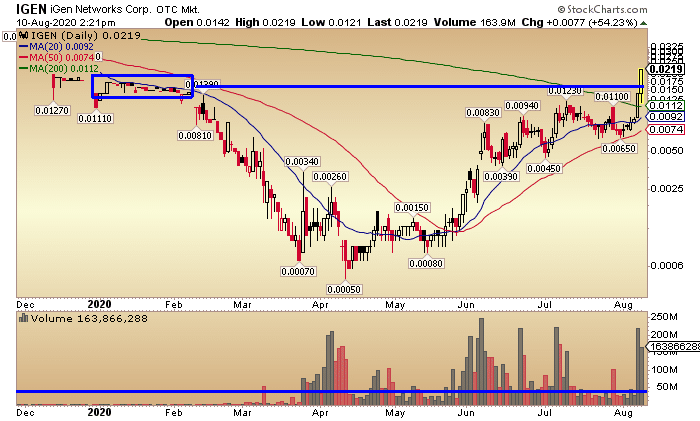 As you can see from the chart… it quite clearly rocketed past that target range today.
The move up, from my alert to the high today, was over 70%.
The key is to find a high probability target and if the risk reward is in your favor, take the trade.
And always grab your profits while you have them.
You don't have to get every last penny out of a trade.
In fact, I prefer not to… I took my 26% profit on IGEN because I stuck to my plan and it hit my target range.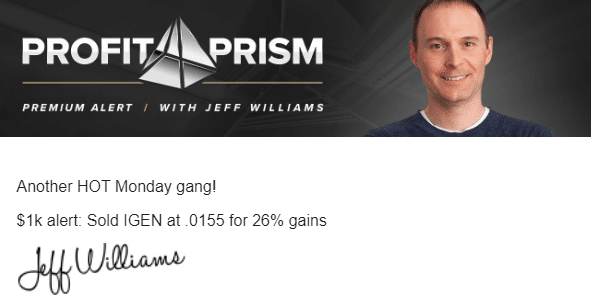 You gotta be wondering if I'm kicking myself, right?
Absolutely not!!!
Like I said, I don't want every last penny in a trade… That sounds crazy, I know.
But here me out…
Of course I would want every penny if that were possible. However, it's not possible without adding too much to my risk.
I can't tell you how many times I have taken my profits just as the stock just turns around on a dime.
The reason I'm able to get consistent big wins is because I am not being overly greedy on every trade.
And in the end, being consistent with my strategy adds up faster than getting greedy and trying to grab an extra few pennies here and there.
My small accounts continue to grow at breakneck speed and I have no other reasons than I stick to my strategies and stay consistent with my rules.
For instance… in my previous small account challenge I took a tiny $500 account and turned it into $10,758* in just 58 trading days… a whopping 2,051% return.
I can't argue with results like these…
To me, growing my accounts consistently is way more important than talking about that one big hit to some group at a Happy Hour…
Not that I don't have plenty of those stories as well.
That's the beauty of my strategy in penny stocks… it lends itself to some big monster trades as well.
So I don't need to search and struggle, I take small hits when that's what the market feeds me and when the market decides to reward me with a monster…
Well, I grab that too.
If you want to do more than talk about that one time you made a 100% return…