It wasn't the best week for trading the markets.
After a fall on Monday, they were range-bound for the rest of the week.
And range-bound markets are usually no fun for traders.
But if you have a strategy that is based on supply and demand, you can still find some good winners during a week like this.
I'll share a couple now with my trades of the week.
Senmiao Technology Ltd. (AIHS)
Senmiao (AIHS) facilitates automobile transaction and financing by connecting prospective ride-share drivers with financial institutions so they can buy, or get financing for their cars.
They cover many levels with financing options, short term leases, and by working with dealerships to get cars for the customers on the financing side.
AIHS popped up on my scan Monday.
The stock was up over 60% on the day and volume was blasting off as the AIHS broke above the consolidation range.
This is while the market is having a down day…so clearly there's stock-specific interest here.
With price action strong going into the close, I pulled the trigger at $1.42 looking to capitalize on the continued momentum into the next morning…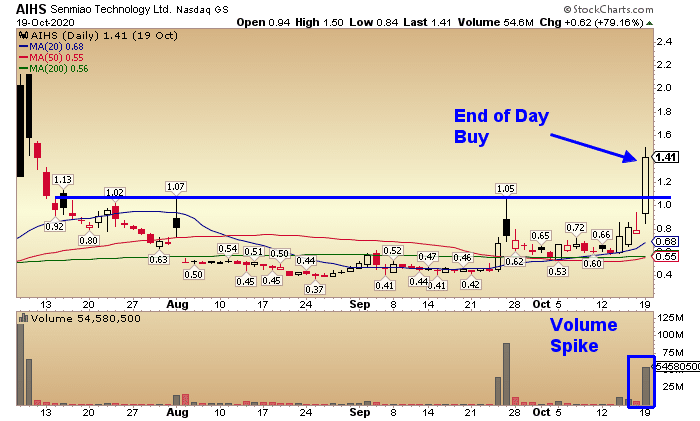 And believe it or not, the next morning I cashed out on the gap up from the built up order flow.
I pulled in nearly 30% overnight…in a difficult market.*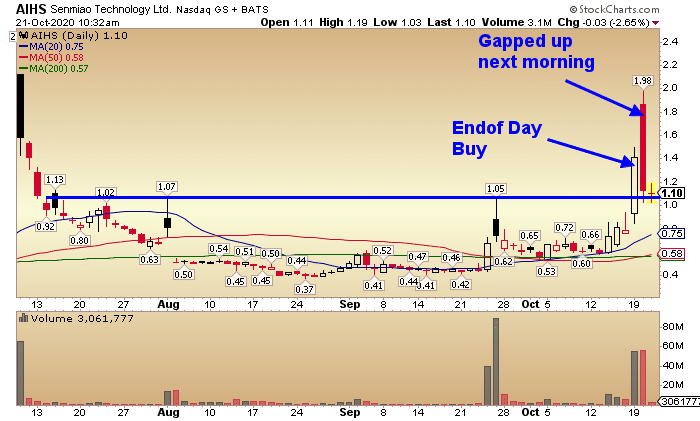 But my favorite thing is seeing my members in on the action.
And finding these trades too.**


Cerebain Biotech Corp (CBBT)
Cerebain Biotech (CBBT) is pursuing the development and commercialization of novel treatment approaches in the fight against dementias, with a particular focus on Alzheimer's Disease.
The company's goal is the development and commercialization of a medical device with the potential to arrest or significantly slow Alzheimer's Disease progression.
After breaking out of a consolidation, CBBT set up in a classic stair step pattern with a higher high and higher low.
When the stock breaks above the swing high at .0122, finalizing the pattern formation on above average volume… I was ready to pull the trigger.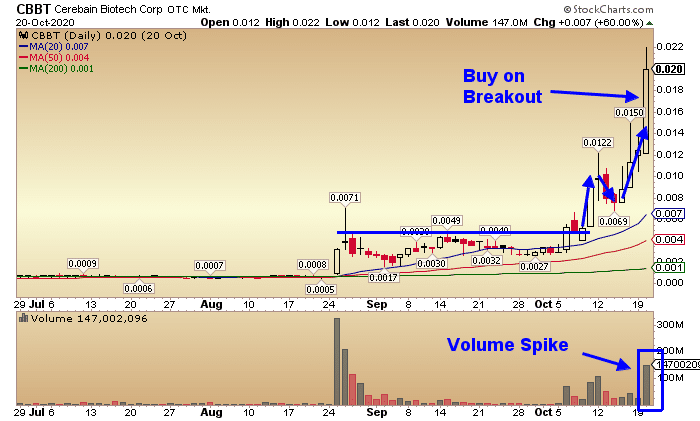 This happened on Tuesday and I grabbed my shares at .0179, sending out the alert to my members…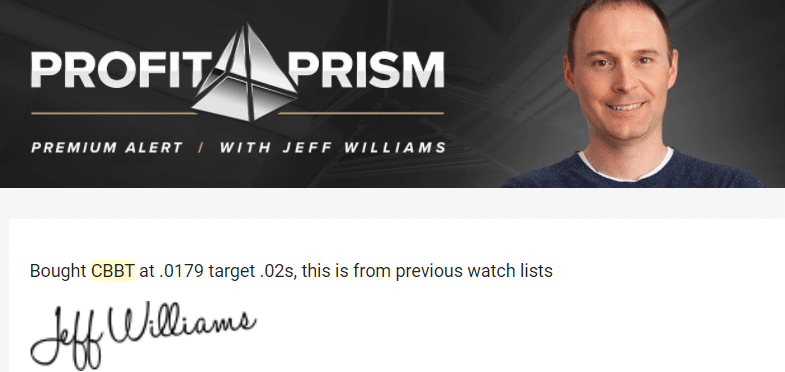 The very next morning CBBT gapped up and I grabbed another near 30% gain from a quick overnight trade…
Again, this is while the market is stuck in a range.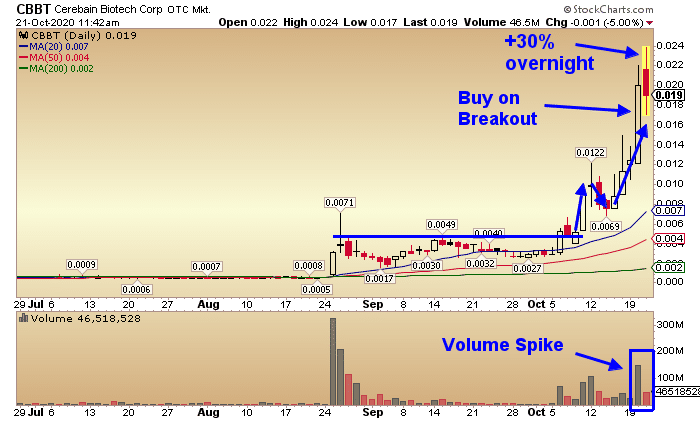 And I'm not the only profiting on these setups**

No matter what the market is doing…or not doing, there will be stocks that are moving on their own.
And that's what I look for every day…
Stocks that are moving for their own reasons with new demand coming in to push them up.
I won't just grab any stock though…
I look for one of my bread and butter setups. Like the ones I just showed you in AIHS and CBBT.
Putting it all together is how I am able to grow my small accounts over and over…
And I'm just about to reset my account to do it all over again.
I'll be starting my next small account challenge in about a week… November 2 to be exact.
To get access, Grab your spot with Stock Profit Pro