It's Monday, and we all know what that means…
The Market is ready to go… but are you?
Starting Monday on the right foot is key in any career as it sets the tone for the rest of the week.
That's especially with trading because when it comes to the market, you can't hide.
If you show up unprepared…
The market will eat you alive, plain and simple.
So you won't find me coming in on a Monday without a plan… or clueless to what's going on.
And Today, I'm going to show you exactly how I get myself prepared for each week…
Without giving up my weekend.
It All Starts the Week Before
It all starts on Friday. I take note of what's moving. Many of these stocks will be the same ones moving on Monday morning.
My end of day scans help me find potential movers for next week.
Stocks aren't usually out of play in one day… in fact many times I'll find a stock that will be in play for months…
So if you find a mover towards the end of the week, it's worth taking a look at.
Naturally I pay attention to any new market developments over the weekend. But that doesn't take a lot of time.
If you trade or have any interest in the markets, your eye is drawn to market news. And all it takes is a quick scroll.
Technically I'm trading on supply and demand so really the charts will tell me the story.
What I mean by that is… if there is news that matters to a stock, the chart will show it and I'll find it in my scans.
But a quick scroll of news headlines to pick up on market sentiment never hurt anyone.
Watchlist
Next I'll make a watchlist to be fully prepared for when the market opens on Monday morning.
I actually just shared a post about how to do this with ease, check it out here.
The key to my watchlist is to find stocks that have the potential to become trades right now.
I'm not looking for trades that may be a month out. That's not going to help me tomorrow morning.
So my watchlist will be full of stocks meeting my trading strategy criteria… right now.
But that's not the end of it.
Monday Morning Prep
When it comes to the market, a lot can happen overnight.
So Monday morning I will run pre-market scans to look at the movers going into the day.
This gives me so much more to work with. Stocks that are moving overnight or pre-market in the mornings… are ripe with volume, catalysts, and price action for trading.
I mentioned scanning news… well if you just pay attention to the pre-market movers, more than likely you will get a quick beat on what stocks have news affecting them.
Like I said… if there is news that affects a stock, the chart will tell you.
I'll take a look at the futures and overseas markets just for the overall feel of the market in the morning…
But the most important part of my morning prep is running my scanners to see what's moving and taking a look at my watchlist to see any changes in those stocks.
I always make plans on what I see…
And come time for the market to open… I'm ready to go.
Now it's time to be patient and wait for the right setups.
Come into the Week Well
Rested
All that prep might sound exhausting but it's really not.
Most of that was done during my normal course of trading the week before… or when I run my morning scans to see what's moving…
The time I need on the weekend results in just a few minutes on Sunday to put together my watchlist.
So don't ruin your weekend thinking about the markets…
Even traders need to get away from the markets to relax and reset.
I know it's hard to do sometimes, but it's crucial… For more details on how to do this, check out my last post on taking the stress out of trading.
But if you follow my advice above on how to prepare for the week…
You will have plenty of time to relax on the weekend.
By having your eye out all week, you are already halfway there… add in a quick scan and watchlist on Sunday evening, along with Monday morning scans and you are ready to go.
Stocks to Watch Right Now
To wrap it up today, here's a few stocks I've personally got my eye on right now…
And the best part…
Finding these, didn't take any time away from my family activities this past weekend.
CLUB
Watching CLUB on the consolidation breakout coupled with a volume spike. This is one of my favorite patterns.
It made a great move out of consolidation up to the 200 day sma. CLUB hit resistance there which lines up with the previous swing high.
I'll be watching for CLUB to hold the breakout point as support.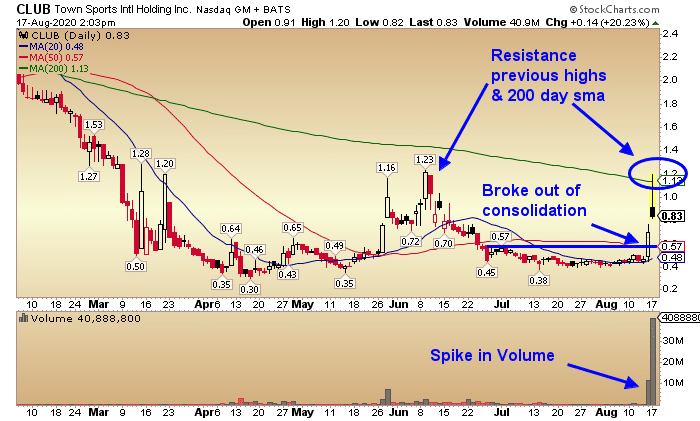 PEIX
Here's an example of another one of my bread and butter setups… the stair step pattern.
After this last pullback from a new high, the stock held above the previous swing and has started moving back up…
Currently there is not a lot of room to the previous high, so I'm not looking to jump in right now…
But I've got it on my watchlist in case something sets up later.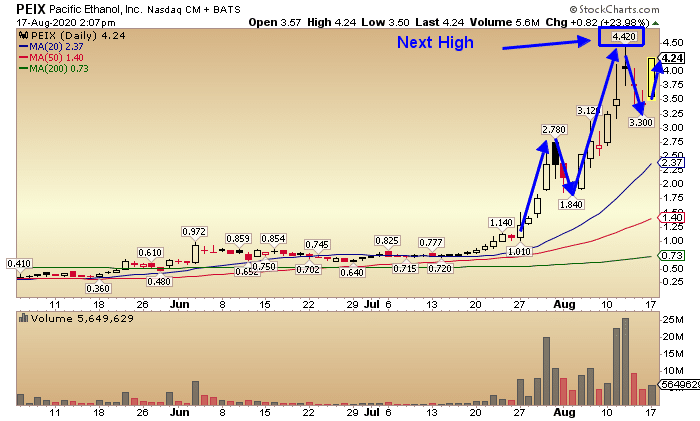 CCTL
Here's an interesting chart…
CCTL made a dramatic move up and pulled back just fast. But it didn't pull back all the way.
The stock held above the 20 day sma and started a bounce back up.
Could this be the next step in a stair step pattern? Find out my next move by joining Profit Prism Platinum.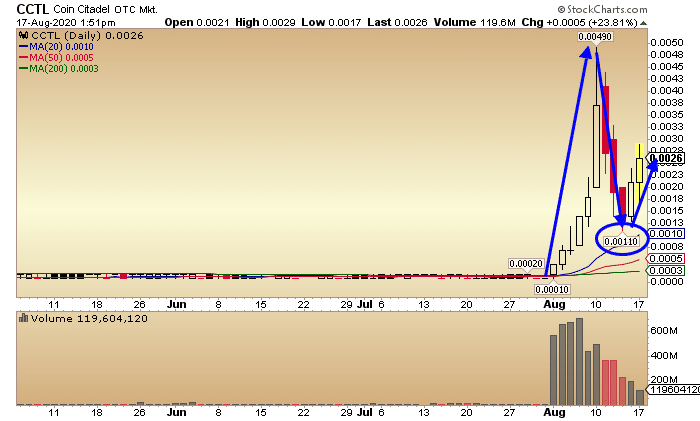 IZEA
Not as dramatic as CCTL, but a potential stair step as well.
After consolidating for a month IZEA broke out and on the pull back held support at the 20 and 50 day sma.
We are getting a little bounce from there today and volume isn't where I would like to see it, but it is technically higher than the last few days.
I'll be watching IZEA closely, if we get a pick up in volume this could really start to move.
And with the previous high near $2,there's a good 33% upside potential in there.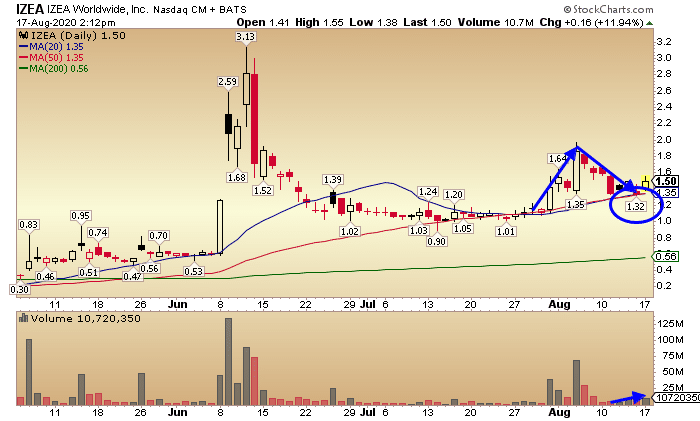 Those are just a few of the stocks I am watching in myProfit Prism Platinum room.
And it's a constantly moving list.
To find out more about what I am watching and why…