While EV stocks have taken a hit lately, the rally isn't over.
Just look at TSLA breaking out to a new all-time high again today.
And where TSLA goes, EV speculation follows.
The latest company to bust out with some big news surrounding EVs is Greenland Technologies (GTEC), which just announced a move into the Electric Industrial Vehicle market.
Up over 75% today, this isn't the first move they've made recently, but it may be the biggest.
And I'm going to walk you through the chart…
Along with a few other chart setups I'm watching in the penny stock land.
Greenland Technologies (GTEC)
Greenland Technologies (GTEC) develops and manufactures transmission products for material handling machineries.
On Nov 10, the company announced they will begin offering an integrated electric drivetrain system that integrates the transmission, driving axle, electric motor and lithium battery power source into a single efficient drivetrain.
And on the announcement, the stock popped from the $2 range to a high of $10 that day.
Since then, the stock has been hitting resistance at mid to high 7's but making higher lows along the way…leading to the big news out today.
Today, the company announced the launch of a new division focused on the electric industrial vehicle market. The new division also plans to commercialize applications utilizing the Company's new lithium-based integrated drivetrain system.
Basically they will be utilizing their existing relationships, technologies, experience and infrastructure to take advantage of new opportunities in the industrial vehicle industry.
And the stock is up big today. Currently over 80% with a high of $11.40 getting above the $10 mark from Nov 10.
I'll be watching how it trades this afternoon…will it close strong or pull back?
If you look at Nov 10, GTEC ripped up that day but closed well below the high of the day.
With that, I'll keep an eye going into the close…and given the industry and news, certainly this will be on my radar for some time to come.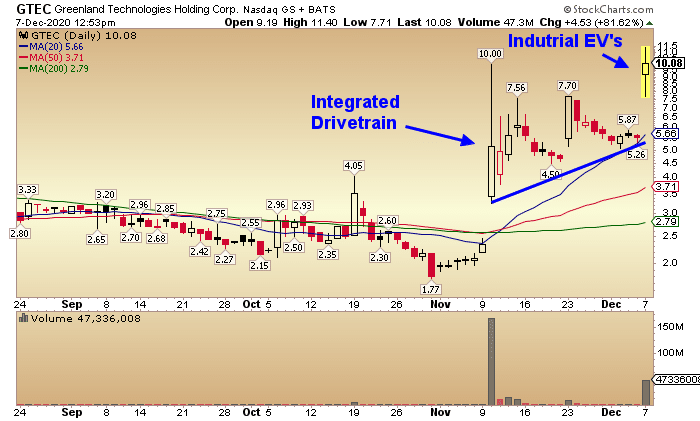 ENGlobal Corp. (ENG)
I love these setups.
A big move up, followed by a pullback near the breakout point or a major moving average.
In this case ENG found support near the 20-day MA on the pullback.
After a few days of stalling out, ENG caught a bid today…now up nearly 30%.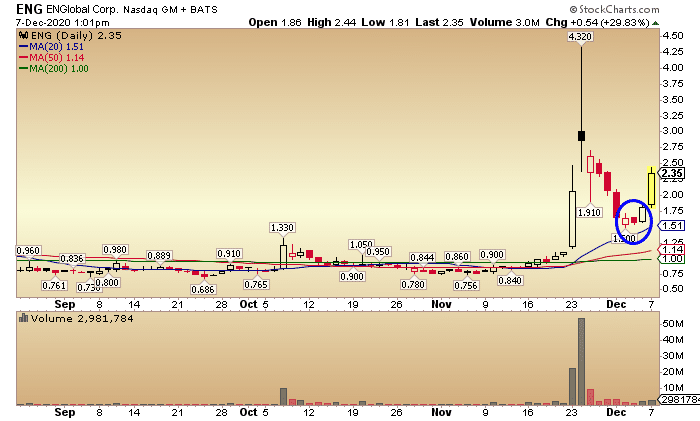 Jaguar Health, Inc. (JAGX)
After a big move up to end November, JAGX pulled back and is bouncing off support at mid .30 today…currently up almost 20%.
The company is in violation of the Nasdaq listing requirement of a $1 per share minimum bid price…and today, the Nasdaq Listing Council will consider if the Company should have been granted a longer period within which to evidence compliance.
We'll see how that turns out as the company works to sure up their financial stability and get the stock price back up.
There is resistance at the 200-day MA which is sitting at .45, and above at .54.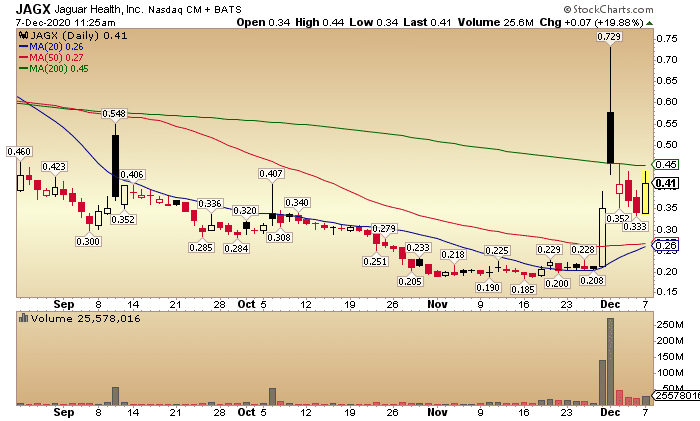 Lexicon Pharmaceuticals, Inc. (LXRX)
And for a third stock in a row to be coming off a big pop followed by a big pullback…take a look at LXRX today.
LXRX popped big when 2 drugs in Phase 3 studies achieved their primary endpoints.
Since then, it has pulled back near the original breakout point and found support at the 50-day moving average.
With a potential double bottom at the 50-day around $1.44…LXRX up testing resistance at 1.68.
The 200-day is just above providing resistance at 1.81 as well.
If the stock can make a move, the next chart high is $2.38…the high made when the positive Phase 3 study results were released.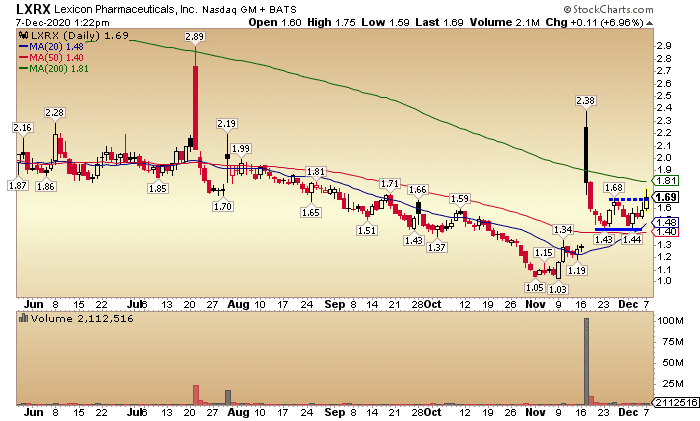 I break down the charts every single day in my Stock Profit Pro trading room…so you can learn live.
If you didn't join up during the last open enrollment period…you'll have to wait a little longer.
But that doesn't mean you'll have to wait to learn the strategy or start receiving alerts you can learn from…
Join Profit Prism Today…and you'll be on your way to trading like a boss.
---
Stocks Making Moves Today
OBLN +137%
ONCT +56%
AQB +23%
TRCH +23%
PLG +23%
UEC +21%
---
Don't waste any more time without a strategy or trading plan…
With Profit Prism, you'll get my nightly video watchlist with details on the exact levels I'm watching and what will get me into a trade.
You'll also get my full educational suite to learn everything you need to make this your own, along with trade alerts of trades I take with my own real money.
What are you waiting for?