The Trump administration has had its eye on infrastructure for years now, but nothing has come to fruition as of yet.
However, in a recent report from Bloomberg, we could be seeing a proposal for $1 Trillion in infrastructure spending soon.
Just like trading, timing is everything.
The country's infrastructure is severely deteriorated and in need of upkeep.
But now add in the need to stimulate the economy and the fact that the current spending bill out of the Obama administration is set to expire in September. This lifts the urgency.
Now, I'm not here to get into politics.
But I do believe stocks in this sector are going to start heating up…
That's why I want to talk to you about some symbols that might take off…
When it comes to building infrastructure there's a lot that goes into it. Materials such as concrete and steel, along with the machinery to do the heavy lifting, and of course the construction and engineering companies creating and completing the projects.
Here's a look at some of the stocks to watch around a potential deal, whether it's $500 million or $2 trillion.
Steel
U.S. Steel (X) has been trending up off an all time low of $4.53 in March.
With the gap up coming from the potential of infrastructure spending, X closed back above the 200 day SMA. If it can't find support there, watch for it to pull back to support at the 20 SMA just under $9.
For an extended move up, it will need to break above the previous high of $11.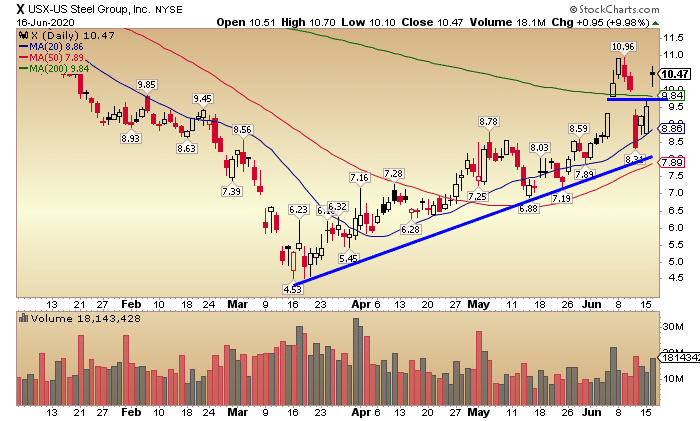 Also keep an eye on Nucor (NUE), another good steel company to benefit from infrastructure spending.
Concrete
U.S. Concrete, Inc. (USCR) broke above an ascending triangle formation at the end of May sparking a move up to $29.21… a big 40% move from the breakout around $21.
Since then pulling back to the breakout range and finding support there along the 20 day SMA as it trends up.
USCR made the biggest move of the stocks on my list closing up over 20% on a gap up.
Clearly there is some potential value in an infrastructure deal… at least in investor's minds.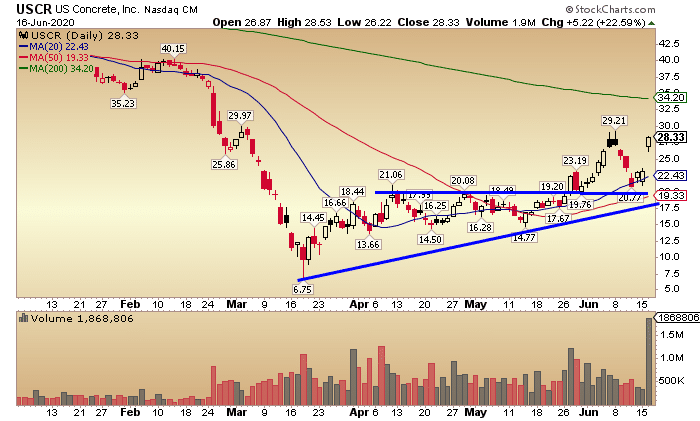 Cemex (CX) is another concrete company to watch here.
Building Materials
Summit Materials, Inc.(SUM) reversed its trend after hitting a low back in March.
With a spike up to the 200 day at $20, it fell back to find support at the 50 day.
The chart looks good if it can hold above $15 on support and make its move back to the 200 day. Then working towards a break above there.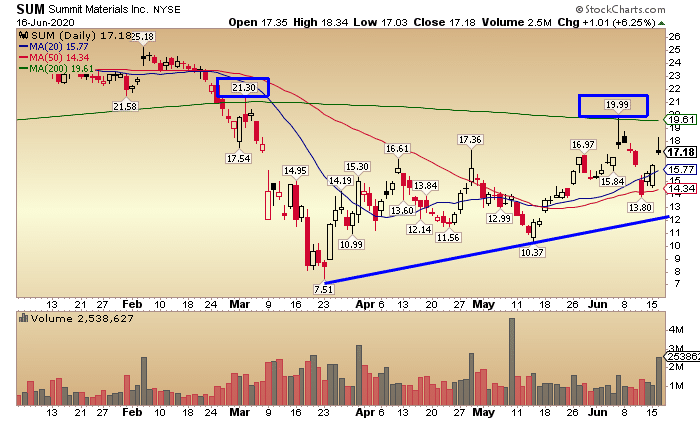 Take a look at Vulcan Materials (VMC) and Martin Marietta Materials (MLM) as well. Both of which are also trading near their 200 days.
Heavy Machinery
Terex (TEX) recently broke above a wide trading range between $12 and $17.
The stock hit a high around $22 before pulling back to the breakout level at $17 and finding support there.
TEX was up over $21 on the report but pulled back some to close at $19.37, still around a 10% gain on the day.
Now watch for support to hold above $17 and resistance at the previous high of $22 which also coincides with the 200day SMA.
Other stocks in the sector are Caterpillar (CAT), Deere (DE), and Oskosh (OSK). And they all have charts that look about the same.
Engineering and Construction
AECOM (ACM) is a full-service design, engineering, and construction company that operates all over the globe.
They handle planning, engineering, design, program management, and construction management for all types of clients.
With recent support at $38, ACM jumped up on the news as well. Closing down from the open but up around 8% on the day.
ACM closed above the 200 day SMA on the move up. If it can find support above there going forward, watch for a move back to the previous high at $47.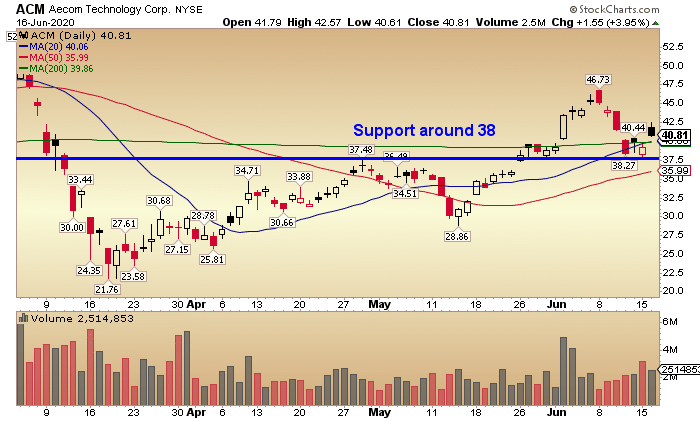 Just from the moves we saw yesterday on the potential of the infrastructure proposal coming out soon, this group of stocks is looking for something to propel it forward.
There is no reason to jump in prematurely. As with anything, do your homework and be patient.
If you are looking for something new…
Check out my newest trading service Weekend Wiretaps… for a no-nonsense way to get started trading stocks.
Click Here to watch a training video