Head spinning yet?
There has been a lot of back and forth over the past month. Red light, green light, red light, green light.
In the past three days however, we finally saw a rally with the market knocking out three green days in a row and posting a 20% gain from Monday's low.
That said, it's still down 20% this year, and with futures down this morning…
The volatility isn't over as traders are shifting focus to whether the stimulus is enough.
Which isn't easy to gauge as we haven't seen a tipping point on virus cases yet.
In fact the U.S. just passed China on total confirmed cases.
But believe it or not, there are people making money in this market.
And I am one of them.
Since January 21st, I have taken a small $500 account and turned it into $9,200.
That's an incredible 1,740% in just over 9 weeks. 
Imagine if you started with $5,000 and took the same trades, you'd be sitting on $87,000 in profits.
With the right training and education, you can get there.
That's not easy to find, but I'm going to share the solution with you.
The Search For Knowledge
The number one place to get that training is in my Profit Prism Platinum chat room, where I provide everything you need to succeed.
Trading lessons

Real Time Trading- I walk you through my trades and Alerts

Market talk – any and everything

Got a question? Ask me, I'll answer it right there

Providing feedback

Coaching and Training

Community support from members just like you
I do this LIVE in my chat room… Every Day!
And it makes all the difference to my members…
"Jeff you are doing great and I'm learning much for you. Wish I would have started with your service. Could have saved my account." — Becil D.
"Up over $1200 this week on a small account. Thanks to Jeff, Mods & interactive chat room. Learning a lot!" — Gary J.
"Well for me Jeff, it was a bad experience from previous chat rooms and I was hesitant to do another one until I really found my home here. it's just different the way you treat your members." — Dennis U.
"I love this room as everyone is so supportive and helpful with 1 goal…make money." — Daniel M.
"It's just my opinion, but just having the chat room and listening to Jeff and working through the videos etc., is making a HUGE difference. Slowly gaining confidence… even doing some of my own trades. Little bits, little bits… this service is invaluable." — Douglas B.
"First day with Profit Prism Plat and made $850 on VXRT and CODX" — Patrick S.
These traders are in my room, asking me questions and picking my brain. Sure, they're making money along the way, but it's the education they're receiving— that will last a lifetime.
Imagine going into each and every trading day alongside me, a guy who's currently up 1,740% —sharing my knowledge and trading wisdom with you during this difficult stretch in the market.
As a former elementary school teacher turned trader, I have helped countless numbers of people learn to trade successfully in my Profit Prism Platinum chat room.
If you want to survive this difficult trading environment, you need someone with experience on your side.
I can give you that, but only if you take the next step.
The education and training are top notch.
So what about my trading strategy?
First off, you saw my profits and returns earlier… so you know it works.
But here's a look at a trade I took yesterday, LIVE in my members chat room.
I was watching HDII for the good part of the day and I really like this ascending triangle pattern as you can see below.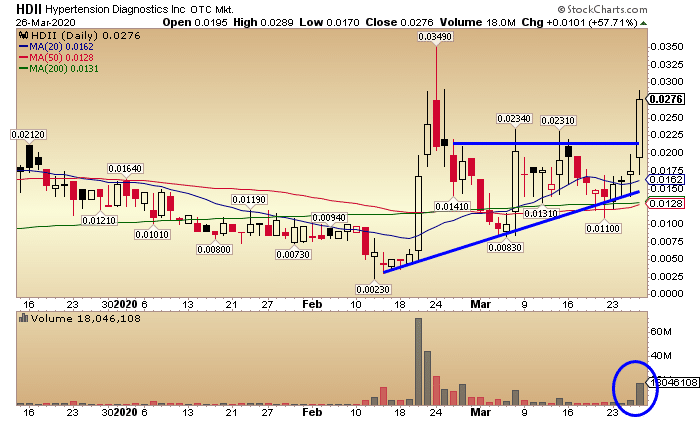 With volume spiking up and holding steady, I was looking for a potential break above the .023 "double top" and a run at .03 – .035.
As HDII started making its move, I jumped in at .02 for a target swing trade of .03 to .035 area.
And as you can see, once it broke through, it made a quick move up to the target range.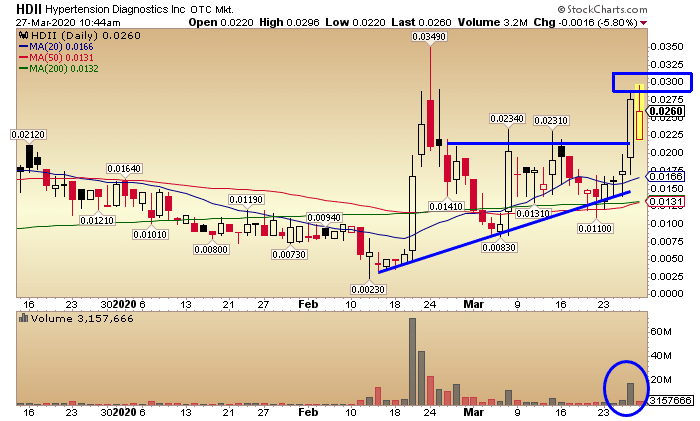 If something isn't working for you… STOP doing it.
With my strategy, I have been having consistent success… even in this market.
Gain access to my room and get the education and coaching you need to take your trading to the next level.
Related Articles: