One of the great things about penny stocks is that there is always something happening.
And I'm not talking about little one digit moves, I'm talking about the type of moves that will make a trader's heart pound.
I'm in my Stock Profit Pro trading room sharing my thoughts, scans, and trades with my members every day in real time.
In order to find these moves, that's the best place you can be every trading day.
But for those who aren't…
I'm going to share a few stocks that I've talked about today.
With penny stocks you want to be playing the momentum, so it's good to keep your eye on the ones that are moving, even if you don't end up trading them.
You'll want to be in front of the action looking for potential trade setups with big moves.
Take a look at these stocks and you'll see what I'm talking about.
Selecta Biosciences, Inc. (SELB)
Selecta Biosciences, Inc., a clinical-stage biopharmaceutical company, researches and develops nanoparticle immunomodulatory drugs for the treatment and prevention of human diseases.
Its proprietary pipeline includes therapeutic enzymes, gene therapies, and other products and product candidates affected by undesired immune responses.
Over the past month, Timothy Springer, a company insider has more than doubled his position in the stock from under 6 million shares to now over 14 million.
He was buying from 1.68 per share up to the high $2s just last week.
As traders and investors have taken note of this buying…the stock popped up today, hitting a high of $3.80 from a close at $2.83 on Friday.
I'll be watching for support at the 200 day moving average, which is currently sitting at $2.87.
With the next high from here at $4.27 for resistance.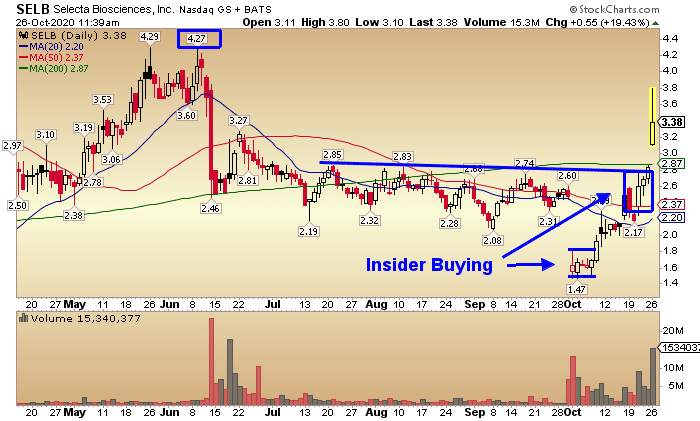 Document Security Systems, Inc. (DSS)
Document Security Systems, Inc. (DSS) is a multinational company operating businesses focusing on brand protection technology, blockchain security, direct marketing, healthcare, real estate, and securitized digital assets.
The stock is making a massive move up today after reporting earnings, showing an increase in revenues of 59% over the same quarter last year and reporting a positive net income of $1.20 from continuing operations.
After consolidating for the past month, DSS broke above the range today after the earnings report.
The 200 day moving average is just above at $7.15 and next highs at $7.22 and $7.36.
If DSS can clear those levels, there's room to the $10.55 high back in early August.
I want to see it hold above the breakout at $5 going forward.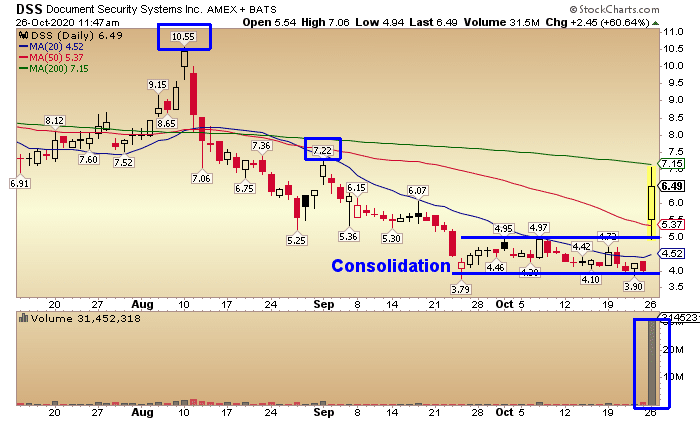 ---
More Stocks on the Move
GRIL +40% with no stock-specific news being found as of yet.
ITP +25% with a bounce off the 50 day moving average on Friday.
RAVE +19% hitting resistance at the 200 day moving average.
BSGM -40% Coronavirus treatment trials halted.
BVXV -24% today…continuing the beating after losing nearly 90% of its value on Friday. The company's flu vaccine missed the endpoints on its trial. This being the only drug they currently have, it's a big deal.
ALRN -20% pulling back to the previous consolidation area.
---
To get more out of your trading…
Check out my Free Stock Trading Starter Pack
You'll learn what I look for and why, how I find stocks to trade, my favorite go-to setups, and so much more…
Don't wait to learn to trade, or take your trading to the next level… grab my Free Starter Pack…