Hello Trader,
The other day I gave a break down on what a short squeeze is, you can revisit that lesson by clicking right here.
But why should you care?
Well, just think about what can happen if you get caught on the wrong side of a short squeeze… you could literally blow your account out.
When a short squeeze gets going, there is no end to the number of people running for the exits.
So if you are short, you better be one of the first out the door.
Now on the flip side… if you know how to play the long… It's payday!
There are specific market forces that when put together create the fuel for a great squeeze.
What I look to for this is the concentration of short interest in a stock (days to cover and short percent of float), as well as, the recent price action of the stock.
These together have the power to set it off.
And once it starts, all of the covering by shorts creates a demand that can not be matched… and in turn, creates the most powerful move you will ever see in the market…
The good news for you, I am always watching stocks that have the potential of getting caught up in a squeeze, and today I am going to share those stocks with you…
Here are the top short squeeze candidates that I am watching this week…
Lannett Company, Inc. is a leading manufacturer of over 100 unique pharmaceutical product families that save and enhance people's lives.
In essence they specialize in generic medications and have top-notch facilities for research and development, manufacturing, packaging, business, and distribution in 3 states.
Concentration of Short Interest:
Short Ratio (days to cover)   — 16.5
Short Percent of Float  — 52%
52% short interest… That's massive! There is pretty much zero belief in this company.
A look at the price action: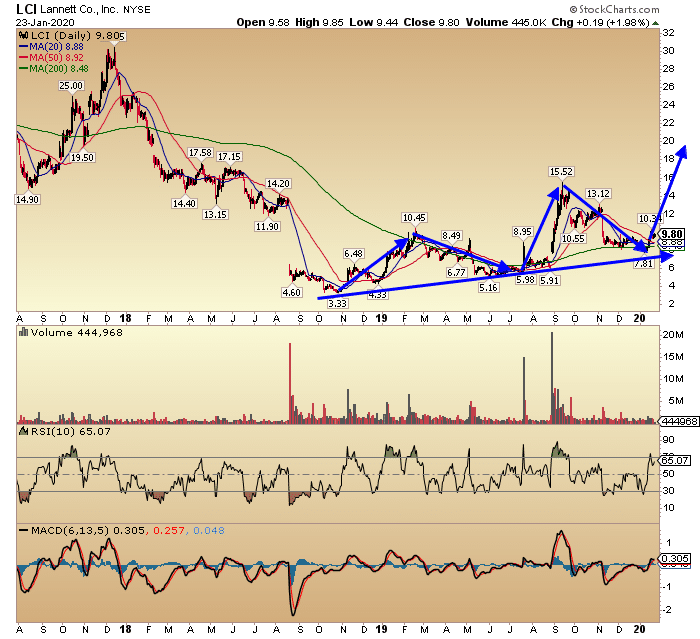 Looking at the chart you can see the stock has recently begun moving back up. We have two very clear things showing in this chart.
First LCI is walking up in a stair-step pattern with higher highs and higher lows.
Second, the price broke above the 200 day SMA which is a major psychological level… And on this most recent pullback to the 200, the price held above it… Now will it continue the upward trend?
Recent Price Action: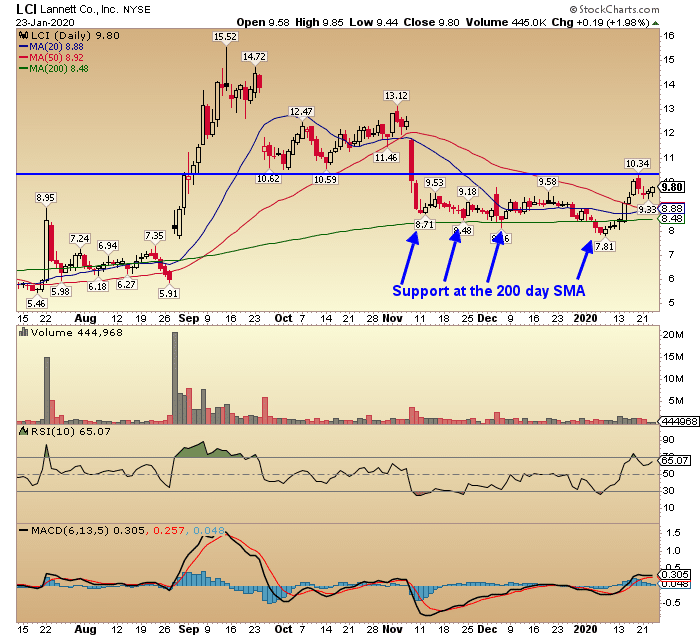 Now closer to the last couple months.
Looking at the chart, the stock has been consolidating above the 200 day simple moving average since early November.
I am watching for LCI to continue it's hold above the 200 day and break above the previous high at 10.34.
If the buyers can get this thing going above 10.34, the next levels to eye are $13 and $15. Both are key levels where the buyers can put pressure on the shorts.
And with the 52% short interest, there are a lot of people that will be running for the exits if this gets going.
Catalyst Potential:
When it comes to Lannett, there is no real shortage of potential catalysts… just look at this screenshot from the news releases on their website.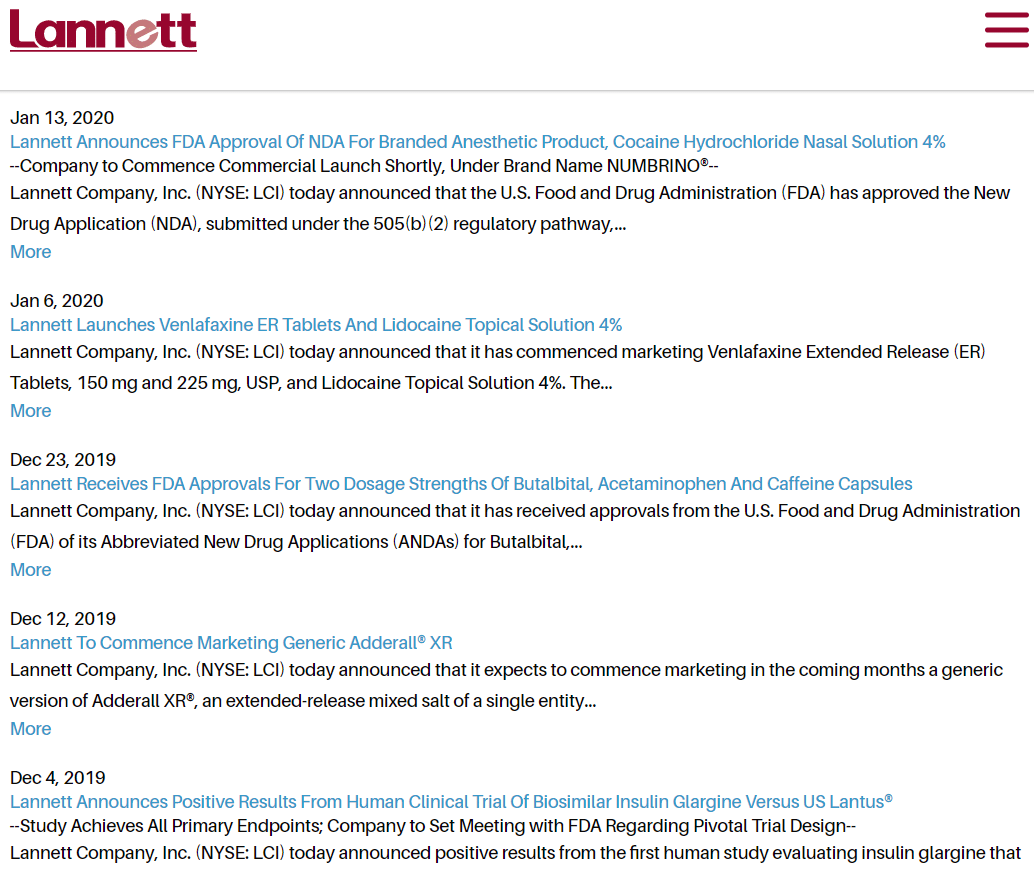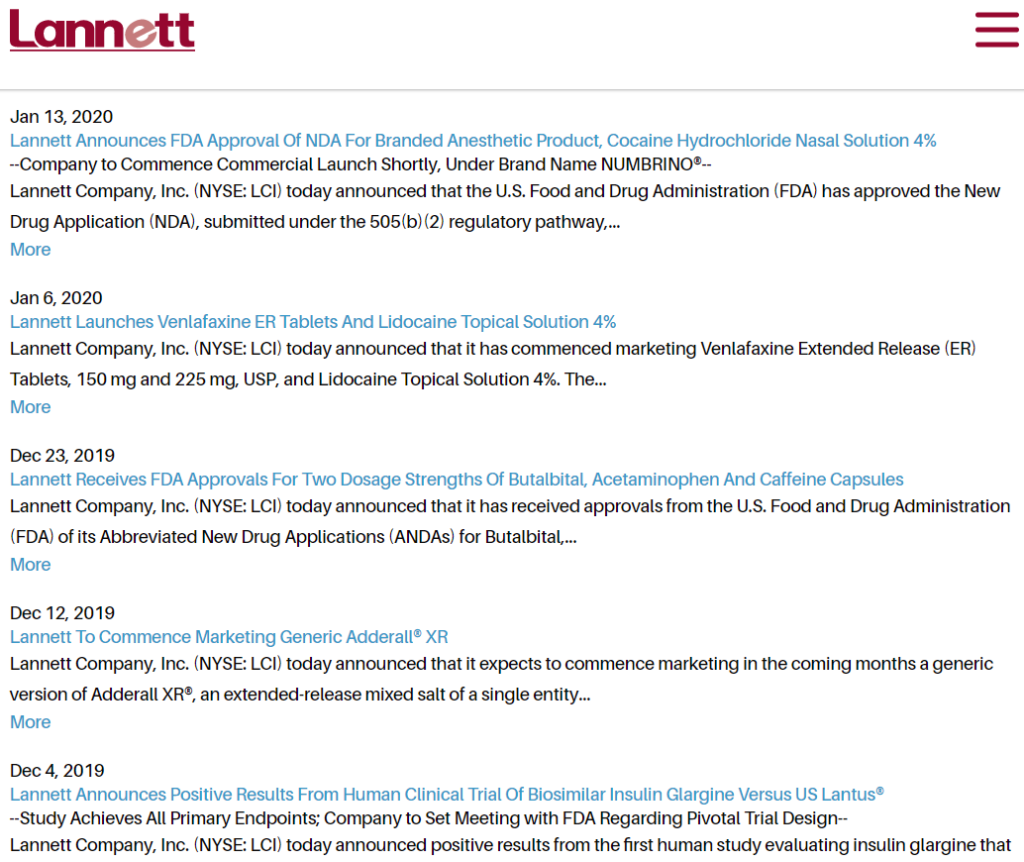 There is no shortage of drugs coming out of this company. One that definitely pops out as interesting is the generic Adderall XR. There is quite the market for that guy.
Truth is, one of the others may be even bigger so it's always good to take a second just to get to know what they have that could be the turning point… if anything.
End result. I am watching for LCI to break above 10.34 for a continued move up. Next points of interest to really get a push on the shorts… $13 then $15.
Vivint Solar Inc. (VSLR)
Per the Vivint Solar website: Vivint Solar provides homeowners with simple and affordable clean energy. We believe that going solar should be headache and hassle-free. That's why we supply the solar panels, and take care of all the installation and maintenance—for little to no upfront cost.
Concentration of Short Interest:
Short Ratio (days to cover)   —    11.7

Short Percent of Float  —   23.16%
Of particular interest in VSLR is the level of institutional ownership at a whopping 92%.
R

ecent  Price Action:
Looking at the chart VSLR is currently moving up in a stair-step pattern. Starting in October, the price began trending up along the 200 day SMA, forming a stair-step pattern.
In December, the 20 day SMA crossed above the 50 day with both moving averages turning up.
All bullish signs.
Catalyst Potential:
Well it's solar. With the global push to renewable energy, solar is in the spotlight. Looking closer to home, current federal solar credits to homeowners are set to phase out this year and soon after, setting 2020 up for a big year in sales.
And with the wildfires in California and safety concerns there, solar can make a big impact in that area. As well as California regulations to push solar on any newly built housing.
There is no doubt that solar is a part of our future, the question is where will it come from. Right now the Vivint Solar stock price is making a move on the shorts and setting up nicely to continue to squeeze higher.
I wouldn't be surprised for a pullback before the next big move up, but I will be watching closely for either a break above $10… or a pullback to find support and a move back up from there.
Final Thoughts
Both of these stocks offer potentially good setups in the near future… so I will be keeping a close eye on each of these for their respective moves… whether that's a breakout now in LCI or pullback to support with VSLR.
But while I am watching these stocks… I am also trading every day with my core Profit Prism 5 step system… and I am absolutely crushing the market.
If you want to keep on eye on potential short squeeze stocks or see how I make money on a daily basis, Join Profit Prism Today!
Related Articles: