When it comes to penny stocks, something is always making a move.
All you have to do is take a look at any list of top gainers on any given day and you'll see it first hand… over and over.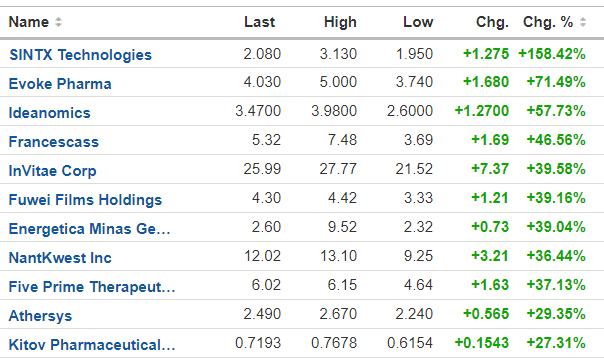 Source: investing.com top gainers
The above list shows the top 11 gainers today and there are only 2 stocks that are over $10.
By trading penny stocks, I am able to find stocks making moves that would otherwise be unheard of.
This is exactly why I'm able to grow my small accounts so fast.
So today I am going to walk you through the top 2 gainers on the list and talk about what makes this happen…
… and how I am able to find moves like these ahead of time, and cash in.
Here's a little secret about penny stocks.
They don't move based on the general market.
Think about it.
Penny stocks are generally considered to be risky investments based on shaky fundamentals.
So what does the movement in the DOW or S&P 500 really matter to a stock like that?!
It doesn't.
What does move penny stocks however are catalysts.
Just look at the biggest gainers today, SINT and EVOK…
SINTX Technologies (SINT)
The biggest gainer today is a little known company called SINTX Technologies.
This is a biomaterial company that researches, develops, manufactures, and commercializes a range of medical implant products manufactured with silicon nitride. Mostly providing spine implant products.
Well, today they announced that in a controlled laboratory study, the SARS-CoV-2 virus was inactivated when exposed to SINTX's sintered silicon nitride powder.
And the stock shot up like a rocket… trading as much as 330% higher in the pre-market this morning.
Keep in mind this was a company press release… no real meat behind it. It's not a vaccine, it's just a statement that their silicon nitride powder inactivated the virus.
But that doesn't matter…
It's all about the hype. COVID is huge, so the company is taking advantage of that.
Just look at the chart.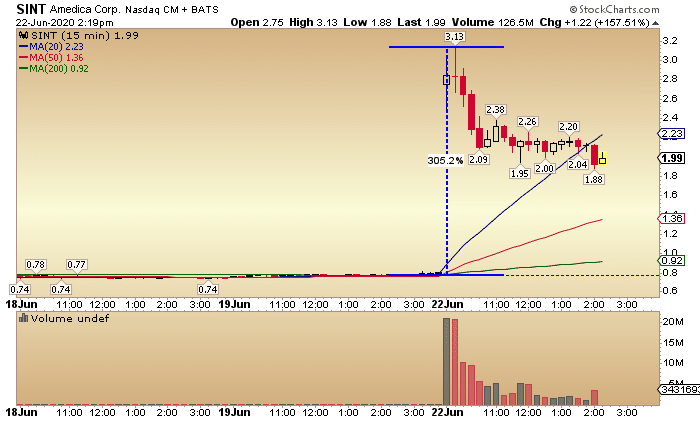 Trading as high as 330% pre-market, SINT has since pulled back but still up a massive 150%.
If you can pocket a 300% return overnight, you gonna sit on it or grab the cash?
I hope you would have been out with a massive profit… there's always another setup around the corner, get your money while you have it.
Evoke Pharma (EVOK)
Evoke Pharma, Inc. (EVOK) is a specialty pharmaceutical company focused on treatments for gastrointestinal (GI) diseases.
And today they announced that the U.S. Food and Drug Administration (FDA) has approved the New Drug Application (NDA) for GIMOTI™ (metoclopramide) nasal spray, the first and only nasally-administered product indicated for the relief of symptoms in adults with acute and recurrent diabetic gastroparesis.
Again… a stock specific catalyst. It wouldn't matter what the overall market is doing right now, this stock would still be blasting off.
That's why I love penny stocks.
Up over 100% in the pre market, the stock pulled back on profit taking and is currently trading up over 50%.
This will be one to keep an eye on later today… and the rest of the week.
I'll be watching for it to find support before making any moves.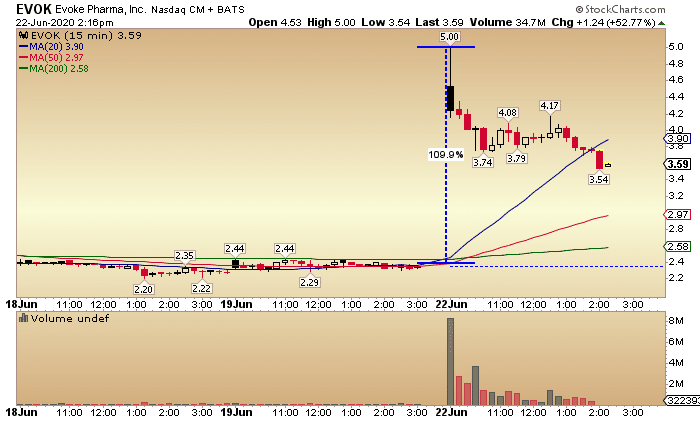 So how do I personally spot big movers ahead of time?
Take a look at my recent Weekend Wiretaps trade in Valaris (VAL).
On the daily chart below, VAL was busting out of a long consolidation pattern with volume surging higher and alerting me to a potential trade there.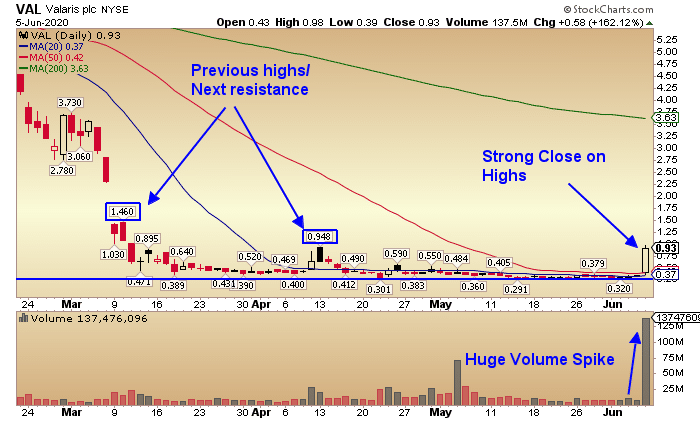 When I went to the intraday chart, I was able to spot a Flag Pattern on the 5 minute chart.
And jumped on the trade when it broke out of the flag.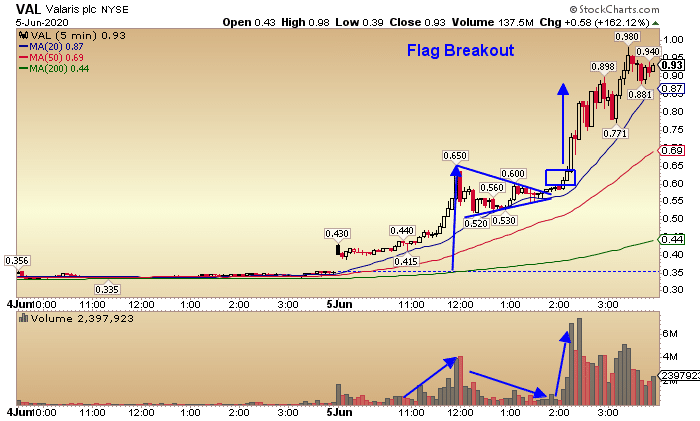 VAL was so hot, I actually sent two alerts for it Friday afternoon. One at .64 and one at .80.
And come Monday morning VAL traded as much as 260% higher than my first trade alert at .64.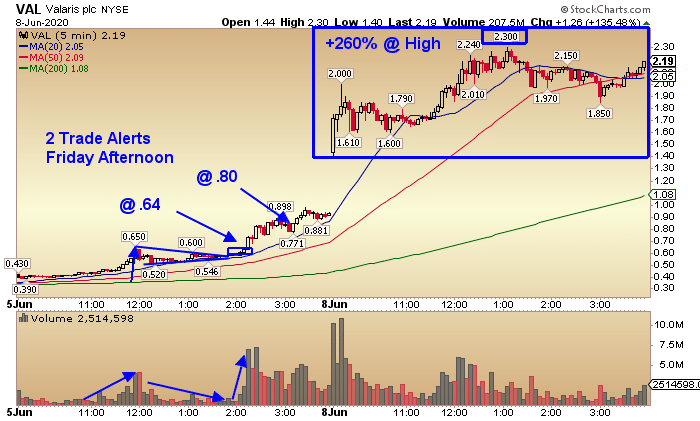 I definitely cashed in but who really cares about me.
What's important to note here is that my members cashed in as well.
Just look at a few of my members' comments below.*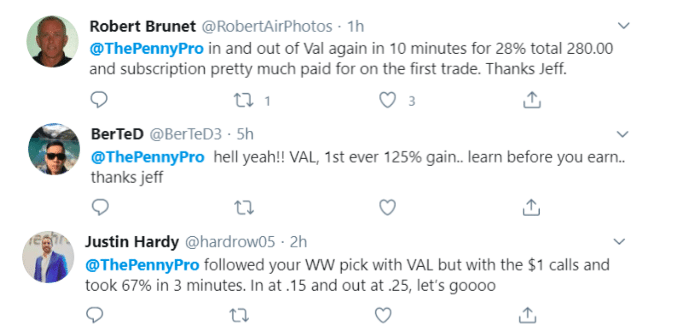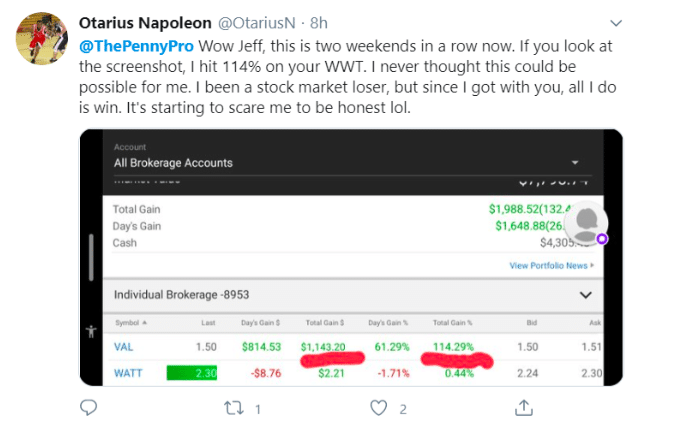 And by no means am I saying they just need to follow me… as you can see, each member traded the same alert differently.
I teach my members to trade.
I want everyone to understand the scans, criteria, what moves a stock, why I get in, and why I get out of a stock… so they can make those decisions for themselves.
That's a big part of any service I offer… EDUCATION
Get started today with my newest service Weekend Wiretaps.