Today I've got my eye on some stocks that are setting up for the new economy.
While they may all be in different industries and sectors… they all have ties to the future of power generation.
From Lithium battery technology to solar power… and a little stock that is working to provide sustainable power solutions to underserved markets…
So while the overall market is a bit of a crap shoot lately, I've got my eye on 3 stocks that are all having breakout days.
With a few basic chart patterns and indications of an increase in demand, I look for stocks that have momentum set to carry them forward…instead of relying on the overall market.
CBAK Energy Technology Inc. (CBAT)
Lithium battery technology for the EV industry…I've talked about and traded this in the past. 
We got a big gap up this morning and a run to just under $7.
Currently pulling back…I'll be watching for intraday support in the mid 5's to $6 range, and I'll lose interest if it dips below the gap at 5.
Current high at $6.85, if it breaks that we could see a run in the 7's.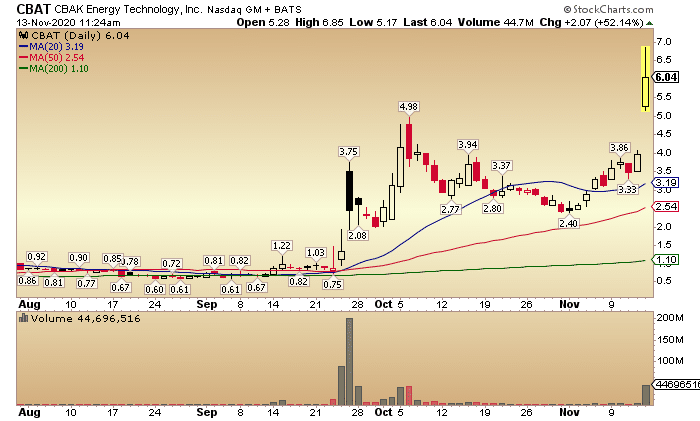 Polar Power (POLA)
Another "power play"…POLA designs and manufactures reliable and low-cost energy solutions for applications that do not have access to the utility grid or will continue to power applications in the event of utility grid failure.
Coming out of a descending triangle, POLA is up over 30% today.
The stock has already tested the previous highs at $3.87, and pulled back in from there.
If the stock catches another move up, the next chart high is $4.79.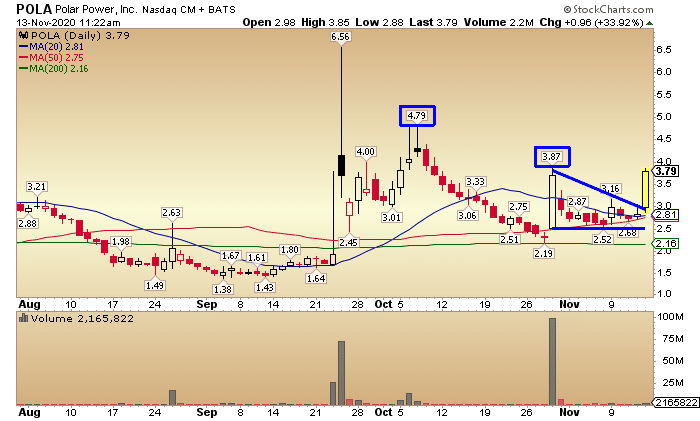 Renesola Ltd (SOL)
And continuing on the theme of power generation…Renesola (SOL) is a solar power company.
Last night they reported preliminary earnings ahead of the Dec.1 scheduled earnings call.
And today investors are showing love.
Also popping out of a descending triangle, SOL is up over 20% on the day.
Currently looking for support in the mid 4's, I'll watch for SOL to hold above this area and an increase in volume on any move back up.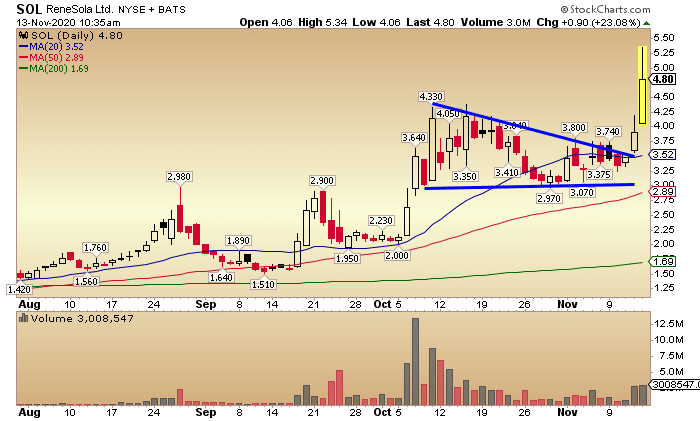 Zomedica Corp (ZOM)
And this one is not in the power industry, but it released news today that has the stock soaring.
So I've got my eye on it as well.
Zomedica Corp. (ZOM) is a veterinary health company creating point-of-care diagnostics products for dogs and cats.
Today the company announced that it expects to begin commercialization of its TRUFORMA™ point-of-care diagnostic platform on March 30, 2021.
A big step in the process of monetizing the platform.
The stock is up on a big spike in volume today, hitting a high of $0.1369 in pre-market trading before pulling back in regular trading.
I'm watching for support at the .095 – .10 level today.
If it breaks below there, I'll keep an eye on it next week to see if it can find support and get a bounce.
I'll be very careful with this stock, however, as the company has made it a pattern of using price increases as opportunities to raise cash with secondary offerings.
So it may be a hard pass if it continues to show weakness on this pullback.
---
More "Stocks on the Move"
APWC       +44%
SOLO        +25%
CPSH        +22%
MGI           +18%
NMTR        +14%
FCEL         +13%
---
As always, patience is key… don't jump into a trade without a clear setup and never trade without a plan.
Tune in every day as I share my thoughts on the market…and what I'm watching.
And if you really want to understand how I look at charts to find my trades… Learn more about my personal strategy for finding stocks on the move… Each and Every day…
Grab my Free Stock Trading Starter Pack…