I'm usually in and out of a trade pretty quick.
That's how my strategy is set up. Get in on momentum… and get out before it ends.
However, there's another concept I'd like to introduce you to today.
And it's the idea of trading around a core position in a stock.
This is a way to blend both active and longer term trading strategies to potentially minimize risk exposure and maximize gains…
I actually just used this concept in a recent trade I took in TPTW…
And I'm going to explain the concept in detail while I walk you through my trade…
What's a Core Position?
The best way to maintain exposure to a stock while avoiding major drawdowns is to trade around a core position.
Think of a core position as a number of shares you plan to hold through the ebb and flow of a stock's price.
For instance… you like a certain stock but you don't want to have full risk on at all times.
What you would do here is hold a portion of the stock and add to it on dips while taking size off by profiting on spikes.
But the whole time you will still be in some portion of it… your core position.
This lets you stay in tune with the stock's movements.
And you just never know if the stock is going to take off without you, so you'll always have your core exposure in case it does.
Profiting on a Core Position in TPTW
Here's how I used this concept with a recent trade in TPTW
It started with a Weekend Wiretaps trade on July 10.
Looking for a push to .075 – .08, I alerted my members to a trade at .0542 and I jumped in with 200k shares.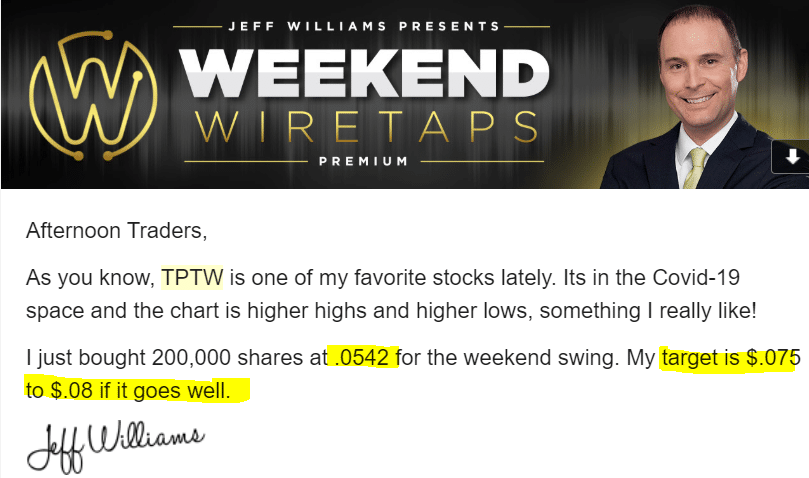 Here's what happened next: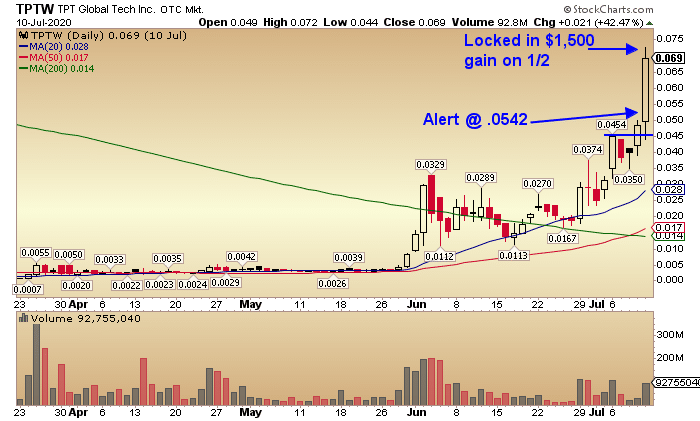 The stock continued its upward momentum into the end of the day and I was actually able to pull off ½ position to lock in a gain of $1,500… the same day.
Why only half?
This is where the concept of a core position comes into play.
I was still looking for more upside in TPTW as all the pieces to momentum were still there…
So to keep my trade active but also lower the risk of drawdown, I locked in gains on half and kept half of the position (my core position) to continue to let it play out.
At this point I'm profitable… but I can also benefit if the stock continues up…
And if it doesn't?
That's the point, I have now minimized the risk of a drawdown…
Here's how I traded around my core position in TPTW… and how it allowed me to pull in more profits.
After my $1,500 gain, TPTW pulled back..
My next move was to add to the position on a pull back at a support level… which TPTW found around .045, the original breakout point on the play.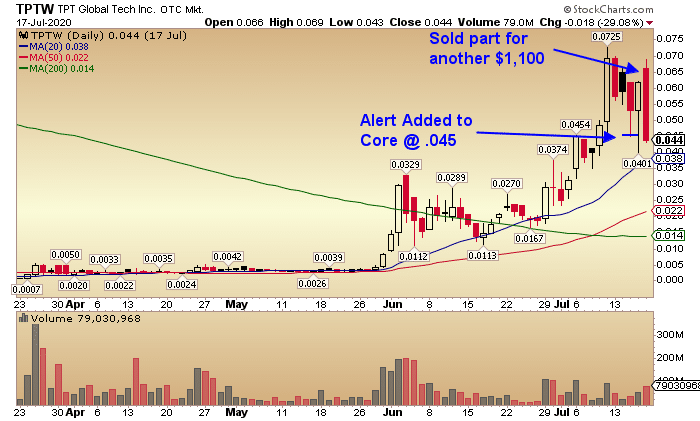 I added back around 40k shares of the 100k I already profited on, giving me a total of about 140k shares… still less than my original 200k trade, but also setting me up for more gains.
And when TPTW moved back up, I pulled 100k shares off at .0655 for another $1,100 in profit… taking my core position down to 40k…
But I wasn't done with TPTW yet… I was still holding a small core while watching for a bigger move up.
And it slowly started to grind its way there…
Then on Aug. 5, TPTW broke out of an ascending triangle…
And I plowed back in at .065 to bring my position back to 140k…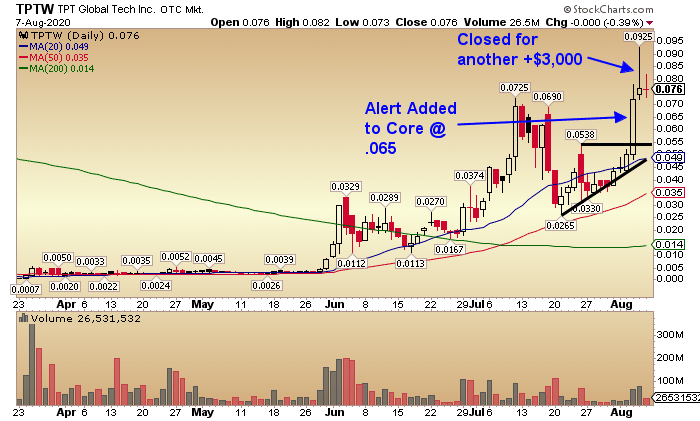 The very next day, I hit my original target when TPTW shot up into the .08s…
This time I pulled off my whole position at .0838 grabbing another $3,000 from the trade.
By playing a core position, I was able to play multiple moves in the stock for a bigger overall gain and still contain my risk by taking partial profits on each move up along the way.
Adding on dips and profiting on each spike.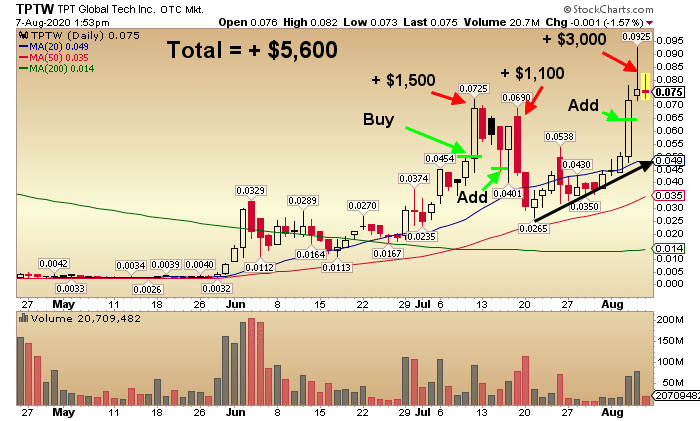 There are a number of ways you can use this concept in trading.
Many people use it when investing in a stock they like for the long term.
By trading around a core position they are able to minimize the draw down while still being in the stock for the long term growth.
To do anything in the stock market you need to have a solid strategy with detailed trading plans.
Check out my Free Stock Trading Starter Pack and get yourself set up for success.