The market is getting rocked, well so are interest rates.
With fear running the market, the Fed lowered its fund's rate by a half percentage point, and it didn't even calm investors down. 
In fact, there are a lot of people already expecting another rate drop soon.
So if you have a savings account, you may have noticed the interest rate going down ever since you opened it.
With interest rates getting lower and lower, leaving your money in the bank isn't as risk-free as you might have thought. 
Inflation was reported at about 2.5% over the last 12 months, so even in high-interest savings account your money will actually lose buying power over time.
Many accounts also have a minimum balance to open, minimum balance to not pay a fee, and limited transactions allowed. All of which keep you from using the money in other more potentially profitable ways.
So while there is risk in any investment, including just putting money under the bed, I personally prefer the stock market.
And talking about risk… the market cratered into correction territory on the fastest 10% slide from an all-time high in history. And depending on the stocks, you could have lost upwards of 30%.
But that's why I trade penny stocks.
Penny stocks don't run with the market…
And that's why I am having success in otherwise dreadful times.
Skip the Savings Account, Do This
I've returned over 1300% in just 6 weeks.
That's right… in my latest small account challenge starting Jan. 21, I've taken a $500 account and it's now sitting at over $7400.
Who else do you know that has pulled 1300% from the market recently?
And it's nothing new, to end 2019 I took an account from 3k to over 30k in 4 months, and another from 3k to over 20k in just 2 months.
What makes me so unique? 
To be honest, nothing… It all comes down to my system. 
You see, large-cap stocks are generally aligned with the broad market
However, penny stocks are so small, they are pretty insignificant to the broader markets.
But there is something that can affect them in a big way… A catalyst.
A catalyst can cause them to make massive moves regardless of where the market is headed at the time.
And with the current market rout, right now is the perfect time to see that.
With the coronavirus fears hitting the markets hard, my system has been pulling up stocks that are popping from this catalyst.
For example, here's how my system set up in IBIO for the potential of massive returns. And setups like this are happening daily.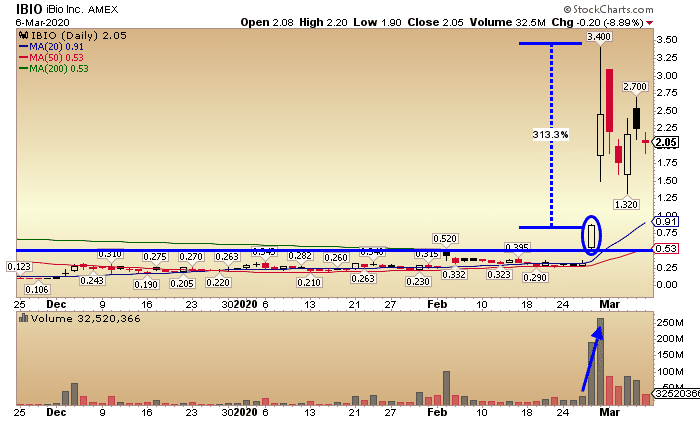 IBIO broke above a long consolidation range on big volume and closed at highs on that day. As you can see in the chart, IBIO blew up the very next day.
What caused this move? A catalyst.
That's what makes my system unique, and why I am profiting during this current beat down.
That's great for me, but what about others? 
Well, I have a lot of members that use what they have learned from me to make some pretty great trades and nice returns every day.
Liz T. — Bought IBIO today just sold for $2417.32 profit 42% this is crazy thank -you Jeff
Danny S. — @ jeff $2794 on AI and $894 on IBIO ….. thank you SO MUCH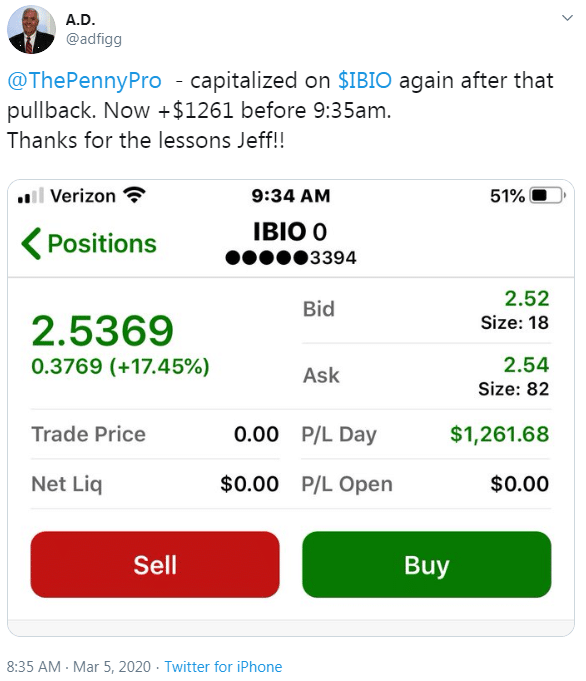 And it doesn't take a lot of money to get started.
I started my last small account challenge with just $500, so you don't need to empty your savings account to get started.
They don't call me the king of growing a small account for nothing.
And when it comes to my system it's not about the broad market or even coronavirus.
It's about a catalyst, and my system will find the stocks moving due to a catalyst regardless of what that may be at the time.
At the moment it just happens to be the coronavirus.
I'm not saying you will automatically make money… but do I find it hard?
Well since creating my system, I've had no trouble making monster returns over and over.
So if you are looking for a way to trade without being fully affected by the broader markets…
Related Articles: