It's getting a bit murky out there with tech stocks showing some weakness and uncertainty at these levels.
But regardless of which direction the market turns, the question still remains the same.
How do you make real money right now?
Honestly… by keeping it simple.
And to illustrate, I'm going to share with you how I've been finding great trades over the past week… even as the market has been taking a painful dip.
It's not complicated and it doesn't take a lot of time because I have learned how to simplify my trading.
I use a few basic patterns and focus on my very best trade setups.
Listen… I've had great results in my numerous small account challenges over the years…
Including taking $500 and turning it into $10,758 earlier this year… in just 58 trading days.*
But arguably my greatest accomplishment has been helping others learn to trade.
And Today I am going to walk you through a specific example of how it all works by diving into a recent winner in BioRestorative Therapies, Inc. (BRTXQ).
Simple Setups, Over and Over
The same simple patterns that have put money in my pockets for over a decade are still working today.
And you don't have to look any further than BRTXQ to see what I'm talking about.
On the daily chart below you can see how the stock made a big move up and then retraced much of the move.
The key here is that it didn't retrace all of the move.
This created a higher low… this is important because now if it breaks above the previous high at .007, the stock could be forming a stair step pattern(higher highs and higher lows).
And that's just what happened on August 24 when volume surged sending the stock flying through the previous high…
I made the trade at .0101…. And hit a +20% profit zone the next morning.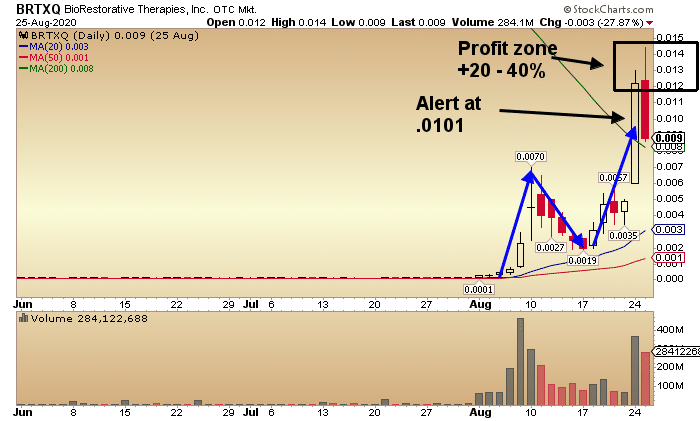 My goal is to find the stocks with the highest potential to make a move up the next day.
… which is what makes my strategy so easy to follow.
I can run my scanner, scroll through the results, pick out the best opportunities, and enter my trades in less than 15 minutes at the end of each day.
Which is helpful when the market gets wonky…
Think about it. If you can get in and out of your position that quickly…
By the time the market gets crazy, you'll be sitting on the sideline with profits already.
Okay, so that's pretty simple right?
Now let's take another look at the chart because it's not over yet…
We got another setup with my stair step pattern.
This time after the +20% profit zone, the stock pulled back making another higher low.
From what you learned about the stair step… What's the next potential entry?
A break above the previous swing high of course… this time at .015.
And look what happened when it broke above there… it shot up like a rocket.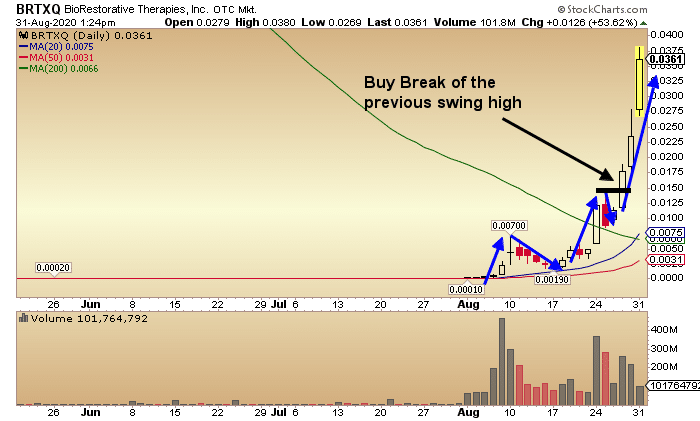 But what goes up… Must come down…
And BRTXQ dropped back down, just as fast as it moved up.
This is why we take our profits quickly.
Now looking at the chart below, there's a setup here with the big pullback.
BRTXQ bounced right off the 20 day sma, showing us support at that level.
And if you look at the price level… The previous swing high was right around .015… so it just adds to the significance of the support being there.
So when the stock bounced off the 20 day for the second day in a row, I pounced on the trade at .0149…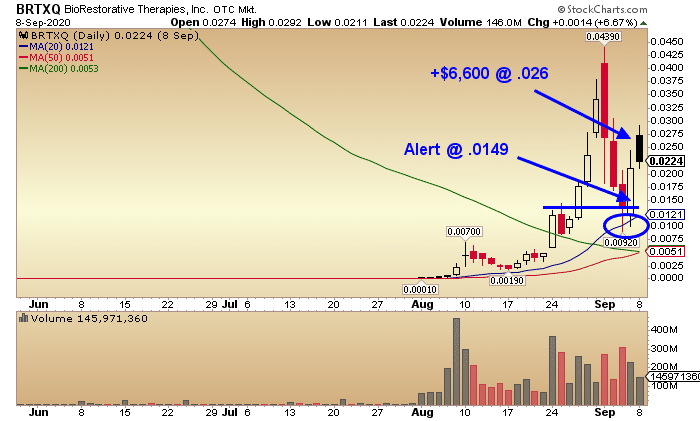 And again the stock jumped the very next trading day. I pulled off $6,600 in profits* from the trade, while still holding a chunk of the position.
Continuing in the trade… the stock pulled back again holding at support above .015… AGAIN!
Volume surged yesterday and I added to my position on a break above the previous swing high.
This time cashing in on the trade just hours later, the same day… for another $5,000.*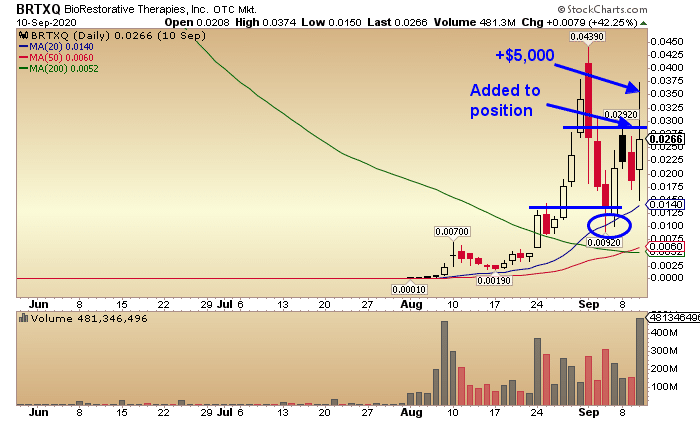 This one stock just paid me $11,600 over the last few days… all while the markets have been taking a beating.
And that doesn't include the first trade I showed you.
Real quick recap…
A lot happened but if you look back, you'll see some recurring themes.
I used lower highs, breaks above the previous swing highs, support at the 20 day sma and previous breakout points coming together… and last but not least… Volume surges.
And of course taking profits off the table quickly… keeping me from overexposure to market risk.
Notice how it's really a lot of the same principles over and over…
It just takes a little time to get used to the setups and what you are seeing.
By using trades like these, I was able to take $500 and turn it into $10,758 in just 58 trading days… that's a return of 2051%.
Insane to think about sometimes… but it's important because this is how I am able to keep trading profitably when the market gets shaky.
I'm never too concerned about what's next in the market… sure I always have my opinions.
But ultimately I know my strategy works for me no matter what the market is doing, so I just have to keep my eye on finding the best setups.
Don't waste your time trying to "go it alone"… especially as the market is on such shaky ground.
With Profit Prism Platinum, you'll have access to my personal strategy, educational resources, Live Trading and Training in my chat room, daily video watchlists, and so much more…
Join Profit Prism Platinum Today